King of Pentacles Meaning, Love, Feelings, Upright & Reversed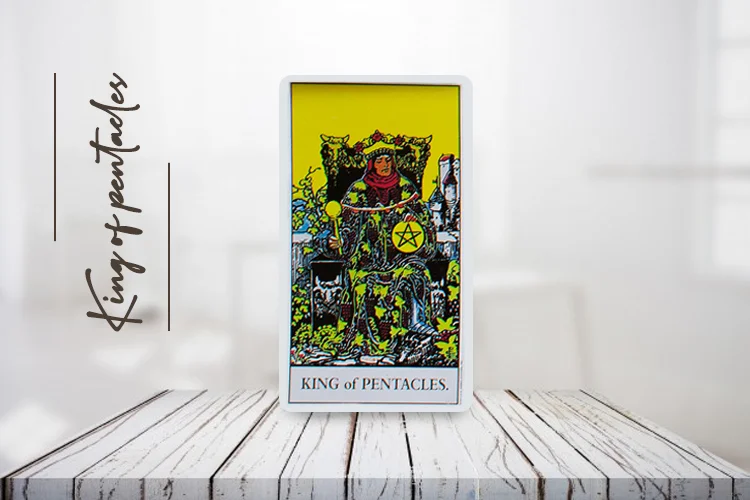 ---
King of Pentacles Meaning
While there is an old phrase that 'Opposites Attract,' fundamental laws state that 'Like Attracts Like.' This is most emphatically true of the King of Pentacles Tarot and his counterpart, the Queen of Pentacles.
They also show how remaining grounded while following goals will lead to maximum results. The King, as the final card in the Pentacles suit, has the final say in all matters monetary. He is a welcome addition to every financial or non-financial reading list. When he serves you, you will undoubtedly succeed in all of your efforts.
Element: Earth
Astrological Sign: Capricorn
Planet: Saturn
Date: 11th April to 10th May
King of Pentacles yes or no: Yes
King of Pentacles Upright: Groundedness, enterprising, abundance, stability, and security
King Pentacles Reversed: Corruption, failing business, cold, materialistic, instability
Still, have Questions? Ask Tarot Reader for all the Answers
---
King of Pentacles Upright
Material riches, financial prosperity, and earthly achievement are all represented by the King of Pentacles Tarot. This King is a reliable provider; he employs his determination and trust to produce riches for himself and others. He derives his self-worth from what he has acquired and can share it with others.
He is also a father figure who gives others counsel, guidance, and insight, especially in financial and professional matters. If the King of Pentacles Tarot emerges in a Tarot reading, it means that you are self-assured and competent in attracting and maintaining money.
You not only recognize prospects for growth and development, but you also use your self-discipline and power to maintain your money and spend it wisely over time. You have experimented in the past with what works best and have landed on your own methods and practices you know will continue to work for you in the future. Continue down this path rather than try new ways of doing things. You do not need to take any more risks.
Everything will be found in the Horoscope Report, Click Here…
---
King of Pentacles Reversed
The King of Pentacles Reversed advises you to analyze your connection with money. On the one hand, you could not be properly handling your wealth. You may attract huge amounts of money from your business projects or a high-flying career.
But after the money arrives in your bank account, it's on its way out as you splurge on luxury products or invest in high-risk opportunities. You are not treating your money with dignity. Instead, you need to show self-control and self-discipline in order to prepare for the future while still enjoying the fruits of your labor.
The King of Pentacles Reversed may represent someone who is extremely stubborn and strict in his approach. Examine your life as this King appears in a reading. Do you feel like you're "stuck in a rut"? Is life so boring and repetitive that it has become absolutely dull and lifeless?
Uncover all Challenges and Unwanted changes in your Life Graph. Get Free 2022 Report
---
King of Pentacles Love and Feelings
Talking about the King of Pentacles Love and King of Pentacles Feelings, your lover desires to be the homemaker. You will get and keep your lover's/potential lover's emotions by appealing to their desire to be the caregiver. Nothing pleases your lover more than paying for dates and opening doors for you. You should grant them permission.
Hope you guys understood the meaning of the King of Pentacles Tarot. Overall, the King of Pentacles Tarot reflects the importance of perseverance. It could be a hint that you would be praised for your sacrifices, or it could be a reminder to find harmony between the joy and pains of life.
For Any Questions, you can Talk to Tarot Reader
---
---