Knight of Pentacles Meaning, Love, Upright & Reversed – Complete Guide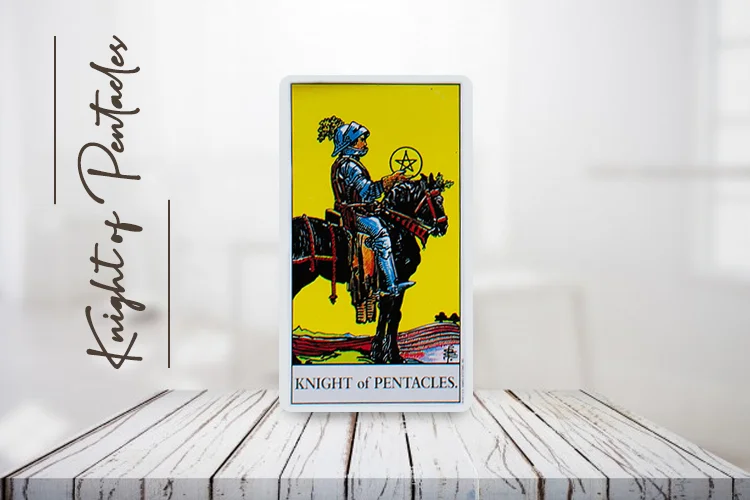 ---
Knight of Pentacles Meaning
The Knight of Pentacles Tarot, like all knights, prefers less chat and more action. When he participates in a reading, his dedication to a cause or partnership is called into question. This cavalryman, a step up from the Page of Pentacles, is just as committed but far more mature and trained.
The Knight of Pentacles Tarot, like all cards, has two faces. He is determined and consistent, but he may also be stubborn and hostile. Don't give in to this desire. Just keep in mind that better times are on the way.
Element: Earth
Astrological Sign: Virgo
Planet: Mercury
Date: 12th August to 11th September, 11th April to 10th May
Knight of Pentacles Yes or No: Yes
Knight of Pentacles Upright: Consistency, strong will, improvement
Knight of Pentacles Reversed: Stubbornness, laziness, complacency
Do you have Questions related to your Life? Ask Tarot Reader
---
Knight of Pentacles Upright
Like the Knights of the other suits, the Knight of Pentacles Tarot represents the work, dedication, and duty that comes with the Page's dreams and values. This Knight is the Tarot deck's most cautious, organized, and detail-oriented character.
He may not be the most inspirational or innovative Knight, but he will do the job necessary to achieve the desired outcomes, even though it is incredibly tiresome or boring. The Knight of Pentacles Tarot means that you are taking a moderate and progressive approach to life right now and that even if you may sense that improvement is on the way, you are sticking to your tried and tested methods.
You've learned that in order to accomplish your objectives, you'll need routine and strategic preparation. It might not be an enjoyable moment, but at least you know you're on the right track. And if you are exhausted and want to give up, this Knight inspires you to persevere, and you will finally succeed.
Finding it Hard to Tackle the Situation? Get Your Free 2022 Horoscope!
---
Knight of Pentacles Reversed
Will you need more self-discipline and determination to accomplish your goals? Instead of doing new stuff or coming up with new ideas, the reversed Knight of Pentacles Reversed Love advises you to create a plan or routine for yourself and adhere to it until you have finished your assigned mission.
The Knight of Pentacles Reversed may also indicate that you are too restrictive in your work approach. Have you found yourself becoming dismissive of those who do not share your attention to detail or being easily irritated when their job is not up to your standards?
If your efforts are admired, you don't want to risk the love of others along the way, so you might need to soften your approach.
Find Out Everything From Your Free 2022 Horoscope. Get Free 2022 Report
---
Knight of Pentacles Love
Talking about Knight of Pentacles Love, it is an indication that your lover can wait for you in relationships where you know you have a lot of baggage. However, bear in mind that the Knight of Pentacles Love is slow and not in a hurry – they are not considering making a serious commitment right now.
After going through the details, we can easily say that the Knight of Pentacles Tarot, seated on his trusted steed, shows the prize of his victories: a large coin with a star-shaped engraving. Yo, you heard that right. Cheers!
Finding it Hard to Tackle the Situation? Ask Tarot Reader for Solutions
---
---