Queen of Pentacles Meaning, Love, Upright & Reversed – Complete Guide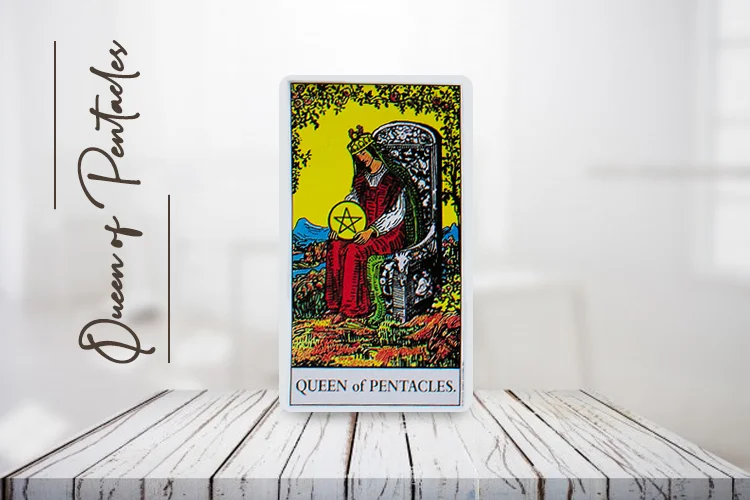 ---
Queen of Pentacles Meaning
The Queen of Pentacles Tarot is the embodiment of the best of all worlds. She is a rich, successful royal daughter. And with the whole world at her feet, the Queen remains grounded in reality.
If she were still alive now, she would certainly be interested in "eco campaigns" since she thinks for the environment as a whole, not just her own financial well-being.
Her highness is representative of both a rational and compassionate spirit. The Queen of Pentacles Tarot represents all that can be achieved when creativity is combined with a caring nature and a determination to see others excel.
What would you glean from the word of kindness and love delivered by the Queen of Pentacles Tarot? If she has turned up in a reading, it might be time to dive deep while still opening your heart.
Element: Earth
Astrological Sign: Capricorn
Planet: Saturn
Date: 20th December to 21st January
Queen of Pentacles Upright: Social consciousness, nurturing healer, down-to-earth
Queen of Pentacles Reversed: Smothering, obsessed with status, dependence, neglectful of self
Do you have Questions related to your Life? Ask Tarot Reader, Your First Consultation is *FREE!
---
Queen of Pentacles Upright
The Queen of Pentacles Tarot is the material world's caring mother. At home, she expresses her compassion for others by preparing healthy meals, keeping her home safe and welcoming, and providing warm cuddles to those in need.
She will still work full-time and contribute financially to the home, mostly as the sole breadwinner. She is an expert at meeting the basic demands of college, housing, and family while also providing compassion and support to everyone she cares for.
The Queen of Pentacles Tarot will also represent a mother figure in your life. As the card can provide you with caring guidance and nurturing to help you transcend the influences of your experience. She may be an educator, a counselor, a mentor, or someone close to you.
Alternatively, if you are devoting a large portion of your time and resources to nurturing and caring for others, as well as creating a healthy and enjoyable lifestyle, she may represent a part of you.
Finding it Hard to Tackle the Situation? Get Your Free 2022 Horoscope!
---
Queen of Pentacles Reversed
When the Queen of Pentacles is Upright, you concentrate on caring and being a provider for others. In contrast, when Queen of Pentacles Reversed, you focus your nurturing attention on yourself. You are achieving financial freedom by working for yourself, starting your own company, or using your earnings to fuel your lifestyle.
You may still be in a relationship or have a family. But you want to guarantee that you can support your own lifestyle now and in the future on your own. You could have a special retirement account or a long-term investment portfolio to ensure that you can pay for yourself in the event of an emergency.
You will also need to make new arrangements with your wife or employer. So, you don't feel too attached to one place. Finding additional household assistance, such as a maid, nanny, or housekeeper, can also make you feel more at ease.
Overall, the Queen of Pentacles Reversed is a fantastic sign for your future role, particularly in your finances or profession. She is sensible and prosperous, symbolizing success and prosperity.
Organize Your Life In The Best Way, Consult Tarot Reader Now for all the Life Troubles
---
---