Knight of Swords Meaning, Love, Upright & Reversed – Complete Guide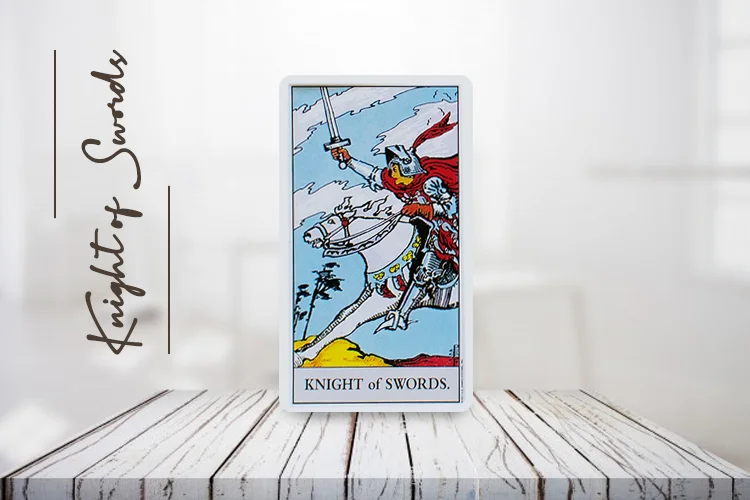 ---
Knight of Swords Meaning
If you see the Knight of Swords Tarot in a reading, it means that a significant improvement is on the way and that you will need to put in some effort if you want a great outcome. You must persevere and move forward, even if in small measures.
Tenacity and determination are necessary, but if you dedicate yourself to the cause, you will succeed. The Knight of Swords Tarot does so without a doubt, with a heart full of faith and determination to achieve its objectives.
You would be able to enjoy the fruits of your work if you demonstrate courage and strength. The key here is to confront your concerns while not allowing them to decide their fate. It's as simple as it sounds- time to learn more about the Knight of Swords Tarot.
Element: Air
Astrological Sign: Libra
Planet: Mercury
Date: 11th May to 10th June
Knight of Swords Upright: Bravery, accomplishment, tenacity, significant changes
Knight of Swords Reversed: Missed opportunities, laziness, being stagnant, self-doubt
Do you have Questions related to your Life? Ask Tarot Reader
---
Knight of Swords Upright
Like all Knights in the Tarot deck, the Knight of Swords Tarot is a man (or woman) on a journey – once he has his mind set on something, nothing can stop him. And, as a Swords card, this Knight deliberately uses his intelligence to accomplish his targets.
If you see the Knight of Swords Tarot in a Tarot reading, it means you are highly motivated, determined, and action-oriented. You are so driven to excel that you can go to any length to achieve your goals.
You are not afraid of the challenges, problems, and barriers that lie ahead because you know where you want to go. The Knight of Swords Tarot also reflects your need to understand the world intellectually. You have good communication skills and can easily shape strong arguments and views on current events and important issues.
You enjoy communicating with people who have similar skills so that you can share your thoughts and gain new perspectives. You may be best suited to discussion groups of like-minded people, where you can energize and inspire one another.
Find Out Everything From Your Free 2022 Horoscope. Get Free 2022 Report
---
Knight of Swords Reversed
When you have a lot of energy and inspiration but can't channel or release it, the Knight of Swords Reversed can appear in a Tarot reading. You're becoming frustrated and irritated because you want to take action, but something prevents you from doing so.
Completely blocked! Similarly, the Knight of Swords Reversed indicates that you lack guidance and make reckless and impulsive decisions that drag others down with you. Your thoughts are scattered, and you change your mind often.
If you are in charge of others, believe us, this can be confusing and frustrating for anyone. Even if you work alone, you can find that your distracting "monkey mind" impedes your overall performance. You might need to apply a single focus; choose an idea, and stick with it until it is finished.
As such, you are accomplishing very little and become exhausted by the day. Take some time to ground yourself, collect your thoughts, and focus exclusively on your main aims.
Ladies and gentlemen, we are done telling you about the Knight of Swords Tarot Meaning. Now, it is the time to rock and roll in life & keep on winning with bravery. Cheers!
Finding it Hard to Tackle the Situation? Ask Tarot Reader for Solutions
---
---