Sagittarius Silver Pendant: Zodiac-Inspired Pendant For Sagittarius Sign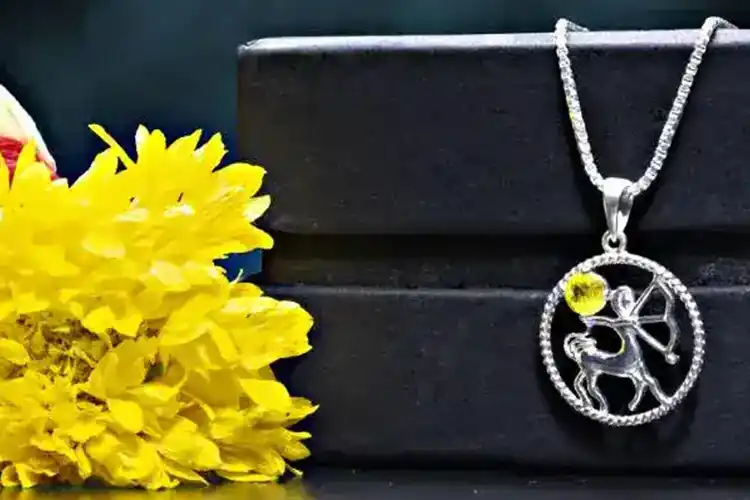 The most beautiful gift you can give to yourself and your loved ones is jewellery. But, choosing the right piece of jewellery to pamper yourself and make a good impression, on the other hand, can be difficult. Sagittarius, we have made your task a bit easier for you! What about wearing a Sagittarius Silver Pendant with the most suitable gemstone for you? Awesome right?
To keep up your upbeat and optimistic nature, we have come up with a unique Sagittarius Sign Pendant. We are very well aware that you enjoy having a good time and travelling a lot, as well as expressing yourself through your style. Keeping that in mind and your passion for new pieces of jewellery, we are introducing Sagittarius Silver Pendant with Yellow Sapphire.
This Sagittarius pendant necklace will look very good on You. It has an adventurous look that represents the adventurous spirit of your sign. You might be thinking about why you should choose a Sagittarius zodiac pendant necklace. The main reason: we feel connected to a piece with our sign on it and have the luxury of being easily understood when we wear it. Well, some signs do this to show that they are open to the world, others do it to make a big statement. Here are some more reasons to select this chic and stylish Sagittarius Silver Pendant.
---
Why Wear a Zodiac Pendant?
Your zodiac sign influences who you are. While each person is unique, the zodiac sign under which you were born impacts your personality traits. As your astrological sign is so important, you should flaunt it with a stunning piece of astrological jewellery. Zodiac Pendant is flattering and fun to wear, and they go with a wide range of outfits.
Wearing a pendant with your zodiac sign symbol on it can be a great and unique way to start a conversation. "What is your sign?" is one of the most common questions, but if you wear the right zodiac pendant, you can tell the rest of the world what your sign is. People will approach you to talk about astrology if you wear jewellery like this. Also, they can easily know your traits!
Aside from that, wearing a Zodiac pendant also has many spiritual benefits. Wearing the right Zodiac Pendant can help you feel more positive and confident. When you wear your jewellery with effective gemstones in it, you may notice that you feel more grounded and that it is easier for you to overcome the challenges you face throughout the day. It will enhance your inner strength and give a boost to your lively energy.
Hence, to boost your confidence and enhance your skills, MyPandit introduces Sagittarius Silver Pendant i.e anti-tarnish & pure product with Yellow Sapphire – your luckiest gemstone!
---
Why Is the Sagittarius Silver Pendant With Yellow Sapphire Best For You?
Jupiter, the most powerful planet in astrology, rules the zodiac sign of Sagittarius. When it comes to people born under the sign of Sagittarius, you will find them to be loving, brave, honest, and charitable. They are extremely enthusiastic about learning, intellectual research, hiking, productive tasks, and a variety of other knowledge-based activities. They value their freedom and independence above all else because they are self-assured individuals. Sagittarius is an air sign; hence they have a thing for yellow and its shades. Yellow Sapphire is their best friend as it is also ruled by planet Jupiter.
Are you born under the sign of Sagittarius? Do you want to alter your fate? Or looking for a good luck charm? Then this Sagittarius Silver Pendant is just made for you! You can add a sentimental touch to your everyday aesthetic while also increasing your astrological cache. Wearing Zodiac symbols is one of the easiest ways to personalise your jewellery. Brilliant and bold, just like the personality, this zodiac pendant will surely make you stand out. The combination of the Zodiac symbol and Yellow Sapphire will surely bring positive changes in your life. It will not only make you shine but also boost your luck.
Designs are available for other zodiac signs as well. You can check it out here!
---
Benefits Of Sagittarius Silver Pendant With Yellow Sapphire
Sagittarius Silver Pendant bestows you with many benefits as it not only shows your zodiac symbol but also a Yellow Sapphire is stationed in the middle of your Sagittarius sign. The Yellow Sapphire has the capability to prevent & prepare you against forthcoming unfortunate events as well as when it is wrapped up in the Sagittarius emblem it looks soothing while a native wears it. Below are some of the benefits of the Sagittarius Silver Pendant:
Kick starts professional life.
Makes one feel graceful & grateful.
Protects the were from evil energies.
It will improve your ability to handle tough situations.
It helps in amplifying the positive energies of planet Jupiter while enhancing your luck and fortune.
It showers protection and enhances well-being, prosperity and spirituality.
Plus, it is Anti-tarnish, pure product that is energised by pandit. Hence you can wear it daily and experience the difference!
---
Conclusion
New trends have turned jewellery into a personal statement, whether it's a delicate initial necklace or a pair of bright, multicoloured earrings. Sagittarius zodiac pendant necklaces made of sterling silver are not only affordable but are also extremely durable. These pieces not only look great, but they also last a long time. You should be able to wear your necklace for decades if you take good care of it. Pendants and necklaces with zodiac symbols are some of the easiest methods to show one's uniqueness.
Sterling silver is a great option for people who suffer from allergies because it is a non-reactive metal. You may not be able to wear metal or brass jewellery, but a sterling silver necklace will not irritate your sensitive skin. You'll be able to find pieces that you adore because this is such a versatile type of jewellery that can be paired with a multitude of outfits.
---
---