Virgo Silver Pendant: Zodiac-Inspired Pendant For Virgo Sign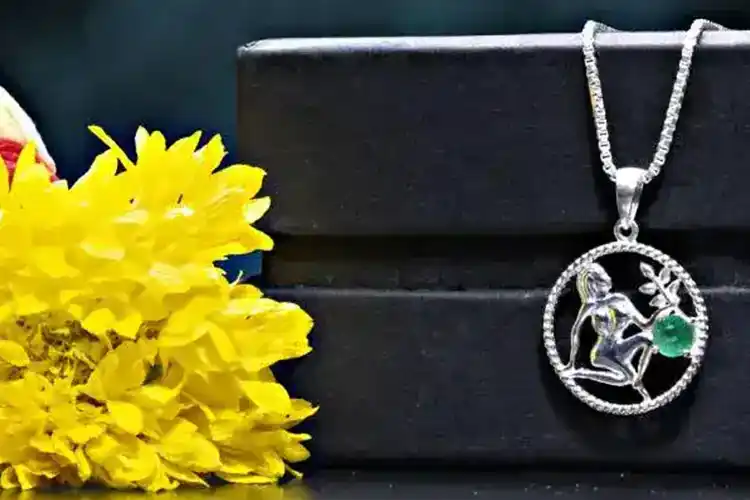 Even though you're not into astrology, you're undoubtedly aware that dressing and jewellery as per zodiac signs is a growing trend. And it's easy to understand why: the 12 zodiac signs may provide a deep look into your nature and personality traits, which can then be transferred into your own style. Whether it's a delicate pendant necklace or a set of vibrant, colourful earrings, a new trend has given jewellery a chance to express oneself. However, zodiac pendants and necklaces are some of the simplest ways to demonstrate your personality in a more unique way. There are a number of zodiac sign patterns to choose from, ranging from gorgeous constellations to powerful symbols that may be worn with a variety of outfits.
A Virgo's jewellery collection is full of elegant jewels that suit their practical style. They prefer ladylike yet beneficial jewellery and rarely go crazy. Virgos choose things that they can wear repeatedly, as well as those that go with trending fashion. No need to worry, We've made your job a little simpler, Virgo! Wear a Virgo Silver Pendant set with the most appropriate gemstone in the middle. Let's take a brief look at why you should wear a Virgo zodiac necklace, what its benefits are, and so forth…
---
Why Wear A Virgo Silver Pendant?
Horoscopes may tell you everything about yourself, from who you should date to where you might go on vacation. Your zodiac might also indicate your personal style preferences, character, and actions. So, when it comes to buying jewellery, let the stars help you to the ideal additions to your or your loved one's collection. As a result, jewellery containing zodiac symbols and constellations might help you connect more deeply with your zodiac sign. This will strengthen your emotional connection and allow you to better understand yourself. Virgo Silver Pendant is best for you by looking at your astrological sign.
The spiritual advantages of wearing a Zodiac pendant are numerous. Wearing the correct Zodiac Pendant may boost your self-esteem and confidence. When you wear powerful gemstone jewellery, you may discover that you feel more positive. You can easily tackle the obstacles and challenges that come your way. It will improve your energy and inner strength.
As a result, MyPandit introduces Virgo Silver Pendant, an anti-tarnish and pure product with Emerald, your auspicious gemstone, to increase your courage and strengthen your talents. It will protect you from negative energies and help you enhance your growth prospects.
---
Why Is the Virgo Silver Pendant With Emerald Best For You?
People born under the sign of Virgo are methodical and analytical. They have sharp minds and believe in an ideal world. Despite what others say about them, they carry out their tasks in a systematic and sincere manner. One disadvantage of their personality is that they are critical of others, which causes hatred and malice in others. Hence to overcome the problem Emerald stone is the most suitable gemstone for them. As Mercury is the ruler of this zodiac and Emerald stone is regarded to be the stone of Mercury, from this they can achieve the most from wearing Emerald stone.
MyPandit knows that dressing up is all about appearing presentable, attractive, and beautiful for perfectionist Virgos. As a result, they put a high priority on accessorising their outfits with the appropriate jewellery. They prefer fashionable and elegant jewellery. Hence, we have come up with a stylish and elegant Virgo Pendant Necklace, making it easy for them to dress in the newest fashions.
Designs are available for other zodiac signs as well. You can check it out here!
---
Benefits Of Virgo Silver Pendant With Emerald
Virgo zodiac sign with Emerald, a vivid gemstone set in the centre of the Virgo's emblem; it not only contributes to your style and attractiveness, but it also bestows the cosmic powers of these powerful gemstones on your life. Here the attuned Emerald will give an extra edge to the misfortunes of life.
Emerald, also known as Panna Rashi ratan, has been considered a very efficient astrological gemstone in Vedic astrology from ancient times. According to traditional Hindu scripture, the emerald gemstone represents the little but powerful planet Mercury, which has a tremendous impact on the lives of natives. Emerald is a prominent gemstone that is often recommended to people. This gemstone, which is green in colour, is one of the nine valuable jewels. The Emerald has Mercury as its ruling planet. This stone serves as a good luck charm for you. Wearing a Virgo Silver Pendant can help you make great life changes. It has an adventurous appearance to it, which matches your sign's bold attitude. You may be wondering why you should wear a Virgo pendant necklace. The major reason is that when we wear anything with our sign on it, we feel linked to it and have the luxury of being clearly understood. Below are some of the benefits:
A person's intellectual capacity can be enhanced, as well as his wisdom.
It helps the wearer to be more active and enhances great creativity.
Bestows affection in a relationship and also provides sincerity to its wearer.
Convey prosperity & gratitude
It may assist you to enhance your communication abilities as well as your oratory talents.
It makes you stronger and more intelligent.
This stone is also believed to be able to solve various health-related problems.
Helps in gaining greater earning prospects and financial progress
Plus, it is Anti-tarnish, a pure product that is energised by Vedic pandits. Hence you can wear it daily and experience the difference!
---
Conclusion
If you don't want to spend a lot of money on new clothing, you may change things up with elegant, inexpensive jewellery. Even if you're flaunting them out on a Zoom call or going for an adventure trip, this delicate necklace or essential pendant may brighten up your outfits. One can also gift this Virgo zodiac sign pendant to your dear ones.
---
---