Know about Famous Leo Celebrities: It's the Lion's Territory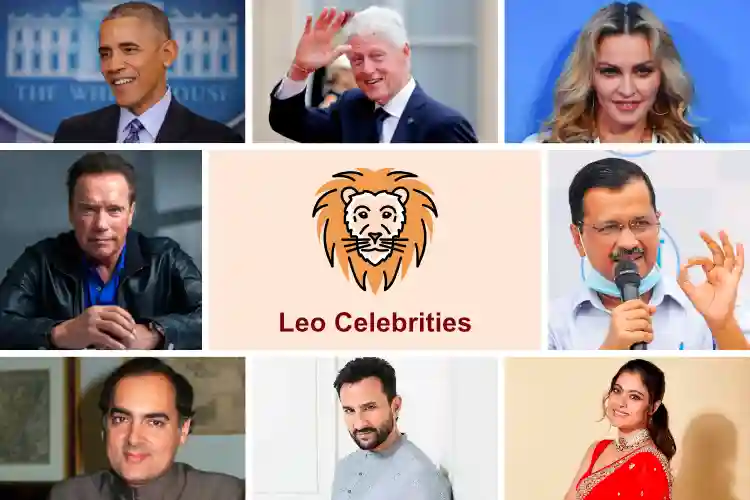 Astrology, horoscope, zodiacs, Dasha, and dosha, all these terminologies might sound interesting and intriguing to all of us. But more than getting interested, we need to understand that it is real! Yes, planets, stars, and their movement do affect our lives. Because of these heavenly bodies and their conjunctions, a person becomes rich or turns into a rag. The study of astrology is vast. But we need to understand just one basic thing which is its essence. We are all born under a zodiac sign. There are 12 zodiac signs, and each has its ruling planet, element, and symbol.
The combination of the ruling planet, elemental energy, and the creature in the symbol makes us what we are. Every zodiac sign has its set of positive and negative traits. Individuals from every zodiac can work towards aggravating their strengths and reducing their weaknesses. By practicing and focusing on our strengths, skills, and potential, we all can reach a height where we can be called famous as a celebrity. One of the twelve signs is the Leo. Its symbol is the boldest animal, Lion. And, of course, those who are born under the Leo sign are ferocious and bold.
In this article, we are going to discuss the famous people who are Leo. We will highlight Leo famous birthdays and the qualities that make them shine in public. We will also try to find out the most popular Leo. But before that, we will understand the zodiac Leo and the related traits.
Which zodiac sign has more celebrities? Consult Our Expert Astrologers to know more about it.
---
The Leo Zodiac – A Courageous and Confident Leader
Somewhere, during the hot and humid climate, from 23rd July to 22nd August, is when the zodiac Leo natives are born. Their hearts keep burning all the time as they are under the influence of the fire element in addition to the influence of the ruling planet, the super-hot Sun. Now, who can stop Leo from winning any battle?
The Leo signs are born with a magnetic charm. They have the natural potential to attract the crowd towards them. And the best part about their personality is that they never shy away from any public appearance. They love it when they are in the limelight. They love to have all focus on them. And it's not just that they want attention, but they genuinely deserve it, as they are a complete package, having all those talents required to reach stardom.
Besides being supremely talented, the Leo natives are profoundly ambitious and hard-working. The combination of talent, ambition, and perseverance makes it possible to turn their dreams into reality. What makes them desirable is their quality of being warm to everyone. They are very friendly and loyal to their close friends and beloveds. At the same time, famous Leo celebrities are difficult if you question their skill or honesty. As Leo traits, They are extremely protective about their partners and may get over-possessive too. The moment they don't get attention from people, they start panicking and get cranky as a child.
It is noteworthy that due to the impact of the ruling planet Sun, the Leo natives are too bossy and authoritative. And because of this, they are often misunderstood to be arrogant and proud. But that is not completely false, though. In the race to be at the top and be in the limelight, the Leo natives often forget the ones they were with, standing strong at the founding step. They make get ruthless and selfish too, to achieve their aims. All this can turn a friendly Leo into a self-centered person.
It is also a sad fact that the Leo natives are a bit jealous kind of people. They are envious of people who achieve greater heights while still trying hard to make it big in their field. They need constant love, care, attention, and motivation from their loved ones to keep going strong. They turn ferociously competitive with anyone who tries to grab the attention of their quota.
Read about celebrity traits and characteristics of your zodiac sign. Get access to Free Janampatri Analysis.
---
International Famous Leo Celebrities – Know About Them!
The Leo zodiac is believed to be a rare one in Western countries. But that's not true. Numerous people are born under the Leo zodiac, and out of them, there are thousands of famous Leo males and females with the Fire element. All the famous Leo celebrities have one thing in common – the hunger to be famous and the desire to be in the limelight. And to achieve that, the famous Leo celebrities can go up to any extent.
Barack Hussein Obama
To start with the names of famous Leo, we would like to mention one personality, who marked the beginning of a new era in the United States. Historically, he is the most popular and famous Leo celebrity man, none other than Barack Hussein Obama II. He created history by becoming the first African- American President of the United States. He served the United States of America from the year 2009 to 2017 as the 44th President. His famous Leo birth date is 4th August 1961.
Bill Clinton
Another famous Leo man is Bill Clinton, who is also widely known for straight talk about the most wanted international terrorist. He also gained publicity in bad light for his misconduct with women working under him while he was the 42nd President of the US in the year 2001.
Madonna
The Queen of Pop, Madonna, is also a famous Leo rising celebrity. Born on 16th August 1958, this Leo female celebrity made a huge name in the world of Pop music in the '80s. She has won various music awards and has always been surrounded by controversy to remain in the limelight. Indeed a true kind of celebrity that Leo is!
Louis XVI
Before the fall of the monarchy in France, the king who ruled was a famous Leo man celebrity, King Louis XVI, born on Leo famous birth date 23rd August 1754.
Lord Bernard Shaw
Another famous Leo man from history is Sir Lord Bernard Shaw, whose social image never diminished though he spoke openly about many topics that were taboo in that era. His famous Leo birthday falls on 26th July 1856 He was awarded the Academy Award and is considered one of the best playwriters after Shakespeare.
Arnold Schwarzenegger
The Terminator, Arnold Schwarzenegger, born on Leo's famous birth date of 30th July 1947, is also one of the most famous Leo celebrities. As a weight lifter, actor, and 38th Republican Governor of California, Arnold has always been on screen and in demand.
Whitney Hudson
One of the most prominent American- African music artists, Whitney Hudson, is the famous Leo female celebrity who has the highest-selling music record in her bag of achievements. After becoming a teen model when she was only 18 years old, she became the first black woman to be seen on the cover page of the magazine Seventeen. She has also won many other awards, like Grammy Award.
The other internationally famous people who are Leo are Wright Brothers, Henry Ford, Claudius, Carl Jung, and Walter Scott, and the list will never end.
Get all the astrological predictions about your favorite celebrity, Download MyPandit App. now.
---
The Indian Famous Leo Celebrities
Shri Rajeev Gandhi
The first name that comes to mind, when we think of the most famous Leo, is that of the Late Shri Rajeev Gandhi. A possessor of a magnetic personality, Rajeev Gandhi was born on the Leo birth date 20th of August 1944. He lived a short but very meaningful life and always remained at the centre of the stage. He served as the 6th Prime Minister of India after the assassination of Smt. Indira Gandhi, his mother. He was the youngest Prime Minister that India has had to date.
Azim Premji
Next is the Indian Business Tycoon, Azim Premji, one of the most famous Leo men in India, born on 24th July 1945. He is the founder chairman of Wipro, a big name in the Indian and International markets. He is also known as the Czar of the IT industry of India.
Saif Ali Khan
Living a kingly life is Saif Ali Khan, a famous Leo man, born on 16th August 1960. Coming from a Nawab background adds to his charm and his Leo traits. He has come out in public and has been very proud of all his acts, and has openly accepted whatever has been his shortcomings.
Kajol Devgn
Speaking of Leo celebrities female, actress Kajol is another famous Leo woman known to kill people with her talkative behaviour and supreme talent. She is a perfect combination of beauty with wits. She was born on the famous Leo birth date 5th August 1974 and has been honoured with the Padma Shri for her unmatchable performance in Bollywood.
Some other names include Arvind Kejriwal, Tapsee Pannu, Genelia D'Souza, Suriya and Mosharraf Karim. The list can go on indefinitely.
As we conclude, whatever the field be, the famous Leo will always toil in the sun to remain famous. Hope you enjoyed reading about Leo celebrities.
Are you struggling for getting success in your life, Talk to Expert Astrologers now.
---
---