A Peek Into The Life Of Famous Scorpio Celebrities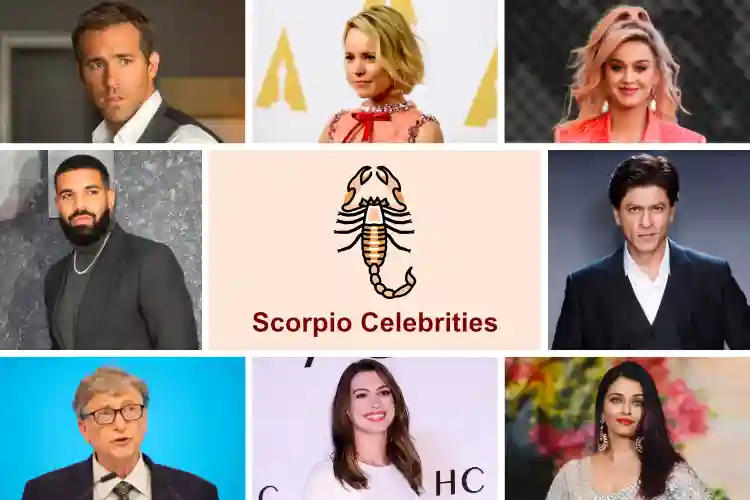 Human life is influenced by distant cosmic objects, usually stars and planets, known as astrology. In addition to influencing the personalities of individuals, the position of the sun, moon, and planets at birth has also been said to impact their romantic relationships as well as their economic fortunes. Astrologers use astrological observations to determine what sign each planet was in at the time of a person's birth in order to produce a more accurate reading. Astrology can explain why you're attracted to, overlooked by, or indifferent to others based upon cosmic patterns.
There are 12 zodiac signs in astrology, each with its own ruling planet, symbol, and element. It's up to these individuals to capitalise on their potential and strengths to achieve fame and success like celebrities. It is not a stretch to say that Scorpio is the most passionate sign out of all the zodiac signs. Here, we are going to discuss the famous Scorpios. Taking a look at famous Scorpio birthdays as well as the qualities that make them respectable in public. In order to understand the characteristics of the zodiac Scorpio, you must first understand the zodiac sign Scorpio.
---
The Scorpio Zodiac - A Passionate and Determined Soul
Scorpio is considered to be the strongest and most mysterious of the zodiac signs. The tenacity, willpower, and drive of Scorpios allow them to accomplish whatever they set their minds to, and, regardless of the barriers, carry on with great passion. Despite their best and worst elements, they contain the essence of life. Scorpio's zodiac sign is most often associated with passion, but this also means that emotions of such a deep nature are often restricted inside us. As a result, they suppress them whenever possible. Those fears unleash the power unleashed by expressing them. Scorpio is exactly the same within its horoscope, but in a conscious kind of way, Scorpio's love lies in letting others express those strong, almost chaotic emotions that all of us harbour inside, whereas Scorpio remains seemingly untouched by such emotions, like a silent force.
Due to their complex and misunderstood nature, they are inclined to have a secluded life just like Scorpio. As a water sign, they are driven by their emotions. That is why you can often see celebrities being brilliant at their work, especially in areas where extreme emotions are required. The following are some examples:
---
Famous Scorpio Personalities You Should Know About
There is no doubt that Scorpios are talented actors and voiceover artists. They are able to mentally transfer their consciousness into another character's body so that they can mimic the voice, thought process, and actions of another character to an extreme degree. Scorpios and people born with mercury in Scorpio are particularly good at voiceover and portraying characters as well as a voice-over.
Aishwarya Rai Bachchan (Nov 1, 1973):
Aishwarya Rai Bachchan won the Miss World pageant in 1994 and appears to have all the qualities that a famous Scorpio should possess. She demonstrates that passion for acting and her sense of style during every event. She has so many scorpion traits like her deep ocean-blue eyes that stare intensely and straight at you.
Ryan Reynolds (Oct 23, 1976):
Similarly to the popular movie, Ryan Reynolds is a chatty and chirpy Scorpio male celebrity, same as everyone's favourite Deadpool. His work is meticulous, but he is also not afraid to voice his opinion when he feels that he should, making him not only liked socially but also respected. He also won many awards due to his passion for acting and making a character his own. Such an aspiration for fellow scorpions.
Drake (Oct 24, 1986):
The famous Scorpio artist who produces viral hits and trends around the world, Aubrey Drake Graham, has accomplished everything from becoming a singer and actor to becoming a rapper and entrepreneur. Whether it's his music or himself, people have always had nothing but good things to say about him. Drake's honesty with an oversharing tendency is so scorpion of him.
Shah Rukh Khan (Nov 2, 1965):
Bollywood's "King Khan" is a Scorpio. How shocking was that? It shouldn't be. As an actor, his journey from television to film to being a superstar in Bollywood was all a result of his passion for acting and persistence in his career. With his honesty and directness, everyone who works with him finds it hard not to fall in love with him.
Rachel McAdams (Nov 17, 1978):
Famous Scorpio celebrity who went popular for her role in Mean Girls as Regina George and The Notebook as Allie Hamilton, Rachel McAdams does not hold back when it comes to putting her ideas into reality. As a result of her ability to adapt to any situation, whether manipulative, sexual, or romantic, she displays so much poise.
Katy Perry (Oct 28, 1984):
Performing and writing songs for mainly a pop genre, Katy Perry is an American singer, songwriter, and reality TV show judge. The Scorpio sign is omnipresent in Katy's horoscope as a moon sign, rising sign, and sun sign. In the discography that she has produced since 2006, you can see that she is involved in a variety of creative endeavours for her music career. A classic Scorpio personality!!!
Pablo Picasso (Oct 25, 1881):
The most famous Scorpio in history is Spanish painter, sculptor, printmaker, ceramicist and theatre designer Pablo Ruiz Picasso is considered one of the greatest artists of the 20th century. It was his many mistresses and lovers who greatly influenced his art in emotional and erotic ways, which emphasised his Scorpio character.
Leonardo DiCaprio (Nov 11, 1974):
Leonardo DiCaprio, a Scorpio actor and star of Titanic and Wolf of Wall Street and the Great Gatsby, is a true artist who focuses all of his efforts on his craft. The green activist is not only intelligent but also socially responsible. In addition, he has a very good work ethic and can work night and day when needed until the job is done. Indeed an ideal for fellow Scorpios.
Bill Gates (Oct 28, 1955):
One of the most famous Scorpio men, Bill Gates, is best known as the co-founder of Microsoft Corporation and a business mogul. In addition to developing software, he is an author. He consistently showed up prepared for every interaction with those he worked with, according to the people who knew and worked with Bill Gates. The insights he offered, combined with the curiosity he showed, made him a unique figure. Knowing something about everything but also willing to listen and learn, he is always up to something new. Among Scorpions, this characteristic is common.
Anne Hathaway (Nov 12, 1982):
With a series of academy awards under her belt, Anne Hathaway is the highest-paid actress in Hollywood. She starred in Les Misérables and many other movies. Her private nature is quite different compared to other celebrities who tend to appear on a lot of talk shows. You can see the accurate famous Scorpio women she is.
As these celebrities were born under the sign of Scorpio, it can be said that they showed Scorpio traits, but there is no one way to predict an individual's career or life path. Another way you can see that other things drive an individual's progress is when you look at their birth chart and planet positions. The most reliable way to understand the depths of your personality and your future is to consult an astrologer. We have come to the end of this topic. Hope you guys enjoyed reading about Scorpio celebrities.
---
---