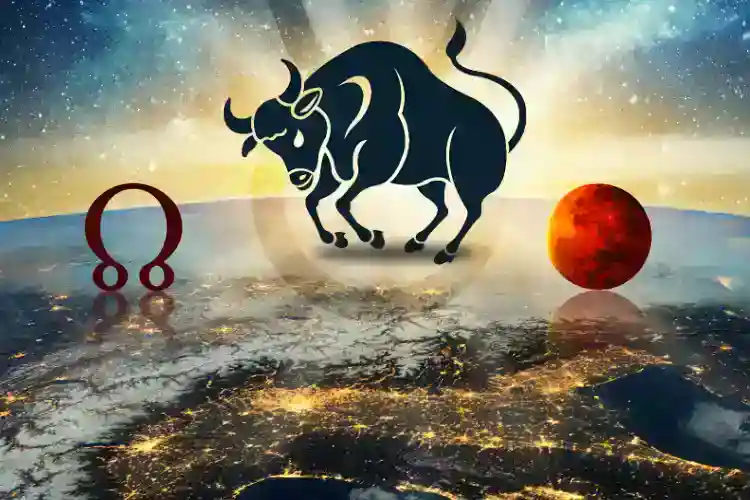 Good News! Mars is moving to Taurus after 7 months now! Ugh, Finally! Mars usually takes almost 2 months more precisely 45 days to travel each zodiac sign, but thanks to the Mars retrograde, it was in Aries for the past 7 months. 2020 I tell you, even Mars was quarantined! So, previously in the cosmos world, Mars enters Aries on 27th June and stays there because of the retrograde.
Aries is ruled by Mars and together they have their own jam for good or for bad. Last year they definitely did not give off the right vibes. We hope and pray they never have that kind of tuning again. Like ever!
Hey, Have you read about the foursome of Jupiter-Saturn-Mercury-Sun, if not read here now!
Rahu and Mars Transit in Taurus : Which Planet is First After the Quarantine?
So, it looks like Taurus is the new Goa or Maldives! The reason being, Mars is moving over to Taurus (a materialistic and a very good looking zodiac sign, thanks to the influence of Venus.) and Rahu is already in Taurus since 23rd September.
Just a quickie about Rahu's astrological significance – political success, physical beauty, phobias manipulation, obsession, and intelligence.
Rahu is a shadow planet that stays in each zodiac sign for 1.5 years. In Taurus, it is exalted, so it brings positive results most of the time.
Now Taurus will witness double conjunction of the Warrior Mars and the Shadow planet Rahu!
Download your Janampatri, to know how the planetary placements may affect your life!
According to the Kalpurush Kundli, Mars-Rahu conjunction in the 2nd sign Taurus is from 22 February to 14 April 2021.
The conjunction of these two planets will see changes in people's behaviour and communication. Also, there may be some ups and downs in terms of finances. Financial gurus may feel everything has been dialled up to eleven, after seeing the downs related to finances!
As per cardinal directions, this transition may highly affect the northern-eastern countries or their neighbouring countries.
When was Rahu Last in Taurus?
On February 28, 2002, i.e. before almost 18 years, Rahu was in Taurus.
Effects of Rahu and Mars Transit in Taurus Specifically on India:
As per the Kundali of the Republic of India (1947 at the time of India's freedom), Taurus is in Lagna's house, and the 3rd house of Kundali is aspected by the five planets in Capricorn. (Sun, Moon, Mercury, Venus, and Saturn ) which may slow down India's development.
Due to the internal conflicts between veterans or dignitaries, India may not be able to maintain its stature on the international level. The Moon is the lord of the second house where these 5 planets are forming conjunction, but the Moon being in Maha Dasha from 4/9/2014 to 4/9/2025, may work in the favour of our country!
From 22/2/2021 to 14/4/2021, there is a formation of Angarak Yoga, due to the union of Mars and Rahu in the 1st house. Again hampering the nation's prestige.
The silver lining during this phase is the women's empowerment movement.
The movement may be strengthened during this time, and Bharat may come out of trouble after 6/4/2021.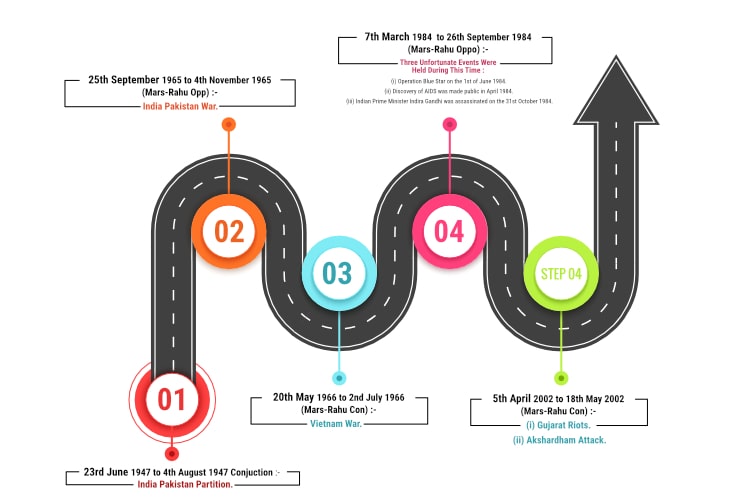 So, before we move on to how the conjunction of Rahu and Mars impact all zodiac signs.
Let's just see a graphical overview of Rahu and Mars characteristics.
Rahu characteristics
Rahu blesses with physic perception, intuition, and Mathematical skills
Rahu is friendly with Mercury, Venus, and Saturn
Rahu is at odds with Sun, Moon, and Mars.
Mars characteristics
Mars blesses with strength motivation and courage
Mars is friendly with Jupiter, Sun, and Moon
Mars is at odds with Saturn and Rahu, Ketu
Rahu and Mars Transit in Taurus For Aries: Some Positive Changes Ahead
Debuting with Aries, considering Mars will be departing Aries!
From the 2nd week of February to the 2nd week of April, Mars will be associated with Rahu, and because of that Aries natives may face issues with their communication.
Hence you are advised to take care, while conversing with people, especially with your colleagues or your boss, you don't want to upset your bosses right!
Though on a brighter side, you may see positive changes at work.
Also, no hurried decisions should be made, take your own sweet time, and then take the decisions.
In regards to your health, you may face eye-related problems or elders may have leg pain problems. Hence, don't undermine any symptoms, take care of health.
It will be a good time in terms of your love relationship, as you may meet someone new and you may also go on the trip with your friends and family.
There may be some impediment while buying properties.
Students, there seems to be no free lunches or shortcuts for you. You still need to work hard!
Rahu and Mars Transit in Taurus For Taurus: Natives May Have A Great Time
Let's see what it has in store for Taurus natives since both Mars and Rahu are on the home ground.
Taurus should be careful about their health as they may have acidity issues. Hence, do take care of your diet.
In terms of travel, unexpected trips are on the cards for you!
Taurus students should be happy as they may get favourable results in their exams, and Taurus women should be happier as they may get a chance to impress their family members.
"World is your runway ladies!"
It is a good time for singles to get married. "Wedding bells ding dong", and those who are married should not take any hurried decision in regards to their marriage.
Job seekers may get the desired work opportunity in April, especially between the period of 12th February to March 20.
Good phase for the spiritually inclined Taurus peeps!
Rahu and Mars Transit in Taurus For Gemini: Be Careful This Time
For the natives of Gemini- Mars, and Rahu conjunction will be in the 12th house. So, you need to be careful about pending court work. Take utmost care during this time!
Have patience while taking a loan, as you may get duped by fraudulent sources.
You may face some issues such as Gemini women may face gynaecological problems, and elderly Geminis may witness some knee problems. So do take care and along with taking care of health and also take care while driving.
Businessmen or those who are working in the manufacturing unit should patiently deal with their work. New work opportunities may also come your way during this time.
However, Gemini students may need to work hard to achieve results.
Struggling actors or stuntmen may find opportunities to come forward in this time. Yayy!!
If there are any misunderstandings between the father-son relationship, it may get sorted. It may not be a good phase for a love relationship, so think before trusting others.
You may also like to read about Jupiter-Saturn-Mercury-Sun conjunction Effects on Area Of life – Career/Education
Rahu and Mars Transit in Taurus For Cancer: Need Your Effort
Health is highly favoured during this phase, so if you want to undergo surgery, you should get it done during this time as you may recover soon.
Family time may be enjoyed during this phase. Also, a goody-goody time to buy a new property or a new house.
Merchants and commercial service business men may profit during this time. But be careful with your financial planning though as there may be an increase in expenditure. Moreover, be diligent about your stock market activities.
Students may need to work hard, and parents should be more kind and considerate towards them. Foreign aspirants of Cancer natives may need to add extra efforts to clear their exams.
Individuals of Cancer may enjoy quality time with their friends, but you are advised to be a bit careful while palling up with natives of Gemini and Aquarius.
This may be a good time for a love relationship, and it is a nice time to propose to your partner and express your feelings. You may also socialize a bunch during your successful trips.
Rahu and Mars Transit in Taurus For Leo: Good But Be Careful
Leo natives are advised to look after their health as you may face stomach-related problems. So be careful regarding your diet, try to avoid spicy food, or eating from outside.
Try not to get involved with your paternal property, or else you may get unfavourable results.
Leo students who are aspiring to study abroad may find positive results. Kippis!!! Time to toast then!
A much favourable time to purchase new properties, but try to be very cautious while you do so, as you may get duped or cheated during the dealings.
Working Leo peps, especially the ones into civil services, should try not to get into arguments with their seniors as they may face severe consequences in the future.
Leo peps may see unexpected changes in their routine life, which is a good sign as you must never resist change because change is the only thing that is constant in our lives!
Rahu and Mars Transit in Taurus For Virgo: Think Before You Do
Virgo peeps may not face any issues in health, you can be reassured about health. Though there may be some changes in your behaviour, do observe these changes and try to act accordingly.
Always think before you make any decisions. Don't try to make decisions on impulse!
Virgos who are involved in any partnership business are advised to take care of their relations with their partner. Talk it out, or hug it out. It is as simple. Do not let the minor issues of today become the major problems of tomorrow.
Elderly Virgos should take care of themselves while travelling, or if possible, they should avoid long trips. It is a good time for couples to make a decision about their future. Not to sound intrusive, or go full Sima Aunty on you, but do we hear wedding bells already!
Even though it is a good time for love, do not take things for granted, continuing showering love and affection on your partner.
Also, know what has 2021 got in store for you!!!
Unable to take your love relationship to the next level? Talk with our astrologers – First Consultation Free.
Rahu and Mars Transit in Taurus For Libra: Health Needs Attention
Libra peers may find this time a bit challenging as the people who may enter your life during this may prove unlucky for you, and you may face some financial problems as well.
Health seems good for Librans, barring some bone-related problems, and pain. However, try not to ignore it and take care of your health. Natives who have asthma or are continuously facing seasonal health issues are advised to take serious care of their health.
Try to keep your immunity strong and take the necessary precautions during this time.
It is a good time for students, as they are now closer to achieving their career goals. Party Time!
Teenagers may lose some friends during this time, don't be disheartened, take it from us, teenage friends rarely last!
Study in detail about Mars transit 2021.Know how the upcoming transit of Mars in Gemini will affect your zodiac sign.
Rahu and Mars Transit in Taurus For Scorpio: Overall A Balanced Time
Kickstarting with health for Scorpios. The natives between 55-65 years need to pay proper attention to their health. Neck surgery or gynaecological problems are foreseen.
You may get an opportunity to start your new business, so if you have any business plan, you should explore it during this period.
Scorpions may take on the path of spirituality to attain mental peace.
Meditation, Yoga, and Pranayam may help you with improving your health.
This will be a balanced period for working professionals, also try not to switch your job during this time. You may face ups and downs in your work but try to deal with it patiently, as this is just a phase and it has to pass. It is a good time for those who are in a love relationship.
Try to make the most of it, as love is in the air and opportunities do not knock twice. Wink!
Rahu and Mars Transit in Taurus For Sagittarius: Unexpected Good News
Sags are serving the 3rd phase of Sade Sati. Natives with recurring health issues may see improvement in their health!
During this time, you may win over your hidden enemies and also earn some unexpected gains. Make the most of this time Sags!
Sags folks who are in the field of medicine may earn profits and may conduct a lot of experiments.
Now, wait for it. Drum rolls, please!
Thou shall find success in thy Experimentations! So Congratulations and Celebrations.
Business trips may also produce successful results.
Children of the Sagittarius zodiac should work hard and concentrate on their academics thoroughly, and their parents should take care of them during this time.
Additionally, it's a good time for elders as they can decide for themselves and their family members. A lovey-dovey time for Sag lovers!
New hope of 2021 – Jupiter-Saturn-Venus-Sun-conjunction
Rahu and Mars Transit in Taurus For Capricorn: Careful In Every Area
Individuals of Capricorn are serving the 2nd phase of Sade Sati, which may create some life hurdles. Hence try not to take decisions in haste. Think everything through before you come to a decision.
Refrain from starting a new business or switching your job during this phase as they may not be successful.
Pay attention to your health, and take proper care of your health.
You may make new friends during this phase, and they may help you achieve the desired goals. Good time for students, so make the most of it people! Take up courses that you were planning to take for a while now.
A good time for students in the field of medical or engineering as you may get an opportunity to travel abroad for your higher studies. Students are likely to travel to Southern or Western countries. Lovers should stay aware of their partner as there are chances of betrayal in the relationship.
Rahu and Mars Transit in Taurus For Aquarius: May Move To Spirituality
Aquarius natives are under the 1st phase of Sade Sati, so you may not face the wrath of bad luck. However, think before making a move.
Your health during this time would also be good.
This is a good time to buy a new house or vehicle. Also a good time for students and for love relationships as well.
Natives who are associated with commercials services or are working in a factory may buy new types of equipment.
Individuals of Aquarius will become more spiritual. They may be more involved in religious activities during this time. You may find yourself busy with social activities as well. Financial problems can be foreseen, so try to take a loan or plan your finances to survive this phase. But make sure you take a loan, which you are capable of repaying it after some time.
Rahu and Mars Transit in Taurus For Pisces: Pretty Good Phase
Pisces folks may have a good time with regards to health and finance. Looks like two important fields are sorted for y'all. Is it not?
Also, a good phase for the Pisces natives who are looking to explore and try something new! So, go ahead, take up that dance, painting, singing, gardening, pottery, etc. classes that you wished to take!
Students may have a great time, and also, if you try hard, there is a chance that you may get a government job offer as well. Sarkari Naukri though!
A decent time for those in the field of acting.
Pisces peeps working in the banking sector or finance sector may find new opportunities and can look forward to a job switch as well.
This will be a good time in terms of a love relationship. So, increase your candlelight dinners, chatty coffee dates and long drives. Because it is a Suhana Safar Aur Yeh Mausam Haseen!
Talk to an astrologer and flourish in all areas of your life!
Stay Tuned with MyPandit for more informative blogs!