Yuzvendra Chahal and Dhanashree Verma: Cricketer's Purple Patch and Lady Luck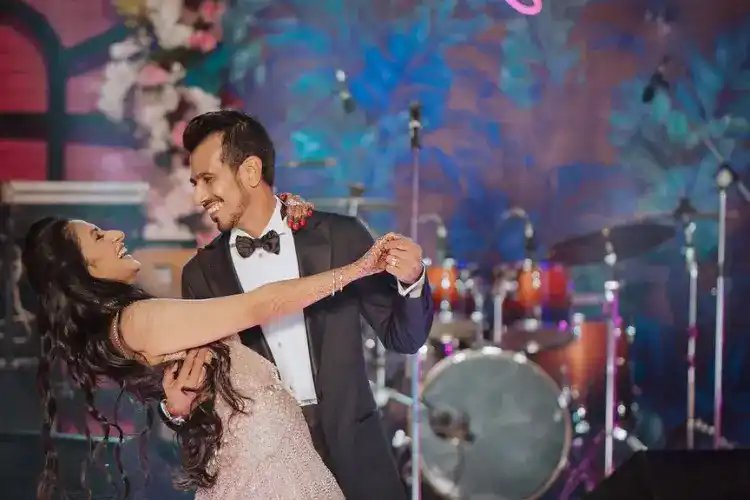 On April 18, KKR (Kolkata Knight Riders) were well on their way to registering a win in IPL 2022, riding on Shreyas Iyer's great form. Then came an over that would turn the match around on its head, adding four wickets to the scoreboard and leaving KKR on the floor. Yuzvendra Chahal showed his pedigree as the spin bowler to the world with a hat-trick to his name. In the stands was his wife and a successful YouTuber, Dhanashree, possibly feeling more ecstatic than anybody else on that ground. Since their marriage, Yuzvendra Chahal and Dhanashree Verma have been in the buzz with their quirky social media posts.
Like Yuzvendra Chahal's pace variations, Dhanashree is also a multi-talented personality. Being a doctor and then choosing to be a choreographer and YouTuber shows her range. Many believe Dhanashree's stars are painting a "purple patch" for Yuzi, and we are here to decode just that! What do their charts have to say about their marriage and success? How do their destinies intertwine? Let's find out.
---
Chahal and Dhanashree's Charts: No Wrong'un Among The Two
---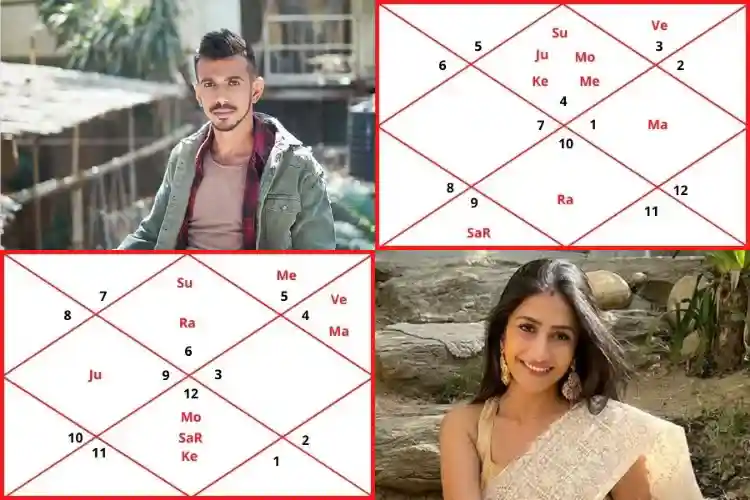 chahal dhanashree kundali
Chahal's Sun is in Cancer, whereas Dhanashree's Sun is in Virgo. It makes them both earnest and dedicated to the relationship they share. Not only that, the relationship is only going to get stronger, stars suggest. Jupiter, the planet of fortune, is exalted in Yuzvendra Chahal's chart, and it falls over Venus and Mars in Dhanashree's chart. This indicates a favourable fortune for Dhanashree after marriage.
---
Last but not least, the compatibility of their Moon also provides an emotional balance and security. It will also help Chahal find success. Planets sure do play an important part for one to find success.
Which of these planets help you with sucess in your life? Find out now with a Free Janampatri Analysis.
---
Role of Planets in Yuzvendra Chahal's Career
Jupiter's transit is looking favourable for Chahal, and it is likely to scale newer heights this IPL season. As of April 20, he has taken the most wickets in the tournament and holds the purple cap. The combination of Venus and Mars in transit is also helping him; however, the Saturn transit may cause some problems in the latter part of the IPL 2022. The last phase of the IPL would be the true test of his skills and patience. Will this transit bring issues to your life? Find out now with Saturn Transit In Aquarius 2022 After 30 Years: Which Areas Are Going To Be Affected?
---
Understanding Dhanashree Verma's Chart: Limelight Follows the Doc
Jupiter, the lord of her Moon sign, is situated in its own sign. The placement of this strong Jupiter in the 10th house from the Moon forms an auspicious Raj Yoga. The 'centre of attraction' quality and limelight come from the Venus-Mars conjunction. This combination also opens doors to the acting or the entertainment industry.
Venus is the Atmakaraka planet of her chart, bestowing her with an artistic flair. Combined with Jupiter's transit, this may bring her some opportunities to show her talent to the world. For Dhanashree Verma, Sun is also placed in a favourable position for being in the public eye.
---
Is Dhanashree the Lady Luck That Chahal Needs?
Yuzvendra Chahal's birth chart indicates a very positive, powerful story about his talent and potential on its own. However, the strong compatibility between Yuzvendra Chahal and Dhanashree Verma is also likely to boost that natural talent and take it to new heights altogether. Her strong chart empowers Chahal's fortune, and it stands true vice-versa, too! Both of them complement each other perfectly. Talk about a match made in heaven! Is your match with your partner made in heaven, too? Find out now with your Free Name Compatibility Report.
---
---