The Five Best Travel Destinations for Leo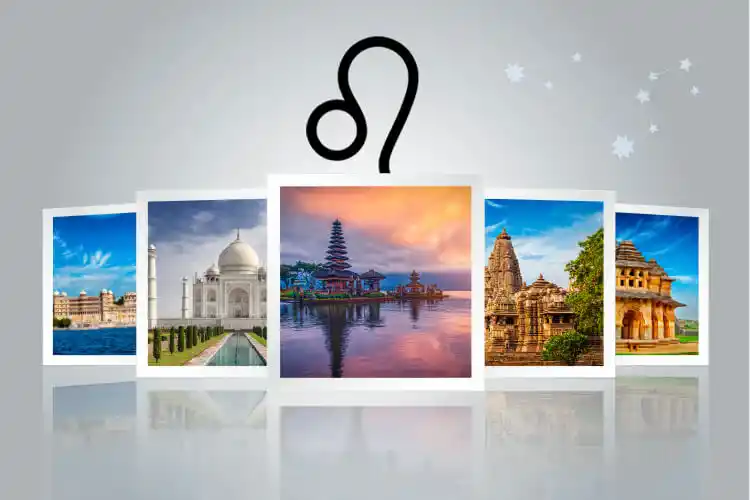 People with the zodiac sign of Leo are always seeking fame and limelight. They always want the glitz and glamour. Leos opts for grand-scale set-ups. Also, they have a deep craving for power and wealth. Ego is their weapon, and they prefer to boost it with strength. Here is a list of the five best travel destinations in India and abroad with such a persona and traits. These places will surely tempt the travel taste buds of all the Leos.
---
Bali:
This Indonesian island is not less than any oceanic paradise. Bali is an ideal leisure travel destination, full of adventure, coral reefs, volcano mountains, waterfall and island resorts. Leo individuals would love to watch enticing sunrises and sunsets on the beautiful beach of Bali. Undoubtedly, it is one of the best travel destinations for Leo man to go for a honeymoon with his wife.
For an Ideal Match with your Partner, Free Janampatri Analysis.
---
Agra:
If you haven't seen the Taj Mahal in Agra, then you probably are missing out on one of the best World Wonders. Agra was the Mughal capital in times of Emperor Akbar, and it surely is the best travel destination for Leo male history lovers. The historic city of Agra, located in Uttar Pradesh, boosts the tourism industry of India. The scenic, historic architecture of the luxurious and grand Mughal era is enough to attract the Leo individuals.
---
Khajuraho:
Situated in the state of Madhya Pradesh in central India, Khajuraho is famous for its extraordinary architecture. The mesmerising erotic art in the carvings of the Khajuraho temple is a treat to watch. It is one of the must-visit travel destinations for Leo zodiac people. The temple of Khajuraho tells the interesting artistic stories of medieval India. Leos would love this place for no reason.
Know more about your Relationship Compatibility. Try our Zodiac Compatibility Services.
---
Udaipur:
Honoured with the title of Venice of the East and Jewel of Mewar, Udaipur is one the best travel destinations for Leo Woman. A Leo woman who wants a romantic tour with her life-partner always prefers to go to Udaipur. Also known as the City of Lakes, Udaipur is another historic town with palaces and grand heritage hotels. A Leo would fall for a place like Udaipur due to its enchanting royal aroma.
---
Hampi:
A UNESCO World Heritage site, Hampi is no less than a wonder situated in the southern state of Karnataka. Hampi was once the grand capital of the Vijaynagar Empire. The art and culture of the city still appear clear in ruins. It is one of the best travel destinations for Leo zodiac geologists, history lovers and architecture enthusiasts. If Leo traveller is planning for a south India tour, Hampi would surely be on the list.
Leo people pack your bags and move out of your houses to visit these exciting travel destinations for the Leo zodiac sign.
You are Happy If Not , Talk to astrologers
---
---