Interior Design Manual Based on Your Zodiac Signs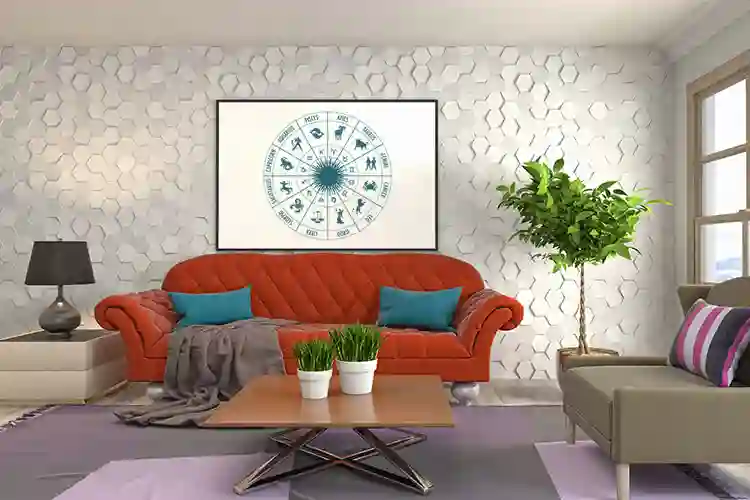 ---
Your Zodiac Interior Design Style Guide
Don't you agree that Weird is the New Normal? We all are unique in our own way. Sometimes we have some similarities – which we might have inherited from our genetics and sometimes from our sun sign. Zodiac signs rule our behaviour, appearance, personality, and traits and the type of interior we would do.
Do you have classy and expensive taste? Or maybe old-fashioned and simple? Well, it all can be blamed on your zodiac sign. This blog will guide you on how you can use the power of astrology to choose the interior design that reflects your features in your home. These suggestions will fit your sign perfectly!
---
Attractive by Birth, a Serious Flex!
Definitely, a HOT topic and a heated debated question. But it's not a surprise that people's interpretations of the most beautiful and attractive zodiac sign largely depend on their likes, dislikes, and connection with people of various signs.
To put an end to this argument, we turned to astrology for answers, and it sure gave us one.
Aries are the most naturally attractive zodiac signs. Their luscious lips and high brows are the most enticing characteristics in terms of their physical traits. These factors combine to build well-rounded characters that are appealing, difficult to ignore, and hard to resist.
Don't be disheartened lovelies, 'Beauty Lies in the Eyes of the Beholder.'
---
♈ Decor Ideas for Aries Zodiac Sign
Aries is the first on the list of zodiac signs. It represents people who are fearless in the face of danger. Such spontaneity manifests in all facets of life, from weekend plans—a last-minute skydiving session—to interior choices. Aries' home decor style must be filled with positive vibes as they love life with all its effects. This symbol, which prefers to decorate in a minimalist style, should also represent the colour of its spirit while changing the interior.
Therefore, Aries's most suitable home decoration style as a fiery fire symbol, which enjoys dramatic elements that they can flaunt to others, particularly those containing flames or vibrant hues, can go for some eye-catching artwork and a large fireplace. With Mars as their ruling planet, they are incredibly active and want a home gym or pool to loosen up and let off that steam.
---
♉ Decor Ideas for Taurus Zodiac Sign
Many born with the Taurus sign tend to be drawn toward well-made, sturdy furnishings that last and are stylish yet subtle. They are stubborn, modest, and have a dislike for change. They also like historically significant accessories. As an earth sign, Taurus wants to be surrounded by plants, natural materials, and earth tones as their favourite shade.
An iconic theme for this zodiac sign is modern, a masculine contemporary interior design style that combines past and present. So a simple but striking decoration design would be suitable. The planet of beauty rules Taurus, Venus, who loves elegance and romanticism and smooth fabrics and calming scents. This makes Taurus the most classy sign of all. They enjoy entertaining guests with a delectable array of fine foods and drinks.
---
♊ Decor Ideas for Gemini Zodiac Sign
Gemini's are quick-witted, interactive, and vibrant, and they are always able to take on the next task on their to-do list. Mercury is Gemini's ruling planet, and it is responsible for its quick-wittedness. The stars suggest you create a room of sparks of colour for appeal while maintaining a sense of warm simplicity, with everything tucked away to avoid overwhelming the senses. As twins rule the sign, they have two very different sides, giving them an eccentric appearance. Gemini is the only symbol that can love both conventional and contemporary styles at the same time, as well as fall in love with the latest fashion trend in a moment.
To help cultivate your creative side, the best interior suitable for you would be to transform your walls into a map for what you want to create and paint with an energising colour or fill your home with plants. Focus the designing efforts on creating a spacious setting, whether at home or in a studio for art or writing.
---
♋ Decor Ideas for Cancer Zodiac Sign
c are empathetic since the moon is their ruling world. A welcoming and cheerful decor theme is what appeals to the Cancers. The stars suggest you stick to neutral and light colours or something combined with the pastel shades to achieve this intimate result. Cancer natives enjoy incorporating decorative items into their homes that adds a lot of natural texture.
Their ruling element is water, which makes them nostalgic, prioritising caring for their loved ones. They will talk with guests while cooking food in their fully equipped kitchen in an open-floorplan living room. To build an inviting mood, cancers always have a steady supply of delicious-smelling candles and fresh flowers on hand.
Maybe this does not sound what you like or want, maybe because your moon sign and ascendant demands something else.
Know Your Moon Sign & Ascendant, Get Free Janampatri
---
♌ Decor Ideas for Leo Zodiac Sign
Leos are intensely self-sufficient and forge their path through life. They are daring and have a strong desire to express themselves, making them potential trendsetters who aren't afraid to experiment with new colours, shapes, and designs. Leos, who are ruled by the energetic and luminous sun, need a lot of light in their lives, from the sunlight to the spotlight. The perfect home decor style emphasises aesthetics while including beautiful features for this zodiac sign, stunning effects, and spectacular decorative objects with an eccentric art line.
They enjoy dramatic, regal features as a fire sign and will admire a luxurious bathroom and walk-in wardrobe. Leo stresses a lot of attention to details in everyday life. Therefore, the Bohemian theme interior design will show others your exceptional taste in home decoration.
---
♍ Decor Ideas for Virgo Zodiac Sign
Virgos are practical people who value an ordered world free of unnecessary possessions. For Virgos, a clean and tidy environment is essential, which will inspire them to invest in air purifiers (both electric and natural through plants) as well as a luxurious master bathroom. Virgos are detail-oriented and ordered, with stylish and functional containers and calendars in their homes and furniture.
Thanks to their ruling planet Sun, the primary and bold decoration type, where the details are subtle, but the beauty is high, and the neutrality of soft colours is emphasised, is a suitable interior design for the Virgo zodiac sign. The paint scheme should include basic and natural elements, and the furniture should consist of lean, spacious shelves packed with books.
---
♎ Decor Ideas for Libra Zodiac Sign
Libra have an aura of natural charm. They love interacting with others and yearn for happiness in their lives and surroundings. Libras are Venus-ruled, so they like a little romance and admire beautiful material. This makes Libra another most classy sign of all. Libra is drawn to artistic endeavours and favours vivid details. Tropical accents that are both vibrant and beautiful is what suits them best for Libra's interior design.
They are air elements that love learning new things and staying active with artistic endeavours. Libras, who are skilled DIYers, should set aside space for a craft field. But it is their need for harmony in all aspects that guide them to select plain but well-made furniture and natural objects such as multifunctional woven baskets.
---
♏ Decor Ideas for Scorpio Zodiac Sign
Scorpios are deeply romantic, introverted individuals who place a high value on their bedroom and prefer sensual furniture such as plush rugs and towels, as well as canopy beds. Fabrics and soft materials such as percale and silk can be used in the bedroom interior decor. They obsess over random things, which makes them collectors. Scorpios want their house to be a luxurious den, where they can be themselves free from the prying eyes of the outside world. An interior style that offers a calm atmosphere with its decoration is what is best for this sign.
Pluto is the ruler of Scorpios, and he represents the bond of life and death, as well as transformation and rebirth. Therefore the cyclical natures of Scorpios suggest that, through their love for collecting and displaying objects, they will renovate every few years to start fresh.
---
♐ Decor Ideas for Sagittarius Zodiac Sign
Sagittarius is a social star that enjoys strengthening friendships by hosting game nights at home or welcoming friends over for a bbq. Sagittarius is a lover of space, whether it's enjoying the great outdoors or decorating their homes with high ceilings and plenty of natural light. The dining room and family room should be given special consideration in terms of architecture.
Jupiter, the god of expansion, is the ruler of this sign. As a fire sign, Sagittarius has the energy to devote themselves to various events. They then glorify in their homes with pictures, devices, and decorations displayed prominently on walls and shelves. Sagittarius doesn't need lavish kitchens; instead, they like to try new restaurants. The best-suited interior designs for Sagittarius would be to build a vibrant and welcoming environment in your living room with fragrant candles.
---
♑ Decor Ideas for Capricorn Zodiac Sign
Capricorns are a highly motivated, perfectionist sign with a structure that appreciates conventional details. They may live in a house that is both elegant and luxuriously decorated, a unique composition that combines classical lines with the strength of tradition. Classic accents with luxury are at the beginning of a home decoration that will influence them. Capricorns admire their surroundings' stability and dependability, gravitating toward strong oak, marble, and classic elegance.
Serious Lord of the Rings, Saturn, is their ruling planet. Capricorn is disciplined, analytical, and has a 'home and hearth' outlook as an Earth sign. The suitable interior design for Capricorn is to go for a big formal living room brimming with the artwork you hand-picked and are well-versed in the history of. A bar cart of exquisite glassware can complete the look.
---
♒ Decor Ideas for Aquarius Zodiac Sign
People born under the Aquarius sign are keen observers who are always on the lookout for the next major technological breakthrough, even though it is just in the context of home appliances. Aquarius' intelligent personality, influenced by their zodiac sign, blends with their futuristic outlook to deliver people who enjoy living in ultra-modern homes with large windows. When it comes to decorating and changing the interior design for Aquarius, the best would be to value warmth as a theme. The main words would be furniture, decorative accessories, fun, and glitz.
Uranus, the rebel sun, rules Aquarius and represents those who are somewhat quirky, worldly, and forward-looking.
The stars suggest you bring colourful geometric shapes, abstract paintings, and furniture into your home to help you share your limitless, expressive personality.
Get unique insights not only for your bedroom but other areas too. To enhance your life, Unlock Free Janampatri.
---
♓ Decor Ideas for Pisces Zodiac Sign
Pisces are earthly dreamers who enjoy unwinding with good music and are constantly distracted by reality when in the middle of a profoundly inspired daydream. Guests tend to visit Pisces' home because it is a social activity centre. It will be refreshing to relax in the spacious and ultra-comfortable surroundings of the Pisces' house. A country interior design style that will always bring a fresh breeze into their home and make you feel like you're in the spring season, representing the Pisces zodiac sign's spirit.
Pisces, whose governing planet is Neptune, are idealistic thinkers who turn their homes into a peaceful haven—especially the bedroom—where they can relax and return to their fantastical dreamland. They are drawn to warm and relaxed spaces with a bohemian vibe because they are a water feature. Add lots of calm, natural colours and delicate home decor pieces to your home, and pamper yourself with silky pillows and soft jute carpets.
---
---