Importance and Benefits of Tulsi in Puja Vidhi and Tulsi Vivah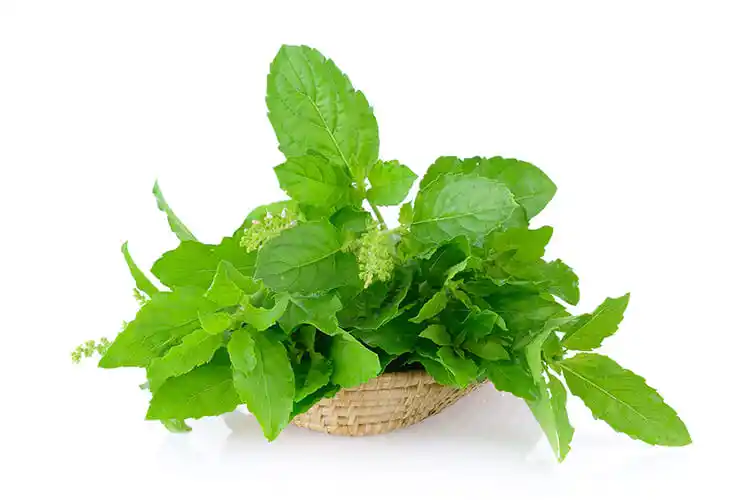 ---
TULSI – A Sacred Plant
Tulsi, also known as Vrinda, is a Hindu sacred herb. It is considered by Hindus to be a reincarnation of the goddess Tulsi/Vrinda, who is revered as Lord Vishnu's greatest worshipper. It is thought to resemble a horizon where heaven and earth meet.
All Hindu pilgrimage reside in its roots, the river Ganges flows through its roots, all deities are said to be in its branches, and the Hindu scriptures, the Vedas, are said to reside in the upper part of Tulsi. You will find a Tulsi plant in every Indian house anciently. But with urbanization and lack of space, Tulsi is not as a householder as it used to be.
Still, you would find a Tulsi plant in almost every Hindu home, particularly worshipped by women. As you know the uses of the Tulsi plant are immense. It is said to balance negativity and Vastu Dosh from a household.
There are 4 types of Tulsi plants that are found in India. They are Krishna Tulsi, Rama Tulsi, Vana Tulsi, and Kapoor Tulsi. Out of these, the Rama Tulsi is used as an offering in pooja. The Rama Tulsi is also known as green leaf tulsi.
Also Read :- Planting Tulsi in your home will help to reduce negative energy. Read on the right Direction To Put Tulsi Plant At Home. Explore!
---
About Tulsi Puja Vidhi
Tulsi Puja brings peace and blessings to family members. It aids in the attainment of redemption and the reduction of sins. Also, Tulsi Pooja lowers the Dev Dosh level. Tulsi should be watered and well-lit every dawn and dusk while chanting the Tulsi Pranam Mantra. Tulsi is thought to have been born on the Amavasya of the Kartik month. As a result, it is essential to do Tulsi poojan during the Kartik month.
---
About Tulsi Vivah – The Legend
Brindha was a loyal wife of a demon called Jalandhar. The demon had a boon of being invincible unless the chastity of Brindha was broken. Gods planned a smarter act out of this life-threatening scenario. Lord Vishnu took the form of Jalandhar and manipulated her. At the same point, Shiva killed him in the battle.
Brindha realized this cunning act later and cursed Lord Vishnu. Brindha drowned herself in the ocean under a load of her guilt, and Lord Vishnu transferred her soul to a plant, which was called the Tulsi plant henceforth, thereby making Tulsi immortal.
As per her prayers, she was married to Lord Vishnu in this form. She was married to Lord Vishnu in this form as a result of her prayers.
---
About Tulsi Vivah Ceremony
Upon the arrival of Prabodhini Ekadashi, the devouts wake up toward the beginning of the day, take a bath, and clean their homes. The Tulsi plant is set in the focal point of the house, given a blessed shower, and designed with turmeric, vermilion, holy string, trimmings, and blossoms.
The icon of Krishna/Shaligram is designed with male clothing and set nearby the Tulsi plant. Typically, upon the arrival of Tulsi Vivah, the devouts follow a day-long fast, and the Vivah happens in the evening. The women of the family, with the rest of the participants, play out the marriage.
After assembling Tulsi and Krishna together in the form of a plant and statue, the mantras are chanted. A cotton thread is tied around the statue and planted as a mark of a wedding lock. After the ceremony, 'Prasad' or 'blog' is distributed to all the devotees. The auspicious Tulsi Vivah in 2022 is on the 5th of November, Saturday.
Subsequent to gathering Tulsi and Krishna together as a plant and sculpture, the mantras are recited and a sacred thread is tied around the sculpture and plant as a characteristic of the wedding lock. After the service, 'Prasad' or 'blog' is dispersed to everyone in attendance. In 2022, Tulsi Vivah is on 5th of November, Monday.
---
What are the Benefits of Tulsi Vivah Puja
It neutralizes bad luck within one's family.
You get a husband of your wish.
You are blessed with children if that is what you are seeking.
You are Happy If Not , Talk to astrologers
It brings good luck, good health, happiness, prosperity, and wealth.
---
Let's Know More About Tulsi:
Why is tulsi offered to gods with Prasad?
Krishna uncovered that Tulsi leaves are more holy and sacred than Krishna himself. To commend the importance and holiness of Tulsi, it is added to any Prasadam.
Which mantra for tulsi helps provide maximum benefit to its devotee?
Mahaprasad Janani Sarva Saubhagyavardhini, Aadhi Vyadhi Hara Nityam Tulsi Twam Namostutte, should be recited.
How should tulsi be placed in a house?
The North or North-East direction of your house is ideal for Tulsi placement.
What is the spiritual significance of Tulsi Vivah?
Revering Vrinda's loyalty, holiness, and immaculateness, she was honoured with the blessing that she would be married to Lord Vishnu in her next birth. Marriage here represents the consolidating and unity of the epitomized soul and god. This is the otherworldly meaning of Tulsi Vivah.
---
Closing up
Tulsi is also known to be a medicinal plant and purifies air also. It is an irreplaceable part of any Hindu family. For its medicinal values, Tulsi is used in various medicines in Ayurveda.
To know more about your personality traits, you can avail yourself of your Free Janampatri.
---
---