Mars and Venus Conjunction in Cancer 2023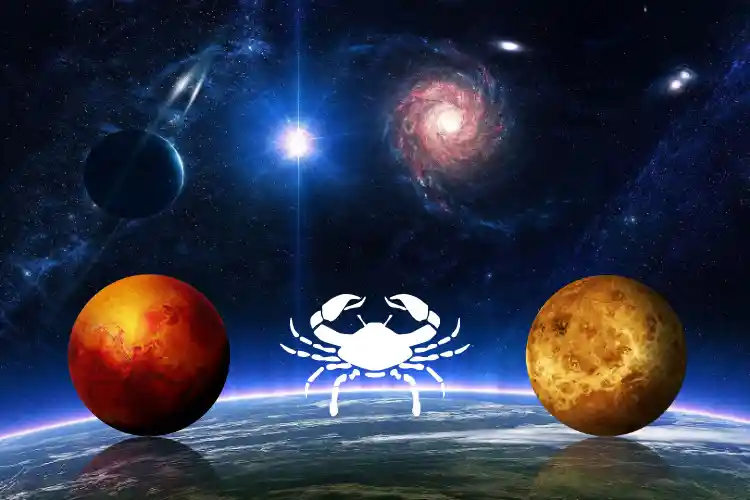 It's the Mid-year 2023, and we are about to witness the union of Mars and Venus conjunction in Cancer Sign. Yaas, for that, we are sure some of you would be on your toes to check what happens when the God of love, Venus and Red hot planet, Mars, combine in the same house. If we take a closer look at the Kalpurush's horoscope, it suggests that Mars may assist you in resolving your long term pending issues related to your property or land. On the other hand, Venus may arrive with plenty of opportunities to earn profit in investments. Yaas! But that won't be the only good news you get from this union. Both the planets conjuncting in the 4th house of Cancer means that they may add fragrance to your love life.
On the 10th May 2023, Mars will be transiting to the Cancer sign for around 52 days while Venus will be moving to Cancer 20 days later, i.e. on 30 May 2023, and it will stay around 36 days in the fourth house of Cancer sign. that means the Mars-Venus conjunction will occur on 31 May to 30 June 2023 in Cancer sign, Besides benefits, mars venus conjunction 2023 can also bring some unbearable changes in your life. And therefore, we are ready to discuss its effects on the individuals of every zodiac sign. So buckle my friend and read carefully what astrologers have to say.
What are the signs for 2023? Consult our expert astrologers to know more about it.
---
Effect of Mars and Venus Conjunction In The Cancer Sign
Below are the 2023 venus and mars conjunction in cancer's predictions written by our best astrologers. Read to know what are the changes this association of two planets brings in your life. Also, find the remedies to reduce its bad impacts.
Mars and Venus Conjunction in Cancer: Effects on Aries
Aries Individuals would have a fair time during this conjunction, but should be attentive to their health. Young natives may undergo blood-related disorders, while Elders carrying Aries signs may complain of muscular pain. Moreover, this conjunction may not have any serious harm on studies, so it can be said that Aries students may enjoy a good time.
Those natives who are in a marriage relationship should take care while talking with their spouse; otherwise, you may create unnecessary issues. This phase would be a favourable time for investors. But you should refrain from stock market activities or speculation. Also, you should refrain from arguing with your friends or partners as it may create some troubles for you. It is advisable that you should worship Lord Hanuman and Lord Shiva during this time.
Mars and Venus Conjunction in Cancer: Effects on Taurus
Natives carrying the Taurus sign may undergo minor health sufferings. You are likely to have a cold, fever, body pain or may complain about pain in your lungs. So, you should be attentive to your health and fitness till August month. For the students, things may go your way, but you may need help from your parents. Hence, parents should take care of their children. Aspirants who want to settle in a foreign land should give exams during this time. By doing so, you may get good results.
Taurus natives who are preparing for government exams may find success, possibly in July or August. This would be a fair time in terms of finance, so those who are buying land or associated with the stock market should deal patiently. Or else, you may fall prey to fraudsters. Married couples may face issues in their marriage life. It is suggested that you should invoke your clan-deity.
Mars and Venus Conjunction in Cancer: Effects on Gemini
The upcoming conjunction of Mars and Venus in Cancer may dent your health status. Male natives are likely to have muscular pain, while female natives may have Gynec-related problems. You should avoid arguments with your neighbours. Natives dealing with court proceedings should act with cautions.
The verdict may not come in your favour. Students born with the Gemini sign may earn good marks in their academic year. Business owners may come up with new strategies. Married couples may indulge in confrontations with their spouse. Gemini individuals should organise Rudra Abhishek for Lord Shiva. Or visit nearby Lord Shiva's temple to invoke him.
Mars and Venus Conjunction in Cancer: Effects on Cancer
It would be a favourable time for the natives of Cancer. Healthwise, older natives may undergo muscular pain. You may need to undergo a knee operation to recover your long term knee pain. Couples preparing for children should take advice from their family doctor before making a move. Students may need serious efforts to clear their exams.
Cancer individuals may enjoy some long journeys in the coming days. The upcoming phase is unfavourable for buying or selling your home. Money borrowers and lenders may have a fair time. Job professionals looking for a change in the workplace may find opportunities. Singles may meet their love partner soon. Cancer individuals should bow down to Maa Saraswati and seek blessings from her.
Mars and Venus Conjunction in Cancer: Effects on Leo
Individuals born under the sign of Leo are likely to lose grip over money control. Your money spendings may increase, and as a result, you may experience a cash crunch. Healthwise, you may complain of gas and acidity problems. Elders may suffer from bone pain. Leo students may get proper guidance from their mentors. Entrepreneurs should indulge in their work as this conjunction might help you earn profit.
Singles may get proposals, and they may enter into the marriage phase soon. Natives dealing with stock market activities would have a fair time in investments. Leo natives may get an opportunity to meet their old buddies. It is suggested that you should offer water to the rising Sun to reduce any negative impacts. By doing so, fortune may favour your side.
What will you do in your life? Get access to premium horoscope reports.
Mars and Venus Conjunction in Cancer: Effects on Virgo
Virgo natives will enjoy a good time, but they may feel they are running out of luck. Your ongoing projects are likely to get postponed. Healthwise, you may face stomach ache or intestine problems. Older natives may get severe headaches too. Virgo natives planning for higher education in other countries may get favourable results. You may strengthen your friendship with your pals by spending some quality time with them. In this process, you may find the love of your life.
You should refrain from making a decision in haste. You should take care of relations with your neighbours. Those who are in search of their life partners may take longer than usual. During this conjunction, you should worship Lord Vishnu by chanting Sahasranam. Also, you should observe fast on Thursdays.
Mars and Venus Conjunction in Cancer: Effects on Libra
Libra individuals are likely to undergo a decent time as they may get positive results related to their properties. But, you may face gas or acidity problems. Especially female natives may complain of back pain. Libra individuals above 45 age should avoid long-distance journeys during the time of conjunction. Students pursuing medical or engineering courses are likely to enjoy a good time. There is a chance that you may decide to buy your new house.
Your gold investments may assist you to earn monetary gains. Libra professionals seeking a job may get desired opportunities. You may make remarkable progress as luck may lend you good support. Your hard work may assist you to reap the rewards. Libra lovers may undergo tough times ahead. It is advisable for you to donate white-coloured things on Fridays.
Mars and Venus Conjunction in Cancer: Effects on Scorpio
The Conjunction of Mars and Venus may bring a moderate time for natives of Scorpios. Healthwise, you are likely to complain about heart problems or skin-related disease. Scorpio students may get the rewards of their hard work. You should refrain from accepting or taking a loan as you may struggle to clear your dues later.
Married couples may soon resolve their marital cases. You may enjoy quality time with the elder members of your family. Your pending issues related to ancestral properties may get resolved. During this phase, you should sincerely pray to Lord Hanuman by reciting Hanuman Chalisa. Or organise Hanuman puja at your home.
Mars and Venus Conjunction in Cancer: Effects on Sagittarius
Individuals with Sagittarius signs are likely to receive mixed results. Some of you may get financial benefits during this time. It is a fair time of health, so you may have blood problems or muscular pain. Those who have diabetes may require extra care for their health in the coming days. Sagittarius students may make remarkable progress with the help of opportunities in their desired field.
Individuals waiting for the court's verdict may have to settle for disappointment. You should refrain from making a decision in haste, or else you may regret it after some time. Lovers can expect the desired response from their partner. It is suggested that you should invoke Lord Vishnu by doing Vishnu puja.
Mars and Venus Conjunction in Cancer: Effects on Capricorn
Natives of the Capricorn may enjoy good results during this period. You may resolve your financial woes. But in terms of health, you may have eye pain. Those who are dealing with chronic conditions may recover. You may go on a journey with your old buddies or close ones. You may have proper bonding with your friends. Job seekers may have a chance to find a new workplace.
Capricorn individuals associated with the IT Sector or working in MNCs may make business trips in the coming days. Those who are appearing for government exams may find a job in a government department. Investors making new investments during this time may earn desired profit. It is suggested that you should worship Lord Shani by offering oil. This may also help you reduce the negative impacts of Saturn. Organise Shani Puja to get beneficiary results.
Know about your strengths and weaknesses. Get access to our free Jnampatri  now!
Mars and Venus Conjunction in Cancer: Effects on Aquarius
Aquarius natives are likely to experience a cash crunch during this conjunction. Your financial plan may not work, so it's better not to explore it. Your money expenditures may increase in the near future. Overall, it would be a fair time to deal with financial matters. Aquarius professionals may fall short of good luck, and rewards may slip from their hands. You may face hiccups in your work.
You might get worried about your health status. You may deal with high and lows in your health, it's good to perform meditation at this time. Investors should not make new investments till October. Also, short term investments may not give you desired outcomes. You should worship Lord Hanuman by keeping fast on Saturdays.
Mars and Venus Conjunction in Cancer: Effects on Pisces
Pisces individuals are likely to be sensitive and a bit emotional. You may feel empty-handed despite having it all. You may not take in materialistic things. You may take an interest in spiritual activities. Also, you may lend support to religious work. Healthwise, it is a fair time. Female natives born under Pisces sign may face muscular pain or bone-related issues. Your children may become lazy and stubborn.
Also, there is a chance that you may have an argument with your elders to make your point count. Therefore, you should avoid arguing with them. The upcoming conjunction may not have harmful effects on studies for Pisces students. In terms of finance, it would be a moderate time. You may meet your old buddies and may find a love of life. It is advisable that you should worship Lord Vishnu by chanting Vishnu Sahasranam.
---
Note: Above mentioned predictions is for Moon Signs
In a nutshell, Venus conjuncts Mars 2023 may bring positive or negative changes for individuals of all the zodiac signs. Venus and Mars combining in the Cancer sign would be a blessing for some natives, whereas some of them may face disappointment during this time. However, one should follow the remedies and worship the Hindu deities to get rid of their bad impacts.
What are the signs for 2023? Consult our expert astrologers to know more about it.
---
---