Astrological Transits 2023: Complete List of Transits of all Planets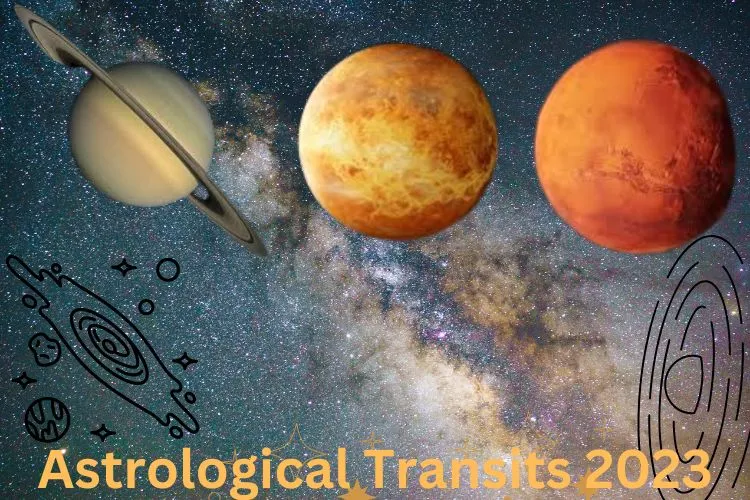 As we know, there are nine planets in Vedic astrology. Sun, Moon, Mercury, Venus, Mars, Jupiter, Saturn, Rahu, and Ketu. All year-round, these planets travel through the 12 zodiac signs.
When a planet completes its journey in one sign and moves to another, it is called a transit. The seven planets that we can see (except Rahu and Ketu), move through a particular motion. Whereas Rahu and Ketu transit in the opposite direction.
Whenever a transit occurs, i.e. a planet moves from one sign to another, it affects the natives of each sign differently.
The placement of every planet at the time of an individual's birth is considered to be an important factor. On the basis of that, an individual's kundali is prepared using Vedic astrology interpretations. Different natives have different kundalis depending upon the positions of the planets. And this is because of planets, which continuously continue to travel at their own pace. These movements of the planets are referred to as 'transits of planets'. This planetary transition further aids astrologers to get predictions about the individual's life.
Vedic astrology is considered a tool that can analyse the impact of these planetary transits. Moreover, it can be utilised to offset any detrimental impact of these transits on life. Some of the cosmic changes may even shake up a native's life. The result of transits depends on the characteristics of the planet. Benefic planets may help you achieve your life goals, while malefic planets may create hurdles and disturbances in your life. Furthermore, the placement of planets in the houses and signs are also identified to foresee the life events of natives.
Also Read :- To find the crucial dates and times of the significant celestial occurrences occuring in 2023, Know the cosmic calendar.
How do Planetary Transits Work in Vedic Astrology?
How these transits interact with the planets in your birth chart helps an astrologer to predict future events. The effects can be major or minor, based on their characteristics, but they sure help in shaping your life with its astrological implications.
Some planets change signs quickly, and therefore they have short-term effects on your life. Similarly, the planets that move slowly will have long-term effects. Sun, Moon, Mercury, Mars, and Venus are called fast-moving and inner planets. Their transits will have short-term effects. On the other hand, Jupiter, Saturn, Rahu, and Ketu are slow-moving 'outer planets'.
But which planet affects your life in which way, and for how long? Let's find out.
Transit of Planets in 2023
Frequently Asked Questions
What is the Difference Between Transit and Vision?
Transit denotes the motion of the planet, progressive or retrograde. On the other hand, aspects are the angles that planets form with their placements with other planets.
Why is the Transit of Planets Important?