Boar – Dragon Compatibility: Characteristic and Astrological match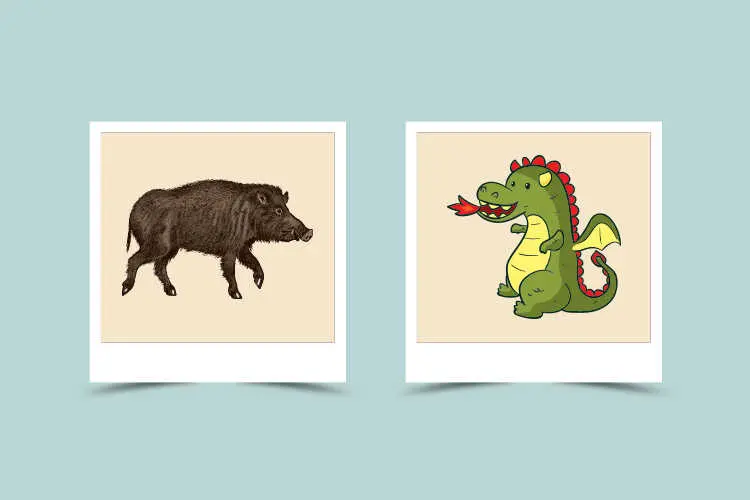 ---
Chinese Zodiac Boar and Dragon: Personality traits
Boar:-
A Boar represents luck, wealth, honesty, general prosperity, symbolising a tough working, peace-loving person, a truthful, generous, indulgent, patient, reliable, trusting, sincere, giving, friendly person with an enormous sense of humour and understanding.
Boar are diligent, compassionate, and generous. They have great concentration: once they set a goal, they're going to devote all their energy to achieving it. Though Boars rarely seek help from others, they're going not to refuse to offer others a hand.
Dragon:-
Mysterious, Imaginative, Ambitious
It is an imaginary being that mixes the features of other animals. There are many legends about this animal, and it's also considered the foremost auspicious sign. Chinese people believe they're the descendants of the Dragon. People with the Chinese zodiac Dragon have personality traits as mysterious, imaginative and noble.
People with the Chinese zodiac Dragon are born with extreme leadership qualities in them. Because of their knowledge, power and capability, people are willing to require orders from them. They are ambitious and have a powerful drive to understand their dreams and work according to them. They are adventurous. Once their goals get settled, they try their best to achieve success.
Their eloquence and passion make them authoritative. They are full of energy and never feel tired. They have another gift – their innate luck, which can help them achieve their goals. They are people of charm and glamour so that they can always win another's heart easily.
---
Male Boar: Personality overview
Male boars are low-key, cheerful, mild-tempered, good-natured, understanding and dedicated, showing insightful views for several things. Friendly and generous as they're, they might always leave some leeway, never argue to some extent to death and will forgive others for honest mistakes. Also, they're dynamic, simple and willing to participate in various activities and make all-out efforts for their duties. However, men under the boar sign can be easily deceived since they often trust others readily.
Are You Dating Your Ideal Match? Find out from Your Zodiac Compatibility
---
Female Dragon: Personality Overview
The Dragon woman is a demanding lover. While she will never have a problem having many admirers, the feminine Dragon is so self-reliant and capable she almost finds no reason to wish another person in her life at all. If the Dragon woman finds someone whom she loves, she keeps very high expectations of him. The good news for the Dragon woman is that her ego is so strong that she will never have a broken heart; she is best off without them in her mind.
The Dragon woman requires a lot of attention and has no patience for shortcomings. The female Dragon is very honest and can do anything to avoid the company of those who are dishonest. She is understood for her enticing beauty and is usually the middle of attraction, outshining all other signs on the zodiac for ladies. The Dragon woman is queenly and is blessed with perfect physical assets.
---
Boar and dragon compatibility
Boar Men may prefer a direct and straightforward relationship. Because of their lack of energy to take care of their relationship, they do not want a complex emotional life. Hence, they're looking forward to a cosy relationship and hope that their partners can give them a relaxed and comfortable life! They don't like romantic ways and haven't any idea of creating a romantic date. Their attitude towards love is straightforward and loyal.
If they love someone, they're going to express themselves directly, and if they don't, they will not engage in any ambiguous relationship or take someone as a backup.
Love isn't the highest priority for Dragon girls. In contrast, courage and patience are required to pursue them. Many a time, love is inferior to female Dragons. If you would like to pursue a woman under the Dragon sign, you'd better assist her in her career and speak sugared words and make her feel you're the most powerful. Also, you've got to be more accomplished than her, or she will think you're just a tough man.
---
Male Boar and Female Dragon Compatibility in Love
The male boar and, therefore, the female Dragon is ideal for any relationship. From the beginning, they find each other suitable. This couple can make good lovers, friends, spouses, or business partners. Both the boar and the Dragoness seek the pleasure of the finer things in life. As such, they have a great time together.
They are unlikely to tire of each other's company. They have what it takes to convert tedious tasks to exciting activities filled with love and romance. They have exciting ways of spending time together engaged with loving and fun-filled activities.
---
Male Dragon and Female Boar Compatibility in Love
The Dragon Boar compatibility during a partnership will likely be filled with success, romance, and stability. The dragon is passionate and could be seen as intensely courageous and independent. The boar is very warm and kind. They place tons of importance on close friends and family. Because of this, the dragon and boar in love will make a great couple.
The dragon and boar relationship is going to be significant in terms of romance and love compatibility. They will have to let one another keep their differences. They are always willing to work together on their goals and achieve them. The Dragon boar compatibility will help sustain this marriage.
The supercharged male Dragon heart will probably overwhelm the feminine boar upon the primary romantic contact of those two Signs. She'll appreciate the eye he gives her but may become jealous of the eye everyone else shows him. The boar will realise she's the one walking away with the prize, and she'll be ultimately content with her role as the dragon's wife.
---
What to do if Your Partner is Boar?
If your partner is Boar, you should keep in mind the following attributes and behave accordingly. People with the Chinese zodiac Pig don't pay much attention to trivial things in life. They build up harmonious interpersonal relationships with their partner. They like to judge others personally. However, they can quickly get angry sometimes.
Negative emotions won't influence them for a long time. Because of their candid personality, they may hurt someone in conversation by using inappropriate words. People surrounding them are advised to be more tolerant and have enough patience.
---
What to do if Your Partner is a Dragon?
They aren't demanding in relationships. If they get betrayal in love, they will live in the memory for a long time. Therefore, most of them get married late and often have a smooth and harmonious married life. Once they fall in love with someone, they will dress especially to please the other. They will be entirely devoted during a relationship and show their feelings ardently. They would like their partner to give more love as a reward.
It will take an extended time to understand people and choose if those men are often their genuine love for the remainder of life. Due to their careful selection, their relationship can always go far. In marriage, they are willing to play the role of hardworking homemakers.
To know more about your hidden potential? Uncover Free Janampatri!
---
---