Dragon and Monkey Compatibility – Dragon Chinese Zodiac – Monkey Chinese Zodiac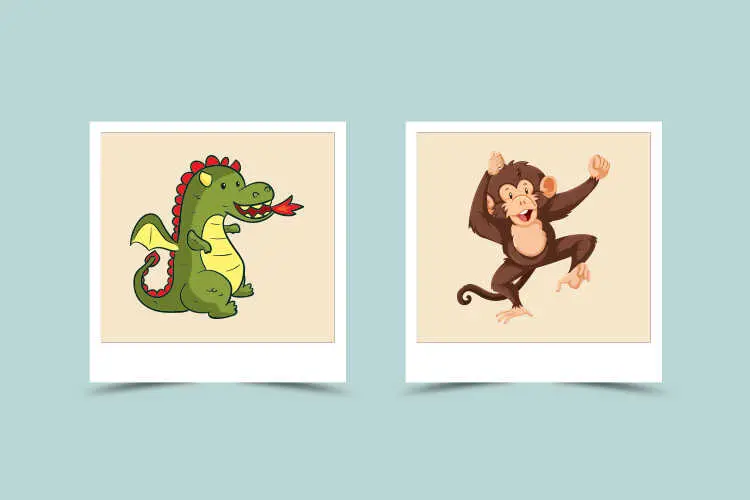 The Chinese compatibility between Dragon and Monkey is excellent as they have a lot of things in common. The Monkey will be attracted to the things they are most attracted to and will chase them. On the other end, Dragons are truly born leaders. They are both driven towards each other and focused, and this makes them a great couple. On the other hand, Monkeys are intelligent and thoughtful, whether it be a male or a female. They will both compliment each other in a significant way.
For more information about Dragon and Monkey, Consult an Astrologer
---
Dragon and Monkey Chinese Zodiac Personality
The traits are different for different individuals in the Chinese zodiac chart. Many characteristics are common in both of them, and if they get together, it will lead to a sparkling pair that can manage things within themselves very well. They are straightforward and intense and complement each other very well.
For Any Questions, you can Ask an Astrologer
---
Male Dragon Personality
The dragon sign represents hard work; therefore, if it is a man, it is intelligent, bold and giving. He never gets tired of his moves and always remain a consistent hard worker.
He has all the required leadership skills and therefore is always motivated to do hard work. He is so confident about himself that he won't stop unless he achieves success in something. Also, some people would be just jealous of him.
He is very generous and soft with his usage of words and would speak that way only if he wants to attain perfection into something. Continuously measures others according to his standards.
In situations where he has to make some quick decisions, he never takes any decisions impulsively. He can take quick decisions. He needs a person with whom he can communicate well and disclose all his secrets without fear of judgement.
Find what is Stored in your life based on Planets. Read Free Horoscope Reading
---
Female Monkey Personality
The females born in the year of Monkey are very energetic and therefore busy. They are prone to change and can do everything to get people's attention as they love to get everyone's attention around them.
She has her charm and talent towards which more people are attracted and the multiple opinions she has to attract more people looking for suggestions. As she grabs a lot of attention, she also holds a standard that could be harsh while having a word with people.
She has a lot of energy and loves to interact with people, and when she faces any difficulties, she will do all she can to get out of it and be a conqueror.
So want to know whether a Monkey female is a perfect match for you, then do matchmaking with a complete astrological analysis of your Janampatri. Talk to Experts and match your Kundli with a prospecting partner.
However, if you have a reverse relationship, then Talk to the Astrologer for guidance.
Know your real strengths, weaknesses, abilities, and talents. Know your Zodiac Signs
---
Dragon and Monkey Compatibility
The compatibility of Dragon-Monkey is very sharp when it comes to love as they are very passionate in real life, and when they both get into the world of love, they tend to have intense relations in bed. They both compliment each other very well sexually, and when they live together, they will make a lot of o love.
When it comes to marriage, both of these people are like-minded. They rely on each other for finding peace and love, and none of them will be interested in the daily household chores like laundry or cleaning. Instead, they will love to go to a place where there is peace and a natural environment, just like mountains.
Facing Tough Times? Get Your Free 2022 Horoscope Report for the Solutions
---
Male Dragon and Female Monkey Compatibility
Both Dragon and Monkey are very like-minded when it comes to love. This couple is very passionate and intense when they get together and therefore compliments each other in a good way. They will get out of this love tangle as soon as they come in.
Both of them have different moving nature and don't like to spend much time thinking about things. However, they will find their compatible partners very soon and live a life with them permanently. The Dragons don't keep much time thinking about things which often lead them to fail in their plans. Here Monkey comes in as a dreamy and aspirant partner and plans everything out before executing.
A Monkey female is often good with details like money management, and therefore the finance department of the house should be handed over to them. Also, Dragon is very hardworking and consistently achieves its goals by following proper strategies. But they are fragile at maintaining detailed information. Therefore, it is evident to keep the money management with Monkey.
The love life of a Monkey and a Dragon is full of adventures as they both compliment each other very well. Monkeys stay away from indulging in large projects, whereas Dragon will motivate them to face and accomplish them.
The only thing that Dragons need in their life is the love and support of their partner. They have a boosted confidence, which helps them do anything in their lives. For this, Dragons need to impress their Monkey partner as they are entirely devoted to their partner, and once they win their heart, they will win that support.
You may like to check zodiac compatibility too. Check Compatibility Score Here!
Will Your Love Life Turn into a Fairy Tale or Nightmare? Find out from Love Compatibility Calculator
---
Male Monkey and Female Dragon Compatibility
If Dragon emerges as a female partner, they are quite a powerful magnet for their partner. They are very intimidating as a partner and holds the absolute power in their hands. Although their admirers always surround dragons, a Monkey male can win the heart of a Dragon female much easier.
There is a secret behind Dragon's toughness. They are pretty soft and emotional. They require an emotional back from their friends, family or partner, and if the Monkey male supports them well when needed, they can win their trust to be the permanent companion for the rest of their life.
The weakness of a Dragon is they don't often think much before doing anything in their life. A here, their Monkey partner can help them best by protecting them from the mistakes they make.
The Chinese zodiac compatibility shows that this pair of Monkey and Dragon is more of a go-getter, and they are believed to make this relationship long-lasting. They both are optimistic and driven, and this trait of their personality makes them complement each other in the best way.
Know your real strengths, weaknesses, abilities, and talents. Know your Zodiac Signs
---
Which Animal is the most Suitable with the Dragon?
According to the Chinese Zodiac Compatibility, the signs of Rooster, Rat and Monkey are best suited for Dragon. Therefore they should always choose to spend their life with one of these animals if they have an option.
Rooster and Dragon both are very independent and can help each other in their respective careers. They both are hard workers and can achieve something in their financial status.
Rat and Dragon know each other very well and have a lot of things in common. Trust and encouragement are their biggest weapons, and marriage can take this to another level.
Monkey and Dragon both love to socialise and are very romantic. The dragon can protect their partner, and Monkey can help in managing finances and life.
Read Daily Horoscope Based on Your Sun Sign, Read Now!
---
Is 2022 a year for Dragon?
The fortune in the year 2022 is the most auspicious year for Dragon in terms of work as they have a great chance of promotion and increment. Someone in their life will help them if they fall into some setback. Apart from the sufficient money flow and promotion, they need to balance their income with their spendings as the income from other sources is not very high.
The year 2022 is not the year for marriage and relationship for Dragon. Also, they need to draw some attention to their physical exercise and health.
Confused in Life? Know your Life Better with Free Janampatri
---
Which Dragon is the most Powerful?
Among all the 10 Dragons that rule the Zodiac Chart, Tiamat is the five-headed god and most potent Dragon. They have a mortifying battle rating of thirty. They have an Armor class of twenty-five and immunity to almost every kind of damage. If anyone dares to hit them, then it could be their last mistake. All the trait of this deadly beast is devastating as each of their five heads possesses the power of performing different breath attacks.
As the literal God of Dragons, they are incomparable to anyone in the league.
Talk to an Astrologer Now and Get 100% Cashback on your First Recharge.
---
---