Ox and Dragon Compatibility – Ox Chinese Zodiac – Dragon Chinese Zodiac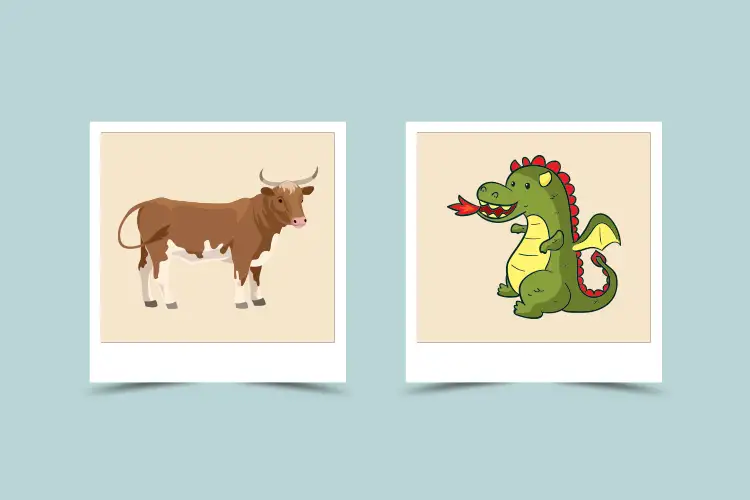 An Ox and a Dragon have every chance to be happy as lovers, even though they don't seem to be looking for the same things in life. These two are opposed in design and beliefs. A friendship between them is only possible if they can find common ground and agree to do things in the same way. Dragons are renowned for their bravery and daring, while Oxen are known for their stubbornness. Oxen can be a little too obstinate and even critical for dragons. Although these natives enjoy daydreaming, they are also hardworking and capable of making their dreams a reality. Oxen are cautious individuals who pay close attention to detail and avoid confrontation as much as possible. When they are with Dragons, they learn to appreciate and be inspired by everything beautiful that comes their way. It is difficult for any of these signals to be involved in a give-and-take relationship in terms of marriage.
For more information about Ox and Dragon Chinese Zodiac, Consult an Astrologer
---
Ox And Dragon Chinese Zodiac Personality
You will have many quarrels and conflicts as a result of your distinct personalities and stubbornness. It would be ideal if you made an effort to always make complimenting glances at each other. The male ox is relaxed, prudent, and unconcerned about fame or wealth, and he longs for a lovely, self-sufficient companion. The female dragon is gregarious, impulsive, energetic, and active, and she craves a colorful life and lively companions.
For Any Questions, you can Ask an Astrologer
---
Male Ox Personality
Male Oxen are generally mature, steady, and well-liked by others. It is in their essence to be uncomplicated and emotionless. They are also arrogant, snobbish, and lacking in passion and enthusiasm. They are down-to-earth, hardworking, and brave in everyday life. Men born under the Ox sign are always safe and strong, and they can withstand adversity and hard work. Motivated in life, they strive to better themselves and have a better life for their families. You will feel safe and relaxed while you are with the steady male Oxen.
With a practical outlook on life, they are skilled at preparing for the future and generally keep things in order because they enjoy the tidy and fixed rhythm of life. Meanwhile, male Oxen have free will and may behave on their own. When it comes to romantic relationships, they prefer virtuous girls who can be successful wives over competent wives. They expect to rely on their wives for spiritual and emotional support while they are down.
Find what is Stored in your life based on Planets. Read Free Horoscope Reading
---
Female Dragon Personality
Female Dragons with high values and a deep sense of duty will work consciously for others' good, doing so boldly and resolutely. They prefer to fight intensely and invincibly, and they prefer to finish what they have started. Since they are often greeted with a smile, they seem to rise above the crowds, express their opinions, and even chart their path.
In everyday life, they prefer natural beauty to unnecessary dressing up. They are condescending and unable to be handled like a sage, owing to a deep sense of pride. What they want is to be treated with dignity. They are severe and prefer sensible clothing, as shown by their clothing. Female Dragons advocate for women's political inclusion and gender equality, and they would go into a rage if women were discriminated against.
When it comes to love and relationships, dragon women prefer to be passive. They are fortunate in that they are compassionate and hospitable, set high standards for themselves, and earn others' love and pursuit through their sincerity and enthusiasm. In general, they have a happy married life.
Female Dragons seem to choose creative work over marriage when it comes to careers, making them the stereotypical modern working woman. Since they are career-oriented, they are likely to marry later in life.
Know your real strengths, weaknesses, abilities, and talents. Know your Zodiac Signs
---
Male Ox and Female Dragon Compatibility
It's completely understandable if you've fallen in love with a Dragon. Dragons are enthralling and captivating, and they command everyone's attention the moment they enter the room.
Admirers usually surround dragons. Don't be surprised if they don't immediately realise or accept your attention. Dragons are ferocious energy whirlwinds that can propel themselves towards or away from something. Dragons love life and its challenges, and their powers are unwavering. As a result, they sometimes bite off more than they can chew, resulting in immersion in hot water. Your differences are many, and this may be a difficult marriage for both of you. Dragons make their own rules, although you are surprised that anyone can defy standards. A Dragon would probably not find you attractive enough to hold her attention, but she will respect your ability to remain on task and think before you act. The two of you will make good business partners because Dragons are risk-takers and Oxen are detail-oriented, but you are unlikely to last long in love.
If you and your partner love and admire each other and are willing to make compromises and sacrifices, this union will work because you have complementary strengths. You will keep the Dragon from making unnecessarily rash decisions, and she will occasionally teach you how to break out of your rut. It will take work to keep this up, but you are great at the action as an Ox.
According to Chinese horoscope compatibility, if the Ox Dragon pair pursues a common target but finds the outcome unsatisfactory, the dragon would be aloof. The ox tends to be conventional, apathetic and disengaged. The dragon, on the other hand, is very social and thrives on constant adoration and affection.
The Ox male and Dragon female have mediocre love compatibility. They must learn to give and take for their relationship to be honest. Otherwise, this partnership would collapse. The Ox Dragon marriage, like any other love relationship, will benefit significantly from setting a common goal and pushing each other to achieve it.
Will Your Love Life Turn into a Fairy Tale or Nightmare? Find out from Love Compatibility Calculator
---
Male Dragon and Female Ox Compatibility
The love horoscope predicts that the relationship of people with signs would be fruitful. Dragons' magnetism attracts, fascinates, and causes the Ox not to recognise the fiery features of a loved one's character. Such a condition does not last indefinitely. The former's propensity for disaster is terrifying. Romantic partnerships, on the other hand, provide joy to lovers. Sensuality, tenderness, and affection for each other help the Dragon and the Ox in their love compatibility. Lovers enjoy both spiritual and bodily contact as they spend time together with happiness. However, the former's "dramatic concert" about being late for the plane will make the latter realise that there are no other options.
The lovers' relationship is inconsistent, which can be explained by various life values. The first are individuals who are exceptional, imaginative, and enthusiastic. Torture is a part of their daily lives. Craving for journeys and adventures drives you to break free and soar on "fiery wings" to unknown distances the second is a fundamental, practical, hardworking homebody. Family values take precedence over all life goals. They don't want to disrupt their well-ordered, secure lives. The horoscope believes that if people learn to regulate their feelings and behavior, the Dragon's compatibility with the Ox in a relationship would be favorable. Relationship growth leads to spouse intimacy harmony.
Facing Tough Times? Get Your Free 2022 Horoscope Report for the Solutions
---
Are Ox and Dragon Compatible?
Since they are both influential people who refuse to make concessions, the relationship between an Ox and a Dragon would require a lot of respect and affection from both parties. Oxen are known for their stubbornness, while Dragons are known for their ability to order people around. It's true that they won't get along as a couple.
Read Daily Horoscope Based on Your Sun Sign, Read Now!
---
Who is the Dragon most Compatible with?
According to Chinese zodiac compatibility laws, people born in the Year of the Dragon will get along well with people born in the Years of the Rooster, Rat, and Monkey; a happy married life is probable. People born under the signs of the Ox, Sheep, or Dog, on the other hand, should be avoided when looking for a life partner.
Uncover all Challenges and Unwanted changes in your Life Graph. Get Free 2022 Report
---
What Animal is Compatible with the Ox?
Oxen will live with people born under the signs of Rat, Snake, and Rooster. A stable marriage is predictable. On the other hand, they can avoid those from the Tiger, Dragon, Horse, and Sheep zodiac groups.
Confused in Life? Know your Life Better with Free Janampatri
---
Is the Year of the Dragon lucky in 2022?
The Dragons' overall performance in 2022 will be exceptional, but they must be wary of the negative consequences of bad living habits. Emotionally, 2022 will be a year of no luck in marriage, but married people will have their spouses' warmth.
Talk to an Astrologer Now and Get 100% Cashback on your First Recharge.
---
---