Damodar Dwadashi 2023: How and Why to Worship Lord Vishnu?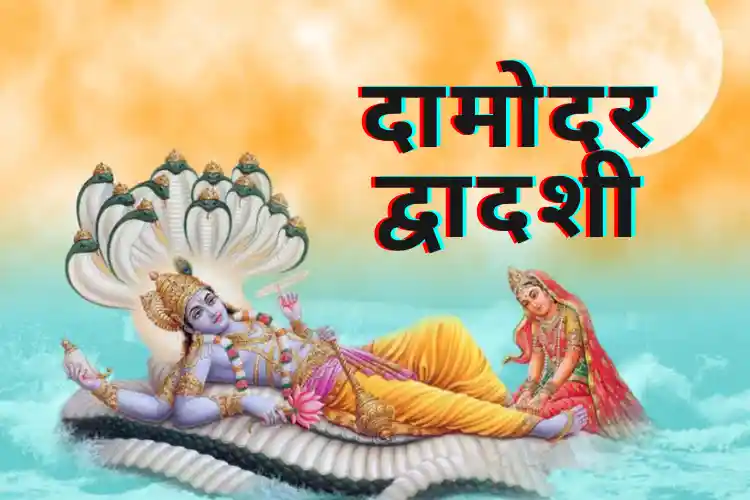 Damodar Dwadashi in 2023: Date and Time
| Event | Date and Time |
| --- | --- |
| Damodar Dwadashi 2023 | 28 August 2023, Monday |
| Dwadashi Tithi Begins | August 27, 09:32 PM, |
| Dwadashi Tithi Ends | August 28, 06:22 PM |
Significance of Damodar Dwadashi
Damodar Dwadashi is a special day that is dedicated to Lord Vishnu. It is observed in the month of Shravan, on the 12th day of the Shukla Paksha. Worshipping Lord Vishnu with proper rituals on this day can bring great happiness and prosperity to the followers and devotees. It is believed that praying to Lord Vishnu is as effective as worshipping Lord Shiva in the auspicious month of Shravan.
Devotees also donate rice, fruits, and clothes to the Brahmin on this day.
In Hinduism, there are many rituals that are dedicated to Lord Vishnu because he is one of the holy trio, "Brahma Vishnu Maheshwara" and also the preserver of the universe.
Lord Vishnu has taken many incarnations in different eras in order to save the world from evil. There are various rituals that are performed in order to worship Lord Vishnu and seek his blessings. Thus, Damodar Dwadashi is one of the many important rituals diligently executed by the devotees of Lord Vishnu.
According to the traditional Hindu calendar, Damodar Dwadashi is celebrated on the Shukla Paksha in the month of Shravan, and according to Gregorian Calendar, it is celebrated in the month of August.
The day before Damodar Dwadashi is celebrated as Pavitra Ekadashi Vrat or Putrada Ekadashi Vrat, which is also dedicated to Lord Vishnu. Since Damodar is one of the many names of Lord Vishnu, Damodar Dwadashi is fully associated with him. The devotees who celebrate this auspicious day observe Putrada Ekadashi or Pavitra Ekadashi Vrat and end their fast with the Prasad after worshipping Lord Vishnu.
Are peace and prosperity is still seem like a dream? Book personalised live Vishnu puja for the positivity in your life.
How to worship on Damodar Dwadashi?
There are several rituals that are required to be followed on the auspicious day of Damodar Dwadashi. However, most people do not know about all the right rituals. Therefore, we have got you the steps to follow on the day of the Damodar Dwadashi to Worship Lord Vishnu.
The devotees who are celebrating Damodar Dwadashi should wake up early in the morning.
After getting done with the daily routine, one should go and bathe thoroughly in a pond or a river.
If it is not possible to go to a river or a pond, you can take a bath with pure water at your home. If Gangajal is available at home, then mix it in the bathing water, given the fact that Gangajal is considered to be the purest.
After this, take a vow to observe a fast for the entire day.
Worship Lord Vishnu with complete devotion on this auspicious day dedicated to him.
Offer flowers, fruits, Roli, Akshata, Prasad, and other sacred things to Shunu and Krishna.
Offer them a hand-made bamboo fan, since it is considered dear to the lords.
After this, chant Vishnu Sahasranama and other mantras. You can also listen and sing the bhajans of Lord Vishnu. It is believed that doing this fills the room with purity and happiness.
Now distribute the Prasad among the children and others present in the room.
It is believed that, on this auspicious day, worshipping Lord Vishnu with proper rituals and devotion can help obtain blessings from the deity.
Donating rice, jaggery, fruits, and clothes to brahmins brings happiness and prosperity to one's life.
Those who observe Putrada Ekadashi Vrat usually break their fast on the day of Damodar Ekadashi. They should avoid consuming certain food items like boiled rice, alcohol, non-vegetarian food, beans, etc.
Shlokas of Lord Vishnu Shri Hari
These mantras must be recited while worshiping Lord Vishu.
शान्ताकारं भुजगशयनं पद्मनाभं सुरेशं,
विश्वाधारं गगनसदृशं मेघवर्ण शुभाङ्गम् ।
लक्ष्मीकान्तं कमलनयनं योगिभिर्ध्यानगम्यम्,
वन्दे विष्णुं भवभयहरं सर्वलोकैकनाथम् ।।
सशङ्खचक्रं सकिरीटकुण्डलं सपीतवस्त्रं सरसीरुहेक्षणम्,
सहारवक्षस्स्थलशोभिकौस्तुभं नमामि विष्णुं शिरसा चतुर्भुजम् ।
सशङ्खचक्रं सकिरीटकुण्डलं सपीतवस्त्रं सरसीरुहेक्षणम्,
सहारवक्षस्स्थलशोभिकौस्तुभं नमामि विष्णुं शिरसा चतुर्भुजम्।।
Benefits of Damodar Dwadashi Vrat
Celebrating Damodar Dwadashi and observing the fast can bring immense pleasure and happiness to the devotees in life. It is believed that worshipping Lord Vishnu in the month of Shravan is equivalent to worshipping Lord Shiva, because according to Hindu religious scriptures, Vishnu is in the heart of Shiva as Shiva is in the heart of Vishnu and they both are considered to be the creators, the destroyers, and the preservers of the universe.
Donating rice, grains, fruits, and clothes to Brahmins on this auspicious day is also considered to be very beneficial and sacred. It is believed that the devotees who celebrate Damodar Dwadashi in the month of Shravan and observe a fast on this day can attain salvation and happiness in life.
Conclusion
Now that you know all about the benefits, significance, and rituals of this auspicious day, we hope you are successful in obtaining the blessing of Lord Vishnu. We hope this day brings happiness, prosperity, and peace to your family and wish you all the best.
Constant bumps in the road called life bogging you down? Talk to astrologers for the right guidance. First consultation with 100% Cashback.