Gayatri Jayanti: Important Things To Know About Mother of all Gods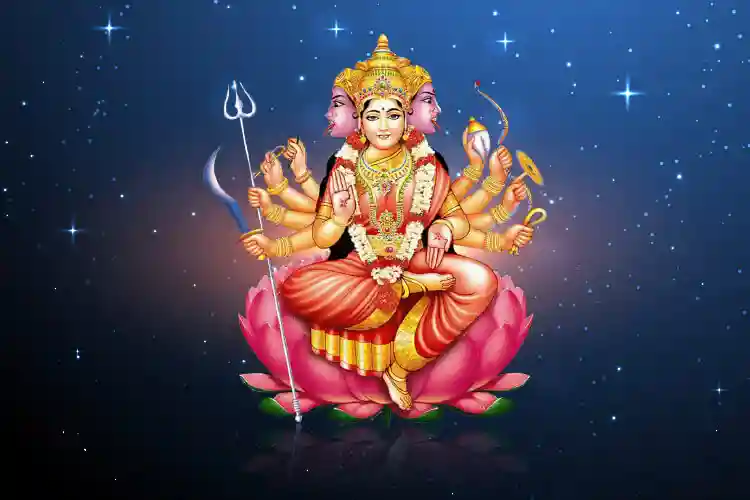 Gayatri Jayanti commemorates the birth anniversary of Goddess Gayatri. She is said to be the Goddess of Veda, and therefore devotees also recall her as Veda Mata. People believe the Goddess Gayatri posses similar power to the trinity of gods – Brahma, Vishnu and Lord Shiva. Furthermore, she is the incarnation of three Hindu deities – Goddess Parvati, Goddess Lakshmi and Goddess Saraswati.
Devotees believe that Goddess appears in the form of knowledge during Shukla Paksha of Jyeshtha month. So, the birth anniversary of her falls on Shravan Purnima. Whoever worships Mother Gayatri may get bestowed with positivity, wisdom and knowledge. Mother Gayatri helps the person fulfil their wishes if they remember her during the difficult phase of their life. We often see devotees chanting Gayatri mantras to seek the removal of evil spirits.
Facts About Gayatri Jayanti
As said, Gayatri Jayanti arrives during the time of Shravana Purnima. This day signifies the importance of the Sanskrit language, and so, people observe this day as 'Sanskrit Diwas'. People take part in various activities or organize Sanskrit plays to promote the Vedic language. This auspicious day of Gayatri Jayanti is also called as Ganga Avataran or Ganga Dussehra.
The Main Legend
Ancient scriptures reveal that Gayatri Mantra was firstly originated from the mouth of Lord Brahma at the time of the creation of the universe. Lord Brahma interpreted Gayatri Mantra as four Vedas with his four faces by the grace of Mother Gayatri. The legend also suggests that sage Vishwamitra underwent severe austerities to appease Maa Gayatri, and after that, Gayatri Mantra came into existence.
Devotees believe that when Lord Brahma was about to sit in Yagna, he called her wife Savitri, but she was too late. And during this time, Lord Brahma married Goddess Gayatri, who agreed to sit beside him in Yagna, replacing his wife, Savitri. Thus, it is said that Goddess Gayatri possesses attributes of Lord Brahma. So, people worship Goddess Gayatri with full devotion and consider as the mother of all gods.
Date And Time For Gayatri Jayanti 2023
| Gayatri Jayanti | Date And Time |
| --- | --- |
| Gayatri Jayanti | on Wednesday, May 31, 2023 |
| Purnima Tithi Begins | May 30, 2023 at 01:07 pm |
| Purnima Tithi Ends | May 31, 2023 at 01:45 pm |
Significance of Worshipping Goddess Gayatri
Gayatri Jayanti is observed as one of the significant days for Hindus. Sage Vishwamitra was the one who underwent penance to impress Goddess Gayatri. He directed the devotees to recite the Gayatri mantra with devotion whenever they want help from Goddess Gayatri. After that, people started chanting the Gayatri mantra to seek the blessings from Goddess. At present, there is the sheer importance of worshipping Goddess Gayatri due to this ancient myth. Devotees believe that Goddess Gayatri herself came to visit Earth on this auspicious day. People worship Goddess on Shravana Purnima to eliminate life obstacles and sufferings.
Dealing with life obstacles? Get of rid of them by speaking to the best astrologers. Get 100% Cashback on your First consultation.
Benefits Of Chanting Gayatri Mantra
One who chant Gayatri mantra with faith and extreme devotion may get following benefits:
Your mind remains calm and focused. You may develop positive mindset
You may overcome anixety sorrow or any delusions.
You may earn desird success in your work or education
By chanting Shiv Gayatri Mantra, one might get relief from the pains of Pitridosh, Kalasarp Dosh, Rahu-Ketu and Saturn.
Children may get bestowed with intelligence and success in their life.
Devotees may get rid of their sins by continuously reciting Gayatri Mantra.
Rituals To Be Performed
One shoud wake up early in the morning and take a bath in the holy river or put Ganga jal in the bath water at home while bathing.
Keep a day-long fast and worship Maa Gayatri
Put the idol or picture of mother Gayatri inside your home temple.
Now, recite Gayatri Mantra, Gayatri Aarti or Gayatri Chalisa.
Organize Havan by chanting the Gayatri Mantra.
Make donation of wheat grains or clothes to poor
Seek blessings from parents, gurus or elders members of your family.
Wrapping Up
This is how Gayatri Jayanti is observed among the devotees. People worship the Goddess Gayatri by organizing pujas or yagna in order to win her blessings. It is believed that Goddess may grant your wishes on this day if you remember her in your sincere prayers. With this, hope you have a lovely time reading this blog. May Goddess Gayatri bless you with wisdom and knowledge.
Talk to the best astrologers. Get 100% Cashback on your First consultation.