Gudi Padwa 2023: The Marathi New Year Significance and Celebration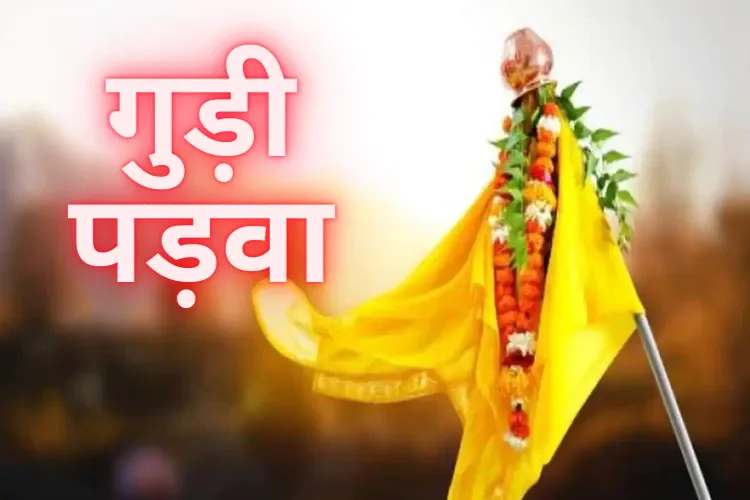 Gudi Padwa arrives during the spring season, which is mainly celebrated in the states of Maharastra or Goa. This day marks the beginning of the Maharashtra New Year. Gudi Padwa arrives in the Chaitra month, the first month of the Hindu lunisolar calendar's New Year.
Basically, Padwa is the Sanskrit term for Pratipada, the first day of a lunar month. People make rangolis, prepare sweet dishes and decorate their houses. Thus, when the Pratipada tithi prevails, it signifies the starting of the new year for the people of Maharastra. This festival is also celebrated in the southern states of India, like Karnataka and Andhra Pradesh, where it is commonly known as Ugadi.
This Marathi new year is welcomed with immense joy and pleasure. So, before we enter the new year, let us find out the significance and rituals behind its celebration. Give a full read to know in detail.
---
Gudi Padwa 2023 Date And Time: When Will It Be Celebrated?
Gudi Padwa 2023 Date: Wednesday, March 22, 2023
Gudi Padwa Timings:
Pratipada Tithi Begins: 10:52 

PM

 

on

 Mar 21, 2023
Pratipada Tithi Ends:  08:20 

PM

 

on

 Mar 22, 2023
---
Celebration of Gudi Padwa in Maharastra
On this occasion, the people of Maharashtra perform flag hoisting on the terrace, which is an important part of the celebration, and it is also known as Gudi. Every house is decorated with numerous Gudhi. This process includes a piece of fabric cloth tied to the upper part of the bamboo stick. Along with that, it is wrapped with mango leaves, flowers and garland. A silver, bronze, or copper pot (handi or Kalash) symbolises victory or each is placed on top of the arrangement.
This flag is hoisted in each house, pointing towards the right direction. It should be clearly visible to other people as well. In a rural area, people begin the procession holding a group Gudhi Kavad and conclude it at a nearby Lord Shiva temple.
Want to please Lord Shiva and achieve his blessings? Book personalised Rudrabhishekam Puja to attain peace of mind.
---
Significance of Gudi Padwa Festival
Gudi Padwa not only marks the beginning of the spring season but also nods to harvesting time for Rabi crops. Besides, it also commemorates the time when Hindu Lord Brahma created the universe and world. Some people also believe it commemorates Rama's coronation for his victory over a cruel Ravana or the launch of the Shalivahan calendar after he defeated the Huns in the 1st century.
In rural regions of Maharastra, people believe that it is associated with Lord Shiva's dance. Therefore, they form a group to bring Gudhi Kavads to Lord Shiva temple. Hence, we can say that there is the sheer importance of Gudi Padwa in Maharastra as well as in the southern parts of India.
You too can win over your hidden enemies, learn about the prospects of your life by accessing free Janampatri.
---
What Are The Rituals Associated with Gudi Padwa?
On this occasion, people clean their houses clean and decorate them using cow dung cakes on a festive day.
Mostly, young girls intricate colourful rangoli designs outside their home or at the main entrance.
People organise get-togethers wearing new and tidy clothes. Families traditionally cook a special dish using various flavours.
Some of them also prepare Pachadi recipes and serve them during the Ugadi festival.
People consume it because there is a belief that its neem-based mixture is quite beneficial for an individual's health.
On this day, Maharashtrian families prepare a variety of other festive dishes, such as shrikhand and Poori or Puran Poli.
---
Gudi Padwa: Ending Note
This Gudi Padwa let us bring happiness and joy around everywhere. May this Marathi New Year bring wealth and prosperity to you. On this auspicious occasion, Mypandit sending you lots of love and good wishes to you and your family.
Happy Gudi Padwa!
---
---