Understand Why Lord Brahma Is Less Worshipped God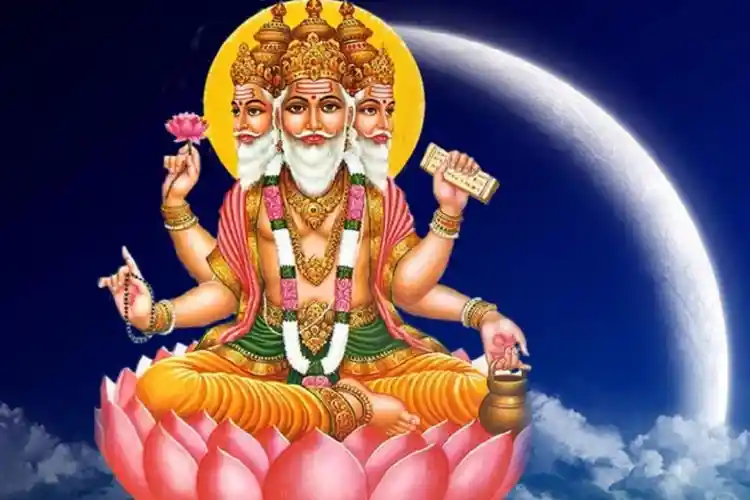 Lord Brahma is a Hindu deity who is also known for creating the entire Universe. Lord Brahma belongs to the divine trinity of Gods along with Lord Vishnu and Lord Shiva. In the world, full of Lord Vishnu's and Lord Shiva's temple, do you ever wonder why there is no temple of Lord Brahma? Worry not, if you're still in confusion, we will help you get the right answers.
Well, some of you might know the fact that Goddess Saraswati is also the most worshipped deity. You may rarely find the temple of Lord Brahma somewhere but, it would be still difficult for you to get his idol. All of your questions on missing Lord Brahma's temple lies within a curse. Now before you ask what the curse is all about, read along with us to find what ancient myths reveal about Lord Brahma.
---
The Ancient Legend
As mentioned in Shiva Purana, when Lord Brahma appeared in front of Lord Vishnu, he saw Lord Vishnu lying on Sheshnag. As a result, Lord Brahma didn't receive a proper welcome, and he got angry with Lord Vishnu. This incident later turned into a war of gods, which continued until Lord Shiva himself arrived to stop the war. Lord Shiva asked the other two deities to find the end of the pillar and announced that whoever will get it, will be the winner of the fight.
Lord Vishnu went to Patal Lok while Lord Brahma was searching in the sky. In this process, Lord Brahma found the Ketaki flower, which informed Lord Brahma that it is useless to explore the end of the pillar because no one ever had any idea about it. Then, Lord Brahma presented the Ketaki flower to Lord Shiva and falsely said it witnessed the end to become superior diety. Lord Shiva discovered that Lord Brahma was lying, and he punished Brahma Ji with a curse that no one will worship Lord Brahma.
Thus, Lord Brahma lost the battle, and at present, he is a less-worshipped God among the Hindu deities. Also, people never offer Ketaki flower to Lord Shiva as it lied to him.
---
Has Lord Brahma Never Really been Worshipped?
Despite being cursed for his deeds, Lord Brahma was never worshipped devotionally. As per Vedic texts, it is said that the people worshipped Lord Brahma and the other 33 crores Gods through sacrificial ceremonies.
After the Vedic civilization collapsed in 2000 B.C., it was the time when other Hinduism of other streams took place. Although he was praised in the Vedas as the ruler of all beings, we do not find his temples. Also, the Vedas are placed next to Brahma in importance.
Lord Brahma himself is not directly worshipped in any Hindu temples since there was no practising of this for a long time. He is glorified and spoken highly in the scriptures but not worshipped personally on devotional terms.
Now no need to visit temple, organize Puja at your home, speak to our experts @ Re.1 / min
---
Few Temples of Lord Brahma
Below are the list of few Lord Brahma's temple:
Khedbrahma in Gujarat
Brahma-Karmali village in Sattari Taluka in Goa
Kumbakonam (Tamil Nadu)
Thirunavaya in Kerala
Kheteshwar Brahmadham Tirth in Asotra village in Balotra Taluka of Barmer district in Rajasthan
Khokhan village in the Kullu Valley, situated in the state of Himachal Pradesh
Sri Kalahasti, near Tirupati in Andhra Pradesh
---
Lord Brahma Created Shatrupa
When Lord Brahma created the world, he also created a goddess named Shatrupa. After the creation, Brahma became extremely enchanted with that form. The goddess shifted places to get rid of Lord Brahma's gaze. Soon, Lord Brahma developed other heads in every direction to keep his eyes on Shatarupa. Observing this, Lord Shiva became furious and beheaded one head of Lord Brahma to control his worldly desires. Lord Shiva thought that Shatarupa, being the production of Lord Brahma, was similar to his daughter. So, he should behave properly with her. Lord Shiva here symbolises an unprejudiced, non-partial self that makes Brahma realise his slips on worldly infatuations, which drives us away from the path of spirituality.
---
---