Read The Stories Behind The All Nine Forms Of Maa Navdurga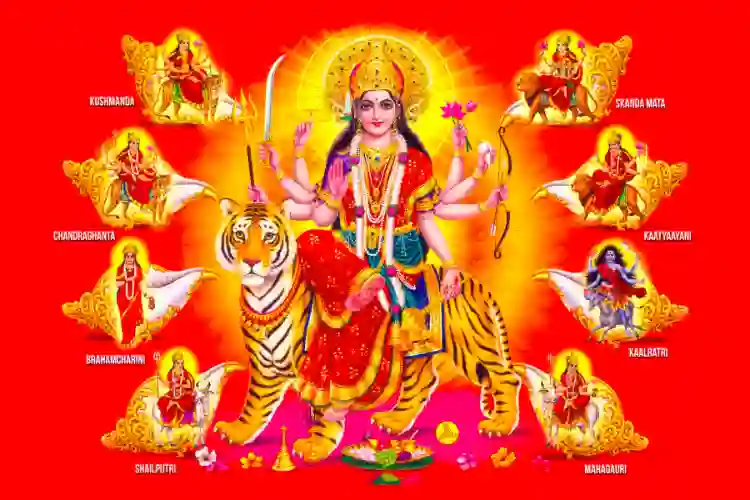 The idol of Maa Navdurga is worshipped during the Navratri. On this day, devotees worship all nine forms of Maa Durga, who punishes the ones who indulge in wrong deeds and saves her devotees from negative forces. Navratri brings us opportunities to impress Maa Durga by worshipping her nine forms. Maa Navdurga may bless you with knowledge, wisdom and prosperity. You may come out of fear or delusion by the grace of Maa Navdurga by performing Durga Puja. Alright, folks, let's check out what are the different myths about nine names of Navdurga.
---
A Story Of Maa Shailaputri
The ancient myths say that Goddess Shailaputri is an unmarried form of Maa Parvati. She was born to King Daksha Prajapati, the son of Lord Bramha. She had one wish, and it was to marry Lord Shiva. When the King learned about her intentions, he was unhappy with her. According to the King, Lord Shiva was not worthy of marrying his daughter. So, he didn't support Lord Shiva, and Maa Shailaputri's to organize their marriage rituals. Once the King was performing yagna, he saw an uninvited guest, Lord Shiva. Later, when King insulted Lord Shiva in front of all the present guest, he left for the Himalayas and started doing meditation. Maa Shailaputri got angry with this and took Sati by jumping into the sacred Yagna.
---
A Story Of Maa Brahmacharini
Goddess Brahmacharini had a strong desire to accept Lord Shiva as her husband. She informed her parents about it, but they never agreed to her decision. So, Maa Brahmacharini started living in the mountains and underwent austerities for many years. Later, she impressed Lord Shiva with her devotion. She then informed Lord Shiva about her wish, and after that, Lord Shiva agreed to marry her. Since then, people started worshipping the second form of Maa Navdurga, Devi Brahmacharini.
---
A Story Of Devi Chandraghanta
The 3rd day of Navaratri is dedicated to Devi Chandraghanta. The goddess wears a crescent moon on her forehead, and she is the one who eliminates the negative thoughts from your mind.
When Maa Parvati became Sat, she was born to Himavan and Mena in her next birth. The young form of Maa Parvati impressed Lord Shiva, and both decided to get married. Lord Shiva arrived to perform marriage rituals in bizarre style along with his procession. Seeing this, the guests were afraid. So, Maa Parvati requested him to take the form of prince. Lord Shiva agreed and disguised himself as a young and charming prince.
Devi Sati was the youngest daughter of Daksha and mother Prastuti. Sati got married to Lord Shiva against his wish. On the occasion of grand yagna organised by her father, she reached there without invitation. That led Daksha to insult her husband, Lord Shiva, in front of everyone. Humiliated and hurt, Sati immolated herself in the fire of yagna. This incident affected Lord Shiva to the core, and he got detached from worldly affairs, took mortification and went for deep meditation in the mountains. Then, Maa Parvati transformed herself into Devi Chandraghanta and got married to Lord Shiva.
---
A Story Of Maa Kushmanda
Goddess Kushmanda. Kushmanda is the fourth form of Maa Durga, and she is also known as the creator of the Universe.
Maa Kushmanda has eights arms, which carries Rosary, Bow, Arrow, Pitcher, Bada, Chakra, Mace and a Lotus flower. While other hands are performing Mudras. Devotees also call her Ashtabhuja Devi. She has a radiant face and a golden complexion. Maa resides in the centre of the Sun, and she is also the creator of celestial bodies. Moreover, she is riding on the lion.
The story says that Maa Kushmanda created the Universe by using her smile. She brought light into the dark world. Whoever worships the Goddess Maa Kushmanda may receive good wealth, wisdom and knowledge.
---
A Story Of Maa Skandamata
We worship Maa Skandamata on the fifth day of Navaratri. Skanda is the name of Lord Karthikeya, who took birth to eliminate the cruel demon. Maa Skanda is associated with Jana Shakti (control of information) and Kriya Shakti (control of honest activity). She is the provider of commonsense, shrewdness, and mental peace.
It is said that the Devi speaks to the intersection of Iccha Shakti (activity to control of deliberate), Jnana Shakti (activity to control of information), and Kriya Shakti (activity to control of honest activity). Skandamata speaks to the exceptional root of Jnana (information) and Kriya (the guideline of activity or action). It can be caught on as Kriyatmak Jnana (information inactivity or activity driven by right information).
---
A Story Of Maa Katyayani
Goddess Katyayani is the sixth form of Maa Navdurga. Vamana Purana tells us that Maa Katyayani underwent severe penance to appease the Gods, and later, she was granted boons. She received the boon from Lord Brahma that only women can kill her. Maa Katyayani emerged when Lord Brahma, Lord Vishnu and Lord Shiva light up the massive flame. Maa Katyayani has three eyes and 18 arms carrying weapons of Gods. She is carrying a trident, discus, conch, dart, sword and shield, bow, arrows, thunderbolt, mace and axe, a rosary and pitcher. She keeps a lion as her procession.
---
A Story Of Maa Kaalaratri
The story behind the 7th form of Maa Parvati revolves around the demon named, Raktabeeja. When the demon created atrocities in heaven and earth, it was impossible to defeat him by Gods. So, Gods sought Lord Shiva's intervention. Hearing this, Maa Parvati took the form of Maa Kaalratri and fought with Raktabeeja. After defeating demon Raktabeeja, Maa Kaalratri swallowed his blood so that no more Raktabeeja can take birth. Maa Kaalratri is one of the fiercest forms of Maa Navdurga. The Goddess is seen in golden complexion, and she is riding on the donkey. She killed the demon at night and thus came to be known as Kaalratri Devi.
---
A Story Of Goddess Mahagauri
Maa Mahagauri is the 8th form of Maa Durga, and therefore, we remember the Goddess on the eigth day of Navratri. This is the most beautiful and lovely form of Maa Mahagauri. The ancient story says that once, Maa Parvati went inside the forest to perform austerities. Meanwhile, her body covered up with so much dust that her skin coloured changed to black. Pleased by her devotion, Lord Shiva himself appeared in front of him and poured Ganga Jal on her. Then, she became more beautiful, and after that, she came to be known as Mahagauri.
---
A Story Of Maa Siddhidhatri
We worship the ninth form of Maa Durga, Devi Siddhidhatri, on the last day of Navratri. The name Siddhidhatri itself denotes the one who grants your wishes. Ancient myths reveal that even Lord approached Devi Siddhidhatri in order to get his wishes granted. Thereafter, maa Siddhidhatri fulfilled all his Siddhis (wishes). Following this, Lord Shiva's half body turned into women. Thus, Lord Shiva is also known as Ardhanarishwaar, the one who has a half female body.
---
---