Praise Goddess Chandraghanta On Upcoming Tritiya Navratri 2023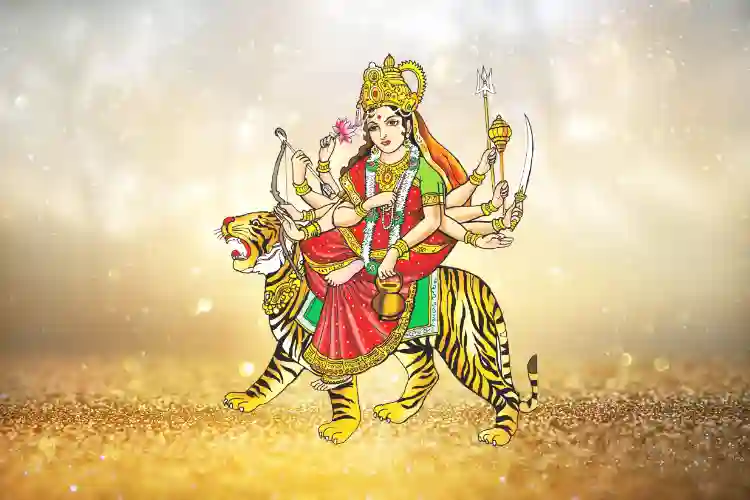 The Idol of Maa Chandraghanta
Maa Chandraghanta's idol appears to be mounted on a Tigress with ten hands. Out of her ten hands, two hands perform the sacred hand gestures (Mudras), while the other eight hands hold different weapons. The left four hands of Maa Chandraghanta carry a trident, mace, sword and kamandal, while the other four hands on right hold a lotus, bow, arrow and a rosary. Myths suggest that Maa Chandraghanta has a sign of a crescent moon (Chandra) on her bell(Ghanta)-shaped forehead, which bears her the name 'Chandra-Ghanta'.
Maa Chandraghanta helps overcome Fear
As per scriptures, Maa Chandraghanta is a form of Goddess Parvati who symbolizes peace, calmness and goodness. Worshipping the Goddess, not only helps devotees to overcome fear but also clears hurdles from their path.One is able to fulfill their heart's desires by devotedly praying to Maa Chandraghanta. It is believed that on the arrival of Goddess Chandraghanta a roaring sound is heard like a continuous ringing bell. This is said to remove evil influences from a person's life.
Know, How to perform Chandraghanta Puja in Detail
Chandraghanta puja is done to get divine blessings from the married form of Goddess Parvati. While performing the puja vidhi, devotees offer Jasmine flowers, and also recite prayers to invoke deities like Lord Ganesha and Lord Shiva. The following puja vidhi is performed to get special blessings from Maa Chandraghanta
Take the idol of Goddess Chandraghanta and keep it in a shallow pan.
Sprinkle Gangaajal or water on the idol by chanting Chandraghanta mantras.
Fill water in a pitcher and then put supari, grass and coins in it. Now tie the leaves on the neck of the pitcher and establish Kalash Sthapana.
Keep the pitcher near the Goddess's idol and perform the Chandraghanta aarti.
Follow the aarti, offer prasad of mixed fruits to Maa Chandraghanta and other Hindu deities.
Chandraghanta Mantras
Following is the mantra to be considered while performing the Chandraghanta puja.
ॐ देवी चन्द्रघण्टायै नमः॥