Significance Of the 9th Day Navratri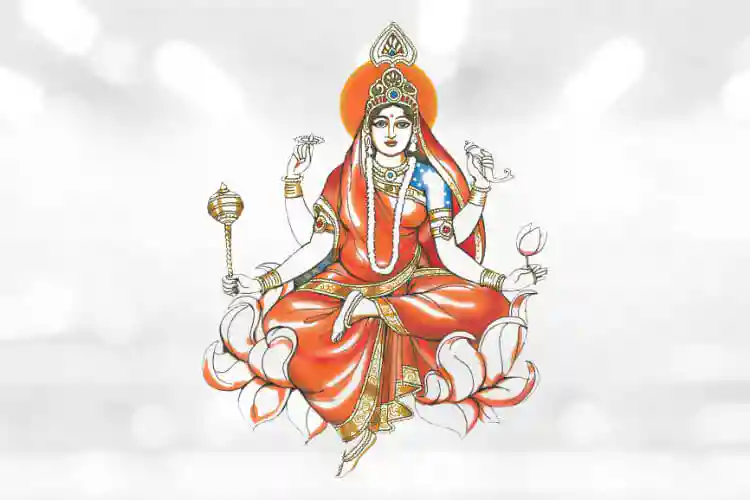 During Navratri, we worship the Goddess Durga in her nine incarnations. It begins with Maa Shailputri worship and progresses to the worship of Goddess Durga's other avatars.
---
The Worship of Maa Siddhidhatri
The ninth day of Navratri is dedicated to Maa Siddhidatri worship. Siddhi means supernatural power, and Dhatri means the one who bestows it. As a result, it is believed that Maa Siddhidatri satisfies all divine desires.
Maa Siddhidatri is known as the perfection giver. She bestows wisdom and spiritual knowledge on her devotees. Demons also worship Maa Siddhidatri, who is surrounded by all Gods.
---
Legend And Origin Of Maa Siddhidatri
Maa Siddhidatri's story began when our Universe was nothing more than a vast void. It was pitch black, and there was no sign of life.
Maa Siddhidatri – the giver of perfection – is the goddess who bestowed these perfections on Lord Shiva. Lord Brahma was now tasked with creating the rest of the Universe. However, because he needed a man and a woman for creation, Lord Brahma found this task extremely difficult.
He prayed to Maa Siddhidatri and asked her for assistance. Maa Siddhidatri, on hearing the request of Lord Brahma, transformed half of Lord Shiva's body into a woman's body. As a result, Lord Shiva is also referred to as Ardhanarishwar (Ardh – half, Nari – woman, Ishwar – refers to Lord Shiva).
Lord Brahma, like the rest of the Universe, could now create living beings. So it was Maa Siddhidatri who assisted Lord Brahma in the creation of the Universe while also bestowing perfection on Lord Shiva.
Make your extremely difficult easy with astrological remedies, Talk to Our Experts Now!
---
Maa Siddhidatri: The Ninth Form of Goddess Durga
Maa Siddhidatri usually depicts to be seated on a lotus or a lion. She has four arms, each holding a conch shell, a mace, a lotus, and a discus. However, Maa Siddhidatri, who is worshipped on the ninth day of Navratri, possesses the Ashta Siddhi. It is believed that Maa Siddhidatri bestows spiritual wisdom on her devotees and that she also destroys ignorance.
---
---
Symbolism of Maa Siddhidatri: Unique Traits of Devi Siddhidatri
She has four arms and is seated on a pink lotus flower. In her upper right hand, she holds a mace, and in her lower hand, a chakra (discus). However, in her upper and lower left hands, she holds a lotus and a white conch. A lion leads her procession.
---
Legend And Origin Of Her Form
Siddhidhatri is the goddess Parvati's Moola Roopa. She is holding a discus, conch shell, mace, and lotus in her four hands. She's either sitting on a fully blossomed lotus or a lion. Anima, Mahima, Garima, Laghima, Prapti, Prakambya, Ishitva, and Vashitva are her eight supernatural powers or siddhis. Anima refers to shrinking one's body to the size of an atom; Mahima refers to expanding one's body to the size of the universe.
Maa Siddhidhatri Aarti And Puja Mantra: On the Navratri's ninth day, also known as Mahanavami or Durga Navami, Puja Vidhi and aarti of Mata Siddhidhatri is performed. However, On Mahanavami, the ninth form of Maa Durga in the form of mother Siddhidatri is worshipped with full vigour. By the way, Worshipping the mother Siddhidhatri on this day removes all the devotees' grief, fear, and disease. Also, Worshipping the Maa Durga Puja grants all of the accomplishments.
---
Praise To Mother Siddhidatri
Mantra
या देवी सर्वभूतेषु मां सिद्धिदात्री रूपेण संस्थिता।
नमस्तस्यै नमस्तस्यै नमस्तस्यै नमो नम:।
"Ya Devi Sarva Bhuteshu Maa Siddhidatri Rupen Sansthita
Namastasye Namastasye Namastasye Namo Namah"
Maa Siddhidatri Beej Mantra
ऊँ ह्रीं क्लीं चामुण्डायै विच्चे नमो नम:" से कम से कम 108 बार आहुति दें।
या देवी सर्वभूतेषु मां सिद्धिदात्री रूपेण संस्थिता।
नमस्तस्यै नमस्तस्यै नमस्तस्यै नमो नम:।
वन्दे वांछित मनोरथार्थ चन्द्रार्घकृत शेखराम्।
"Om Hrim Klim Chamundaye Vicche Namo Namah" perform Yagna and recite this Mantra 108 times
"Ya Devi Sarva Bhuteshu Maa Siddhidatri Rupen Sansthita
Namastasye Namastasye Namastasye Namo Namah"
"Vande Vanchit Manorathartha Chandragrikrit Shekharam"
Aarti of Maa Siddhidatri / Maa Siddhidatri Ki Aarti
जय सिद्धिदात्री तू सिद्धि की दाता
तू भक्तों की रक्षक तू दासों की माता,
तेरा नाम लेते ही मिलती है सिद्धि
तेरे नाम से मन की होती है शुद्धि
कठिन काम सिद्ध कराती हो तुम
हाथ सेवक के सर धरती हो तुम,
तेरी पूजा में न कोई विधि है
तू जगदंबे दाती तू सर्वसिद्धि है
रविवार को तेरा सुमरिन करे जो
तेरी मूर्ति को ही मन में धरे जो,
तू सब काज उसके कराती हो पूरे
कभी काम उस के रहे न अधूरे
तुम्हारी दया और तुम्हारी यह माया
रखे जिसके सर पैर मैया अपनी छाया,
सर्व सिद्धि दाती वो है भाग्यशाली
जो है तेरे दर का ही अम्बे सवा
हिमाचल है पर्वत जहां वास तेरा
महानंदा मंदिर में है वास तेरा,
मुझे आसरा है तुम्हारा ही माता
वंदना है सवाली तू जिसकी दाता…
"Jai Siddhidhatri Tu Siddhi Ki Data
Tu Bhakton ki Rakshak Tu Daso Ki Mata
Tera Naam Lete Hi Milti Hai siddhi
Tere Naam Se Hoti Hai Man Ki Shuddhi
Kadhin Kaam Siddh Karati Ho Tum
Haath SEvak Ke Sar Dharti Ho Tum
Teri Puja Main Na Koee Vidhi Hai
Tu Jagdambe Dati Tu SarvaSiddhi Hai
Ravivar Ko Tera Sumiran Kare Jo
Teri Murti Ko Hi Mann Main Dhare Jo
Tu Sub Kaaj Us K Karati Ho Poore
Kabhi Kaam Uske Rahe Na Adhure
Tumhari Daya aur Tumhari Yah Maya
Rakhe Jiske Sar Pair Maiya Apni Chaya
Sarva Siddhi Dati Vo Hai Bhagyashali
Jo Hai Tere Ka Hi Ambe Sava
Himachal Hai Parvat Jahan Vaas Tera
Mahananada Mandir Main Hai Vaas Tera
Mujhe Aasra Hai Tumhara Hi Mata
Vandana Hai Savali Tu Jiski Data"
---
Concluding Part
With the grace of Siddhidatri Maa, human beings accomplish all sorts of siddhis and are effective in accomplishing salvation. Within the Markendien Puraan, eight siddhis have been told about Anima, Mahima, Garima, Laghima, Attainment, Prakamya, Ishita, and Vashishta.
May Maa Siddhidatri, fulfil all your wishes and grant you happiness and prosperity.
To know more, please contact our experts on www.mypandit.com or Download MyPandit App Now!
---
---