Navratri Rituals: Favourite Flowers of Goddesses & Significance of offering Flowers to Goddess's Idol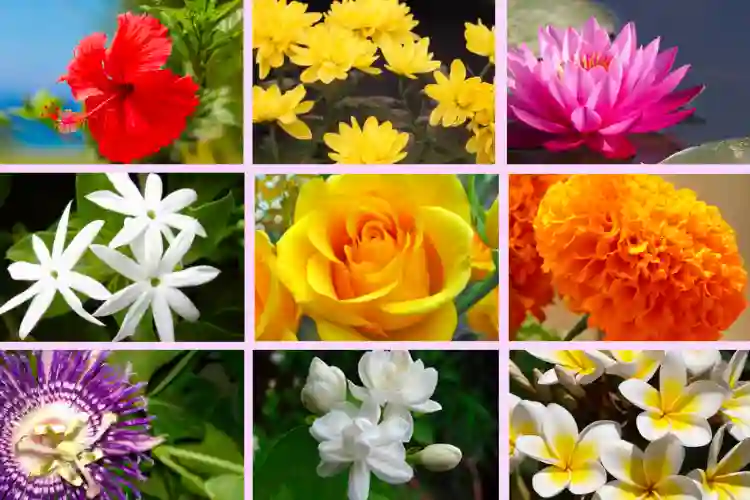 Navratri is a joyful festival that brings nine glorious nights. People dedicate every nine days to different forms of Maa Durga and seek blessings from her. People also organize a traditional dance of Garba at night and listen to devotional songs. Maa Durga is the provider of inner strength, power and energy.
Keeping Goddess in your prayers may help you win over the enemies. And therefore, we worship her nine different forms with utmost sincerity. We perform puja vidhi in front of Maa Durga's idol and also offer a bunch of flowers. Now, we guess it would be a little confusing for you when it comes to offering flowers. So, read along with us to know which flower is offered to the different forms of Goddess Durga.
---
Different Forms Of Goddess Durga
Below are the different forms of Goddess Durga celebrated during the Navratri. These are the auspicious days when people pay their highest respect to the Goddess and earn her blessings.
Day 1 is dedicated to Goddess Shailputri
Day 2 is dedicated to Goddess Brahmacharini
Day 3 is dedicated to Goddess Chandraghanta
Day 4 is dedicated to Goddess Kushmanda
Day 5 is dedicated to Goddess Skandamata
Day 6 is dedicated to Goddess Katyayni
Day 7 is dedicated to Goddess Kalaratri
Day 8 is dedicated to Goddess Mahagauri
Day 9 is dedicated to Goddess Siddhidatri
There is an ancient belief that one who worships all nine forms of goddess Durga Puja by offering flowers may get desired success in life. Flowers are also important parts of rituals as it is associated with Goddess's nine forms.
Flowers help you develop a connection between you and God. So, every time you offer a flower to the God or Goddess, your prayers may not go unheard. But for that, one must know the favourite flowers of Goddess's nine avatars. So, let us learn more about it.
---
Favourite Flowers Of Goddesses
On the first day, we worship Goddess Shailputri by offering her favourite Hibiscus flowers widely used while performing Pujas. Thereafter, we try to impress Brahmacharini Devi with Chrysanthemums flowers to get blessed with good wealth.
We keep the Lotus flower near the idol of Goddess Chandraghanta on the 3rd day to get rid of negative thoughts and fear in mind. Navratri's 4th day is celebrated by offering Jasmine flowers to Maa Kushmanda.
The 5th-day proceedings include the worshipping of Goddess Skandmata, and therefore, we offer roses to her. Then, we put a bunch of Marigold flowers near the idol of Katyayni to receive good fortune. On the 7th day, we offer Passiflora (Krishna Kamal) to please the fiercest form of Maa Durga, Goddess Kalratri.
Devotees bow down to Goddess Mahagauri with Arabian Jasmin or Mogra flower on the 8th day of Navaratri. Last day of Navratri, we perform puja using Plumeria flowers or Champa flowers to get blessings from Goddess Siddhidatri.
---
A Role Of Colorful flowers
Now, as we know, the flowers are associated with Gods. One should also know which colour flower may help you get maximum benefits. These colourful flowers play a vital role in pleasing God. It represents your faith and devotion behind worshipping the Lord. Here is which colour flowers are offered to nine forms of Maa Durga.
We worship Goddess Shailputri by using yellow-coloured flowers, which are said to be the symbol of joy and happiness. The next day, we use blue-coloured flowers to impress Goddess Brahmacharini. Day 3 is celebrated to remember Goddess Chandraghanta, so we offer her Grey-coloured flowers. Thereafter, we pay our respect to Goddess Kushmanda by keeping Green-coloured flowers near her idol.
The 5th-day pujas are dedicated to Goddess Skandamata by using the set of White-coloured flowers. Later, offerings of orange-coloured flowers are done to appease Goddess Katyayni on the sixth day. The 7th form of Maa Durga, Goddess Kalaratri, is worshipped by giving red-coloured flowers to her.
Then, devotees divert their attention to worship Goddess Mahagauri with Pink-coloured flowers on the 8th day. Last day of Navratri, we collect fresh purple-coloured flowers to keep near the idol of Goddess Siddhidatri.
---
Wrapping Up
Some of you might not be knowing how flowers can guide you to get the blessings of the Goddess. But, moving forward, we are sure you had a complete idea of how to impress the deities with the help of flowers.
One should keep Goddess in their prayers and perform pujas for consecutive nine days. By doing so, you may find ways to earn success. And yes, don't forget to offer different flowers to the Goddess's idol. May you have the happiest Navratri ahead.
Dealing with too much confusion? Talk to astrologers for the guidance. First consultation with 100% Cashback.
---
---