Puthandu/Tamil New Year 2021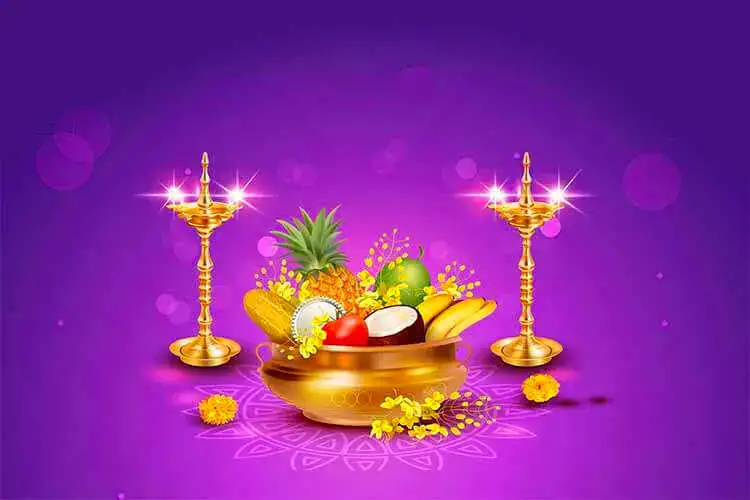 On the first day of the Tamil month of Chithirai, Puthandu, or Tamil New Year, is celebrated. Varusha Pirappu is another name for it. Sankranthi is celebrated in Tamilnadu after sunrise and before sunset, and the year begins on the same day. If Sankranthi falls after sunset, the new year will begin the next day. Puthandu will take place on Tuesday, April 14 this year 2021. On Puthandu Day, the Sankranthi moment will be at 2:48 AM. The solar calendar is used to measure this. As a result, it occurs nearly every year on the same day.
The Tamil New Year, which occurs on the first day of the month of Chithirai, is celebrated as Tamil Puthandu. The Tamil solar calendar's first month is Chittirai, and the new calendric year begins with Puthandu.
The day is set aside for family time. People clean up their houses, make a tray with fruits, flowers, and auspicious objects, light the family Puja altar, and pay a visit to their local temples. On New Year's Day, people take herbal baths to cleanse themselves and begin fresh. Turmeric baths are very common among females. People put on fresh clothing, and children pay their respects and request blessings from elders before the family sits down to a vegetarian feast.
People dress up in traditional garb, exchange greetings, and pray at nearby temples. The ceremony includes aarti rituals and the illumination of the "saambrani." To mark the day, divine songs and traditional instruments are played in homes.
---
Puthandu Festival Significance
According to their solar calendar, Puthandu is the first day of the Tamil New Year. New Year's Day ushers in a new era of optimism, making it both meaningful and auspicious. Some believe that Lord Indra, revered as the "Prince of Harmony," visited Earth on the day of Puthandu to certify contentment and amity, while others believe that Lord Brahma created the Universe on this day. People pray to the Almighty for good health, fortune, justice, and happiness on this day. They do so mainly in the hopes of having a good and happy year. People in the states of Uttarakhand, Uttar Pradesh, Himachal Pradesh, Kerala, Tamil Nadu, Haryana, Odisha, Assam, Bihar, and Bengal also celebrate their New Year on this day.
Puthandu is a day of feasting and revelry in Southern India, especially in the state of Tamilnadu. People enjoy the festival with much expectation and optimism, hoping that the coming New Year will bring them happiness and good fortune. It is often thought to be a good day to launch a new company or plan.
Get the best advice for your profession or industry from experienced astrologers Talk to an Astrologer NOW!
---
Rituals and Celebrations for the Tamil New Year
Puthandu is a special day in Tamilian culture that marks the start of the Tamil New Year. It is regarded as an auspicious day for people to begin their lives anew in the New Year and reconnect familial links. The festival's festivities begin with sacred rites in order to preserve the festival's sanctity.
A popular custom of 'Kanni' is followed where the auspicious sight is carried a day before the rituals. A platter is decorated with a variety of fruits and vegetables, as well as Neem flowers and leaves, new clothing, gold or silver jewelry, and currency, on the eve of Puthandu. This platter is then set in front of a mirror in the temple room of the building. It is done to ensure that Kanni is seen at the first sight. It is believed that seeing Kanni, at first sight, would bring peace and success in the New Year ahead.
People see the reflection of the platter full of things symbolizing success the next morning, shortly after waking up. The entire family then prepares for the prayers, which are accompanied by a feast that primarily consists of pacchadi made of grated raw mango, jaggery, salt, red chilies, neem leaves, a splash of turmeric, and oil. The blend of these components is unique because it represents the wide range of feelings that people encounter on a daily basis. The raw mango adds sourness, while neem adds bitterness, jaggery adds flavor, and chilies add pungency, among other things. It serves as a reminder that life is a jumble of emotions. As a result, one must love life and embrace all it has to do.
Women decorate the house with Kolam just before Puthandu to welcome prosperity and joy. 'Kolam,' or ground rice flour, is used to decorate houses and their surroundings. The lamp "Kuthuvilakku" is placed in the middle of the Kolam to represent the absence of darkness in life.
People dress up in new bright colors and welcome one another with the phrase Puthandu Pirappuv or Puthandu Vazthukal, which means "Happy New Year."
On the festival day, the residents consume various tasty foods. Delicacies like Asma, Aluva, Aggala, Kevum, Kokis, and Atirasa are prepared days before the New Year. These are special items cooked during Puthandu. Mango Pachadi, a mix of chilies, jaggery, neem leaves, flowers, salt, and tamarind; payasam, puruppu vadai, appalam, Aviyal, fried appalam, coconut milk, curd, veppam poo rasam, and other dishes are among the menu items. Puthandu is known for two types of dishes, one sour and one sweet. Puthandu is also known for its special rice kheer or pal payasam.
When elders give presents or money tokens to children, they are overjoyed. Temples are used by devotees in order to receive divine blessings. While some Tamilian families practice ceremonies such as 'Tharpanam' to ensure the survival of their ancestors' souls.
The organizing of a car festival in Tiruvidaimarudur and the grand marriage of Goddess Meenakshi to Lord Sundareswarar in Madurai's famous temple are two of the day's highlights. Reading "Panchangam" is also an important aspect of the tradition. The reading is normally done by the family's eldest person.
Puthandu is the first day of the Tamil New Year, and it is observed according to tradition. Many regions or states in India observe this day as New Year's Day under various names. Kerala celebrates Vishu, Punjab celebrates Baisakhi, Odisha celebrates Pana Sankranti, and West Bengal celebrates Pohela Boishakh. Other countries that participate in the festival include Sri Lanka, Mauritius, Singapore, and Malaysia, in addition to India.
---
Some Facts About The Puthandu Festival
A 60-year period is used in the Tamil calendar. Chittirai is the first month of a Tamil year, which begins on April 14th in the Gregorian calendar.
Dhunmuki was the name given to the Tamil Year 2016-17. The Hevilambi year started the 2017-18 Tamil New Year. Shaarvari is the name of the year 2020-21.
Tamilians begin their New Year's preparations by cleaning their homes the night before. They agree that before a new beginning can start, the old & negative must be removed.
In Tamil Nadu, what is known as rangoli elsewhere, is known as Kollam or Kolam.
May the New Year bring with it a new beginning, new prosperity, harmony, joy, and happiness. We wish you a Happy And prosperous Puthandu!
---
---