Vasudev Dwadashi 2023: The Stories of Lord Krishna and the Rituals of the Day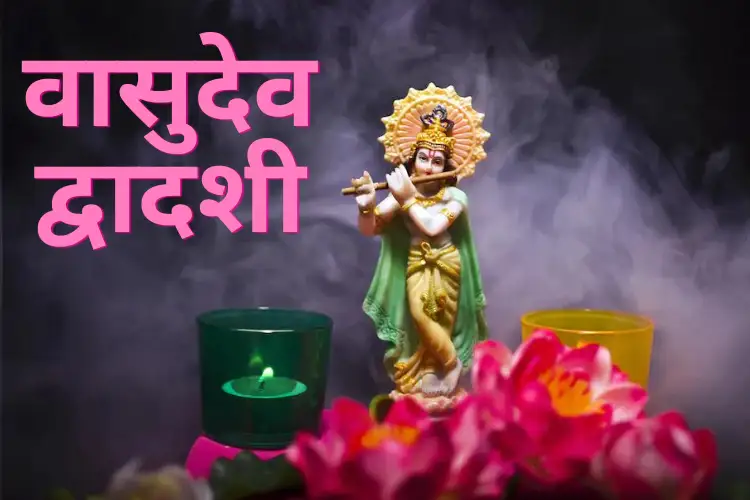 Vasudev Dwadashi Muhurat in 2023
| Vasudev Dwadashi | Date and Time |
| --- | --- |
| Vasudev Dwadashi 2023 | 30 Jun, 2023, Friday |
| Dwadashi Begins | 30 Jun, 2023,at 2:14 am |
| Dwadashi Ends | 30 Jun, 2023, at 11:14 am |
Significance of Vasudev Dwadashi
Vasudev Dwadashi, as the name suggests, is entirely dedicated to Lord Krishna given the fact that Vasudev is another name for Lord Krishna. Considering the almighty powers and worthiness of Lord Krishna, he got this name from his father who was also called Vasudev.
The origin of Vasudev Dwadashi was discovered in the Varaha Purana. As per the Hindu mythology, Rishi Narad suggested Lord Krishna's parents Vasudeva and Devaki, to fast and do sacred rituals on this day. After completing the ritual with full dedication and pure intentions, they were blessed with a child in the form of Krishna. And ever since, Vasudeva Dwadashi is celebrated in an attempt to honour and worship Lord Krishna and has held great significance for his devotees over the centuries.
Get a peek in the significance of astrology by generating free yearly report.
How to Worship on the Vasudev Dwadashi?
When it comes to worshipping Lord Krishna on the day of the Vasudev Dwadashi, it is absolutely essential that you follow all the right rituals and worship him with utmost sincerity. However, most people are not aware of all the right rituals, therefore in this section, we have discussed the right way to worship Lord Krishna on the day of the Vasudev Dwadashi.
Wake up early in the morning and take a bath to start with the auspicious day.

After the bath ensure that you wear clean clothes.

Take a vow to fast for the entire day without any food or water 

Now worship Lord Vishnu as well as the Goddess Lakshmi.

Offer flowers to the Lord, light up the incense sticks, and earthen lamps to fill the atmosphere with positive energy and pureness.

Devotees should offer Panch Amrit to the Lord and Goddess.

On this day, Panchamrit is usually offered as a Prasada in holy places.  The Panchamrit is a holy drink made with five ingredients that are considered to be sacred and dear to the Gods. These five ingredients are Milk, curd, ghee, honey, and sugar.

Reciting Aarti and singing bhajans on this day greatly pleases the Lord, and the devotees who do so, are blessed with peace and prosperity in life.

Chanting of Vishnu Sahasranama and other mantras of Lord Vishnu is also considered to be extremely auspicious on the day of Vasudev Dwadashi.

It is believed that worshipping Lord Vishnu on this auspicious day takes away all kinds of troubles and obstacles that come in the way of life.

In temples, recitation of Shrimad Bhagwat Purana is also done, in which the pundits read the holy chapters aloud in an attempt to allow the devotees to understand the true meaning of this festival.

In Hindu tradition, charity and donation are considered to be divine gestures, and the devotees are advised to donate on this day as per their convenience.

Gifting the Vishnu Sahasranamam books on Vasudev Dwadashi is believed to be significantly holy.
Maintain peace and prosperity by performing personalised Vishnu Puja.
About Lord Krishna
Vasudev Dwadashi is the festival of Lord Krishna, who is worshipped by devotees all over the world, on this day. Lord Krishna was originally born in Mathura as the eighth child of Vasudeva and Devaki and the eighth avatar of Lord Vishnu.
Lord Vishnu incarnated as Lord Krishna in order to destroy the Kansasura and other destructive demons of that time.
Due to his purpose and his great deeds, Lord Krishna is also called the "Purna Avatar" of Lord Vishnu, which means the complete incarnation of Lord Vishnu – the protector and the preserver of the whole creation. According to the Hindu religion, Lord Krishna is believed to be Omnipotent – All-powerful, Omniscient- all-knowing, and Omnipresent – Present everywhere.
The Vasudev Dwadashi Katha
It is said that a long time ago there was a country called Chunar ruled by a king named Paundrak. Paundrak's father's name was Vasudeva, so Paundrak would call himself Vasudeva. One day Paundrak attended the Swayamvar of Princess Draupadi, the daughter of King Paanchal. Puandrak's mischievous friends convinced him that it's not Lord Krishna who is the incarnation of Vishnu but he himself is and believing this, he got dressed up as Lord Krishna in a yellow attire with fake accessories like the Chakra, the Shank, and the Sword.
Lord Krishna Vs Paundrak
One day, Paundrak also sent a message to Lord Krishna claiming he's the one who is the incarnation of Lord Vishnu, in order to save the people of earth and threatened him to stop pretending to be the Lord or else there will be war. But Lord Krishna did not pay attention to his foolish claim for a long time.
However Paundrak's delusion started to grow stronger and matter got out of hand, that's when Lord Krishna replied to him saying that he will destroy him and his false belief. As soon as Paundrak learned that, he got agitated and declared war on Lord Krishna. In order to seek help in the war, Pandurak arrived at Kashinagar to meet his friend King Kashiraj.
And The War Started
Lord Krishna finally gave Paundrak a befitting reply by attacking Kashi land. After the attack on Kashi, Paundrak and Kashiraj rushed to the border. Before entering the battlefield, Paundrak seated himself on Garuda wearing a yellow god-like attire along with a Shank, a Chakra, a Gada, and a bow in his hands, getting ready for the war in a very dramatical way. After witnessing his foolishness, Lord Krishna couldn't resist laughing and moved on to kill Paundrak. After the war, Lord Krishna returned to Dwarka.
Karma Hits Back
However, as an act of vengeance, Paundrak's son sacrificed Maran in order to perform demonic magic by which the demon emerged from the blazing fire to kill Lord Krishna. Paundrak's son instructed the demon to go to Dwarka and kill Krishna. As soon as the demon reached there, Lord Krishna flung his Chakra at him and he fled away. The Chakra kept following him until the black magic turned the other way around leading the demon to kill his own creator.
Conclusion
As we have established, the Vasudev Dwadashi is one of the most auspicious days in the Hindu calendar. On this day, devotees from all over the world worship Lord Krishna in an attempt to acquire his blessings and wish for a happy, peaceful life. We hope that this article helped you understand the rituals, methods, and significance of this important day and that you too are inspired to perform the rituals for the health and prosperity of your loved ones.
Lost! have no idea which direction to move in life? Talk to astrologers for the guidance. First consultation is FREE.