Gemini 2022 health horoscope: A Mixed Health Aspects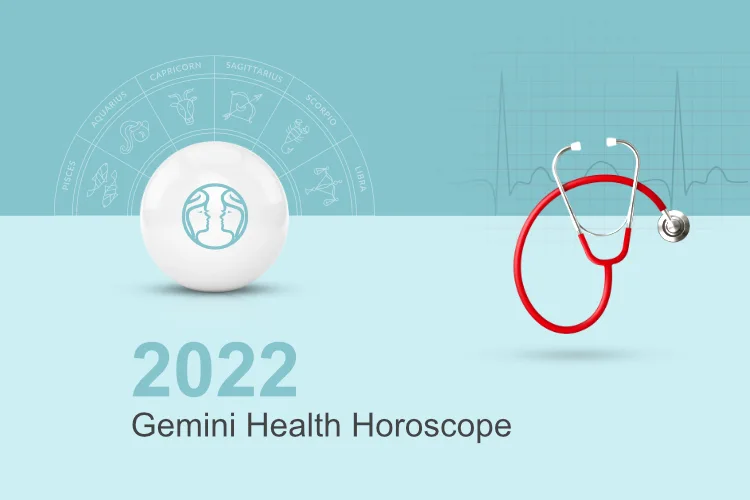 Gemini 2022 health horoscope says that the stars recommended that Gemini not only pay attention to their appearance, but also to a healthy lifestyle. It is time for Gemini natives to consider giving up bad habits, preventing illnesses, and strengthening the immune system. A healthy state of mind should be your priority. The adrenaline gush has to be channelized by active sports to control your excessive anger. Some Geminis are at risk of struggle and injury. It is recommended that Gemini natives pay attention to the pelvic organ, intestines, and lower limbs.
Gemini natives are interconnected with your health and mood as per Gemini health horoscope 2022. When you are sad, tense, or anxious, the immunity is at the lowest point and that is the time when an infection can manipulate your defence system. Your health improves significantly when you are confident and optimistic. As far as infections are concerned, there is nothing major that can happen to you, but with little care, you can take care you can ensure good health. However, your emotional and psychological health would be of major concern. Hey, we are not done yet. There is more to explore about Gemini 2022 health horoscope. Let's get started!
Gemini 2022 Fitness Horoscope: Aromatherapy, Yoga, and Athletics
As per the Gemini fitness horoscope 2022, In March and late summer, a favourable period is expected for a schedule of medical events. Surgery, anti-ageing, and cosmetic interventions will succeed. The stars recommend aromatherapy, yoga, and athletics to the sign's representatives in the second half of the year. This helps to alleviate the increasing irritation.
In the cold season, frequent cold and viral diseases are anticipated as per the Gemini 2022 health Horoscope. Going into large crowds unnecessarily should be avoided to prevent infections. Moreover, it is important to dress for the weather instead of watching fashion trends carelessly.
Gemini man's health horoscope 2022: Focus on a Healthy Diet
For Gemini man, this is a good time to forget about bad habits. Yeah, this is what 2022 Gemini health horoscope. Successful weight standardization should be taken seriously. That requires no rigid diet rather values, like not eating too late at night and increasing your activity level, would suffice.
The Gemini 2022 fitness horoscope stars are recommended to start sports for inactive at work otherwise they may have additional pounds and cardiovascular diseases over time. Gemini might choose to do dexterity activities that can change or constantly change their environment: tennis, volleyball, cycling. The gym is not a good option for Gemini men as they would lose interest in no time and be overworked might hamper their overall fitness.
As the year starts, Gemini men should have all the health check-ups completed to prevent any lingering chronic disease to happen or if already present, to keep them in control as recommended by the Gemini Health Horoscope 2022. There is a risk of bronchitis or pneumonia during cold weather. Gemini men are also susceptible to joint diseases. The fashion-conscious Gemini men are suggested to wear a proper dress and wear proper footwear for the weather. They need to be convinced that they can also look trendy in warm clothes. In summer, natives with chronic inflammatory diseases might spend their holidays in resorts, relaxing and improving their health.
Autumn may bring a lot of hard work as per Gemini health horoscope 2022. Exhaustion endangers those Gemini that did not find time to rest in the summer.
In particular, sleep disorders and reduced work capacity are likely to occur. How can this be prevented? The Gemini 2022 health horoscope recommends that you do not try to relax with alcohol, coffee, or energy drinks but rather spend more time in the fresh air and communicate with friends and family. A home walk-in or relaxation can help improve your health for those who are especially busy.
Gemini woman's health horoscope 2022: A Good Overall Health
In the field of changing appearance, the Gemini fitness horoscope 2022 for women promises luck. Ladies who have long dreamt of throwing additional pounds, without a very long hunger strike will finally succeed. It turns out that your body remains fit with a balanced diet. As per Gemini health horoscope 2022, even at the end of your working week physical activity may help you to feel light and happy. The Gemini does not need to go to the gym but they need more action, take short jogging or cycle breaks. Yoga, fitness, and aerobics are not bad choices. Swimming is suitable to keep your back healthy for the lovely half of a sign with a sedentary job.
Gemini women natives might pay more attention to hair, nails, and skin conditions. The Gemini 2022 health horoscope recommends good overall health of the body by taking enough sleep, healthy food, rest, and fresh air. Since women with the Gemini may be prone to epidermal diseases, it might be a good idea to have a holiday where skin problems can be treated. The stars forecast success even if previous efforts have failed for those who decide to quit smoking but a new way of relieving tension is needed like relaxing, breathing, etc.
Colds and viral disorders can cause respiratory system inflammation in the autumn. Even a mild respiratory infection is likely to get a serious problem if not treated in time, according to the 2022 Gemini health horoscope. As the cold weather kicks in, the Gemini women natives are warned to be thoughtful of their self-medicating habits and not take medicine without doctor consult, especially antibiotics. The best thing is to have confidence in the specialists. (You can let a warm smile role on your face if you're one of those). Fashion-conscious women are recommended to wear comfortable footwear to avoid falling and injuring themselves.
2022 health Advice for Gemini natives: Engage More in Activities
Your health is expected to worsen slightly after April 2022. Pay extra attention therefore to your health during this period. Ensure that you eat well. You will most probably feel more tired and have problems with your stomach, but some exercise will help you feel better again.
Our recommendation is to take on pleasant activities more often and do not forget to practice meditation. Please spend more time with your friends and loved ones and have the courage to do what you love – this is the only way to achieve spiritual fulfilment.
Natives are advised to do regular check-ups of the endocrine system and thyroid gland. It is recommended that you follow the right diet for your health problems and follow the advice of your specialist if you are aware of medical problems. You are recommended to consult a doctor or therapist to help you deal with or at least to improve on your problems.
Gemini Career & Business Horoscope 2022
Gemini Education Horoscope 2022
Gemini Love & Relationship Horoscope 2022
Gemini Marriage Horoscope 2022
Gemini Finance Horoscope 2022
Gemini Wealth & Property Horoscope 2022
Know More About 2022 :