Pros and Cons Of Jupiter's Progression In Capricorn Sign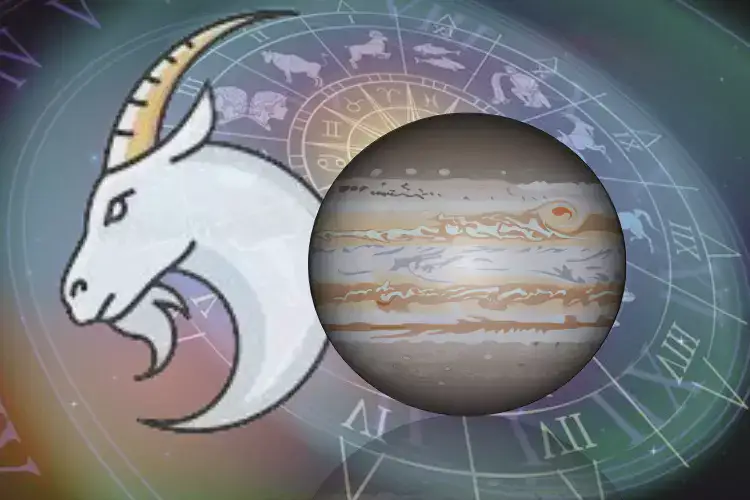 Jupiter is the significator of knowledge, wisdom and prosperity. It is also known as spiritual guru as the yellow-coloured planet provides guidance to Hindu deities. Therefore, it is always good to have support from the hefty Jupiter. The benefic planet helps the individual to get rid of the malefic impacts. Saints and priests always seek blessing from Jupiter when it comes to beginning any auspicious work.
Currently, retrograde Jupiter is passing through the Capricorn sign, and it will soon become progressive, and as a result, we may see significant changes in our life. This could be true because the Capricorn sign is ruled by the lord of rings, Saturn, which considers Jupiter as its enemy. Also, Saturn will be moving in its own sign, so there will be a conjunction of two slow-paced planets.
Since Jupiter is ready to enter direct motion in the Capricorn sign, we must know what ups and downs it may bring to us. And therefore, check out expert suggestions and remedies about Jupiter transit in Capricorn 2021.
For More, Astrological Consultation on Any Area of Life – Speak to An Astrologer.
---
Jupiter Transit In Capricorn Dates 2021
Jupiter's retrograde begins in Aquarius: Jun. 20, 2021.
Retrograde Jupiter enters Capricorn: Sept. 14, 2021.
Jupiter gets progressive In Capricorn: Oct. 18, 2021.
---
Jupiter Become Progressive In Capricorn 2021 Effects On Zodiac Signs
Below are the predictions made by the Astro experts for the upcoming transition of Jupiter in 2021. Also, find what are the remedies to cut off negative impacts on the planet.
Individuals Of Aries Sign
Aries students may find better opportunities to kick off their career in their desired field. You may achieve stable growth and few benefits as well. Professional workers may have promotions in other departments. You may strengthen relations with your father. Lovers with the Aries sign may spend time under the cosy arms of their partner. Singles may end up waiting to meet their life partner.
What To Do: Wear tilak on forehead and install Guru yantra to get Jupiter's blessings
Individuals Of Taurus Sign
Those who are born with the Taurus Moon sign are likely to achieve remarkable feet in their professional life. Entrepreneurs may inch closer to their success and you can expect desired profit too. You may go on business trips to make new contracts. Natives associated with the political world may see positive changes around them. Lovers may have a satisfactory time, while singles are expected to meet a new love.
What To Do: Offer water to a nearby Peepal tree
Individuals Of Gemini Sign
People born with the Gemini sign can expect mixed outcomes due to the progressive Jupiter in Capricorn. Those who are working in the research field may come up with new inventions. You may have a sudden rise in your income. Married natives may resolve previous issues with their in-laws. You may form a balanced relationship with your partner. Gemini students may perform well in their studies.
What To Do: Follow Shiva Sahasranama or organise Rudraabhisekh Puja
Individuals Of Cancer Sign
This direct motion of Jupiter may bring a perfect time for Cancer individuals. Lovers may have suitable time to take their relationship to a higher level. Singles may make life commitments as they consider marriage as a top priority. Married natives may resolve their relationship issues. Entrepreneurs may make new partnerships, but businesses may run at a slow pace. Government servants may need to follow new guidelines.
What To Do: You should wear Panchmukhi Rudraksh with yellow thread
Individuals Of Leo Sign
Jupiter's progression may shake up Lion's routine life as they may need to accept a few unwanted changes. You may need to form new strategies in your professional life. Healthwise, you may stick to a regular diet to maintain stable health. Those who have borrowed loans may start repaying them. Financially, you may achieve your long term goals. Lovers may have a chance of a sudden breakup.
What To Do: Visit a nearby Lord Shiva temple and offer prayers
Individuals Of Virgo Sign
Virgo natives connected to the political world may get unexpected news. Government employees may see changes in their workplace due to new guidelines. Virgo artists may start career planning to achieve new heights. Students may have the upper hand in pursuing their education. You may incline towards spirituality, you may conduct puja at home. Lovers may think of getting married.
What To Do: Wear gold in any form on Thursday
Also Read: The conjunction of Saturn and Jupiter in Capricorn
Individuals Of Libra Sign
Once Jupiter gets progressive, it may have good news for the Libra-bound natives. During this time, you may plan to renovate your home. Some of you may plan to purchase your own property as well. The transiting Jupiter suggests that farmers may get relief as their business may see a sudden rise. Working individuals may get benefits from newly-launched government schemes. You may accomplish your travelling goals.

What To Do: Help poor students to complete their education
Individuals Of Scorpio Sign
This Capricorn-bound Jupiter denotes that Scorpio pals may need to be careful about relations with their close ones. Those who have previously spoiled relations with their siblings may turn the tide during this time. Individuals connected with the media and journalism field may find some changes. You may get your name and fame. Singles may have the right time to mingle with someone special.
What To Do: Offer grass or jaggery to cows.
Individuals Of Sagittarius Sign
Progressive Jupiter indicates that Sagittarius natives may spend quality time with their families. You can expect monetary gains in the coming days. This may help you reach your financial goals early. Sagittarius natives may have a great time with their partners. You two may go on a short vacation. You may like to visit your favourite destination. Students may make their parents feel proud.

What To Do: Wear a Yellow Sapphire or Indian Ruby
Individuals Of Capricorn Sign
Capricorn individuals may have unfavourable times because of the arrival of Jupiter in the Saturn-ruled Capricorn sign. Students may boost their confidence, but their personalities may get hampered. You may also need to reset your career goals. Relations with your partner may improve by the grace of Jupiter. Professional workers may need to struggle during this time. Lovers may plan a wedding proposal for their partner.
What To Do: Worship Peepal tree by offering water
Individuals Of Aquarius Sign
Natives born with Aquarius signs may have an excellent time to complete their travelling goals. Those who are planning to settle in foriegn land may get a green signal. In terms of finance, you may be able to control your money expenditures. You may take interest in yoga and meditation. Individuals who are suffering from bad health may find the path of recovery. Professional workers may get relief from their work. This may help you reduce mental stress.
What To Do: Offer yellow rice to Maa Saraswati, especially on Thursday
Individuals Of Pisces Sign
The end of Jupiter's retrogression means that Pisces natives may have a favourable time reconstructing their business. Pisces entrepreneurs may get an excellent start to their new project as planetary positions are likely to offer support. Also, you may earn a good profit because of your new business. You may strengthen relations with your elder siblings. Lovers may have a hectic schedule as they may need to give time to their partners.
What To Do: Head out wearing yellow-coloured clothes and apply tilak
You may like to read: Saturn gets progressive In Capricorn
---
Wrapping Up
The transiting Jupiter in Capricorn would be happy to shower its blessing on us. We understood that this retrogression of Jupiter is about to end, but the planet is going nowhere out of Capricorn until November 2021. We found that this benefic planet can do wonders in the coming days. Hope you have a clear view regarding Jupiter's progression in Capricorn. The actual result may vary as per the placement of planets in the individual's kundali. If you want to have any queries, you can reach us directly to talk with an expert.
Also Read :- Discover the impact of the Sun and Jupiter conjunction in Pisces 2023 on your zodiac sign. Read our catchy one-liners and slogans to learn how this alignment will affect your life.
---
---