Sun Transit in Taurus 2022: Effects on All Zodiac Signs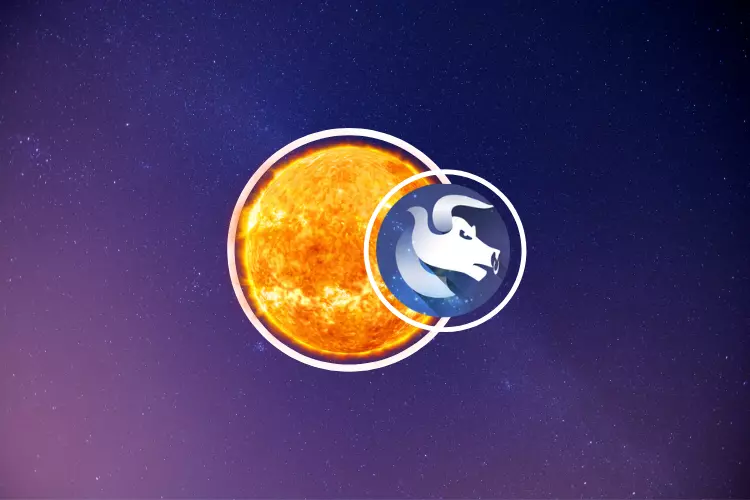 Among all the major astrological transits in 2022, there is another event coming in May. On May 15, 2022, Sun will transit to Taurus. The planet of authority, power, and ego will enter the sign ruled by Venus, the planet of luxury and love. What will happen when the mighty Sun enters the magnetic Taurus? Well, it is sure to bring many changes to all the zodiac signs. What will it bring to your sign? Let's find out.
---
Sun Transit in Taurus 2022 Effects on Aries: Countering the Conflicts
For Aries natives, the fifth house is ruled by the Sun, the house of study, progeny, and entertainment. This may bring some changes to your communication. You may feel yourself being on the point with your conversation and can even be harsh with some people. Be cautious, as this behaviour has the potential to take you away from your loved ones. There are also some chances of conflict between your family members and you.
At times, it may feel like they are not supporting you enough. Students are likely to enjoy their learning and may get good results. This will make your parents proud! You may make money out of something that you only considered a hobby till now. This additional income can also make you happy. When you pursue your goals ambitiously, it can bring some conflicts in the workplace. However, this period is likely to strengthen your career. And talking about career, if you want to know which planets are shaping your career by the date of your birth, you can access your Free Janampatri now!
---
Sun Transit in Taurus Impact on Taurus: Tuck Your Temper Away
The Sun will transit to the first house of Taurus natives, which is the house of self. It defines our personality. During this time, you may feel possessive about your family; you may also feel a little anxious about their safety. These fears can make you dominate at your home and can also bring differences to your married life. Make sure you check your temperament, or people may find it hard to be near you.
It is also advisable to keep an eye on your health. If you are someone who is trying for a competitive or government exam, this may be a good time to appear for one. Keep your spirits high to combat any challenge. Professionally, this is a good time to soar high. Some thoughts about changing your job may also be there. At times, you may trust your judgement rather than the orders you are given. For businessmen, too, this is likely to be a good time.
---
Sun Transit in Taurus Predictions for Gemini: Climb the Corporate Ladder
The Sun rules the third house of Gemini natives; however, the transit will be taking place in the 12th house this time. The house represents the native's relationship with foreign land and expenses. Those who work with foreign-related businesses or MNCs are likely to go up the ladder as a result. Under this transit, you may feel a little tired and weak. You may feel that you are not giving your hundred per cent at work or at home. Even with friends and family members, some miscommunication may take place.
You are likely to feel moved to explore and travel to new places. It is also time to be cautious as some new friends that you make may hurt you financially. Work-life can also prove to be a rollercoaster. It is advisable to not get into any arguments with your employer. However, if you are awaiting a promotion, some good news may be there! Financially, your strategies are likely to bring you good results. It is advisable to take care of your eyes during this transit.
---
Sun Transit in Taurus astrological Predictions on Cancer: Hard Work Gets Recognised!
The Sun will transit to the 11th house of the Cancer Zodiac, the house of earning and growth. In the good news, this transit may bring you some great financial stability. Great profits in business can become a norm, and that may also prompt you to invest more to get your money multiply itself. Salaried employees may also churn out great incentives and maybe in for even a promotion. Better relationships with seniors are likely to help in that cause.
The hard work that you have put up till now is likely to bear fruits. The effects of these could also be seen in your social life. Get-togethers and parties may become your jam, and you are likely to have a good time with your partner, too. Since the Sun rules your 2nd house, the house of wealth, this transit is likely to bring you a great time in terms of finances. Understand your finances in detail with your Free 2022 report!
---
---
Sun Transit in Taurus Impact on Virgo: A Call Abroad
For Virgo sign, the 12th house is ruled by the Sun, and the transit will be taking place in your 9th house. This house represents luck. This period may bring a sense of wanderlust to you. Moreover, you are also likely to get inclined towards religion and spirituality. These thoughts may make you take part in a religious ritual or donation to the needy. The relationship with your father may get some speed breakers in the way.
However, the respect between the two of you is likely to remain intact. For those planning for higher studies, this might be a good time. Foreign colleges may also accept you if you are applying for them. So, better start preparing! On the professional front, you may feel satisfied with your work. Among that, you should not lose concentration on your work. If you are dealing with overseas clients, you may be in for some good times and great deals.
---
Sun Transit in Taurus Predictions for Libra: Time to Think!
The Sun transit in Taurus will take place in the 8th house for Libra natives. It is a house of unpredictability and occult mysteries. This transit may take you deep into your thoughts, and with contemplations, you may reach some judgements and evaluations. You are even likely to share those thoughts with your friends, which will help you strengthen your bonds with them as well.
You may find yourself questioning everything around you, thinking over the challenges you face. Due to all these, all the philosophers and deep thinkers among the Libra are likely to have a good time. Who knows, some of you may also find something new with your abilities. Students are also likely to spread their wings of knowledge.
When it comes to health, some body aches and low energy can be foreseen. It is advisable to avoid investments during this time as it may cost you. Anything speculative should be avoided. Your plans to expand your business should also be put on hold for now. If you are planning a partnership in your upcoming venture, you may want to get your compatibility checked with your partner: Check your Free Name Compatibility Now!
---
Sun Transit in Taurus astrological Predictions on Scorpio: Never Stop Growing
Though the Sun rules the 10th house of Karma for Scorpio Zodiac, the transit will take place in the 7th house of partnerships. You may find yourself a bit possessive and aggressive under this transit. At times, you are also likely to get irritated by taking orders from someone. This attitude, however, can cause some problems in your married life. It can drive your partner away from you. For singles that are planning to get married, some good proposals may be coming their way.
Businessmen are also likely to make a good name for themselves in the market. A promotion or professional growth may come your way because of some trips. There are also some possibilities for you working as a partner to someone. However, avoid arguments with them. Good financial times can be foreseen ahead. New ventures are also likely to mint the green for you. Healthwise, take care and protect yourself from the heat and anxiety.
---
Impacts of Sun Transit in Taurus for Sagittarius: Great Professional Journey Ahead
The Sun transit in Taurus will take place in the 6th house of job, enemies, and competition for the Sagittarius zodiac. At the workplace, you are likely to enjoy some authority. Some perks and favours may be coming your way. You may also get the deserved support from your team members. If there are any office politics, you may find yourself immune from it. Students are also likely to have a good time, especially if they are preparing for competitive exams.
The hard work is going to get you some good results. Government employees may also enjoy a good work-life, and even a promotion may be on the cards. Personally, you may feel a little on edge with people. However, you are likely to be confident with your approach, overtaking your competition with grace. You may also concentrate more on your fitness goals, which may help you get rid of some minor niggles related to your health.
---
Sun Transit in Taurus 2022 Effects on Capricorn: Time for a Lot of Changes
For Capricorn sign, the Sun transit in Taurus will take place in the house of conception and pregnancy, the 5th house. It is also the house of taste and talents. You may get interested in learning new things and research. However, this may not be a great time for your relationship, as some heated arguments may become a force that drives you two apart. For expecting mothers, it is a time to be cautious.
Some health issues related to stomach or acidity may also bug you here and there. Financial instability is also likely to hamper your plans. It is advisable to avoid investments and anything speculative. Instead, focus on your hobbies. Sometimes, these hobbies can also get you some income. If you are looking for a job change, a switch may be just around the corner. At times, you may feel that your relationship with your seniors is not going really well. It is advisable to be careful about your reputation at the workplace. Before heading to the office, start your day with a little snippet of insight every day with our daily horoscope notifications: Download MyPandit App now!
---
Sun Transit in Taurus Impact on Aquarius: Unstoppable Learning
The Sun transit in Taurus will take place in the 4th house for Aquarius natives, which is the house of family and home. You are likely to find some name and fame in your professional life during this time. If you are looking for a big break, some opportunities may come knocking on your door. If you are into a family business, it is likely to expand with all the efforts you and your close ones put in, with a good reputation in the market.
Students are likely to be unstoppable during this time, and they will perform well in the examinations. It is also a good time for someone who wants to learn a new language. On the personal front, singles may meet someone special during this time. Finding a partner would be an easy task when you have the support of your family. However, your relationship with your mother may become a little tense at times. Kapha and Pitta related issues may creep up, so better be careful about that.
---
Sun Transit in Taurus Predictions on Pisces: Off to An Adventure?
For Pisces, the transit will take place in the 3rd house, the house of communication, journey, and siblings. It may give you a canvas to pursue your desires and hobbies. You may go on an adventure or try to learn something new. During this time, you are likely to feel happy when you try something new and, in the process, learn something new about yourself. However, it is advisable to communicate with your siblings better, as you may end up fighting with them, especially the younger ones.
You are also likely to socialise more with your friends. If you are stuck in any legal matters, this transit may set you free. Salaried employees may get a change in their place. Your post and your department may go through some major changes. Businessmen may feel that they are not getting the results or achieving their goals. It is advisable not to try something new for them at this time.
Want to understand the effects of this transit in detail? Consult an astrologer now! Your first consultation is on us!
---
---
---