Scorpio Silver Pendant: Beautiful Zodiac-Inspired Pendant For Scorpio Sign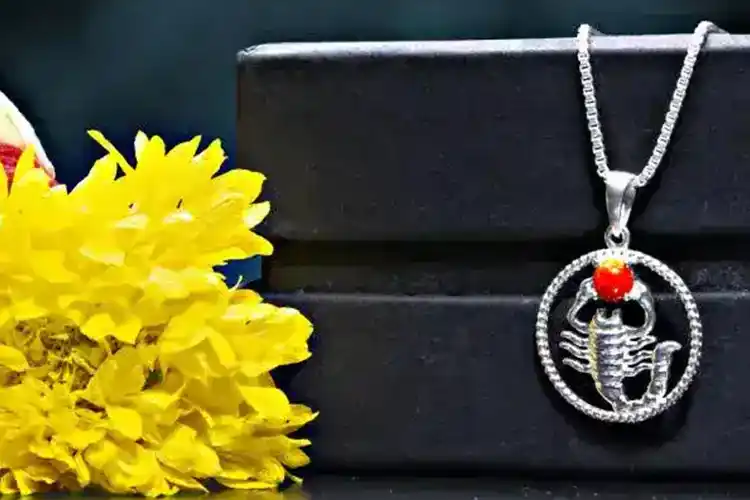 Pendants and necklaces with zodiac symbols are among the most fundamental ways to express one's individuality. Zodiac signs come in a range of styles, from gorgeous constellations to powerful symbols that may be worn with a variety of outfits. You may wear the symbolic patterns whether you believe in the zodiac or not since they look great as jewellery. Ladies can pick from studded designs set in glittering jewels or bold symbols to show off their passion for the zodiac.
However, selecting the appropriate piece of jewellery to treat yourself and make a good impact might be challenging. We've made your job a little simpler for you, Scorpio! Wear a Scorpio Zodiac Pendant with the most appropriate gemstone for you. Isn't it amazing? To provide a unique quality, MyPandit has come up with a Scorpio Silver Pendant with Coral gemstone that will improve your personality and also provide you with the qualities of planet Mars, one of the most important and powerful planets. This Scorpio pendant necklace will not only make you look good, but it will also improve your self-confidence and attain peace of mind. Below are a few more reasons why you should choose this elegant and trendy Scorpio sign Pendant.
---
Scorpio Silver Pendant: The Significance It Holds
It is believed that there is a personal bond between the gemstone and the person who wears it. Men and women have worn their astrological signs and birthstones as jewellery for good fortune, security, and strength since ancient times. When we wear jewellery that connects us with our personalities or strengthens us in some manner, it may be meaningful and a lot more enjoyable to wear. Also, Zodiac-inspired jewellery and combinations with birthstones have resulted in the spiritual growth of the wearer. Women desire jewellery that is unique, and in a society in which we all want to be known, horoscopes and astrology provide the validation we seek.
Wearing the right Zodiac Pendant might help you feel more confident and hopeful. When you wear jewellery containing helpful gemstones, you may notice that you feel more connected and that dealing with difficulties that arise during the day is simpler. The Scorpio sign pendant will boost your inner power and offer you an energy boost. You will absorb the energy of the planet linked with the gemstone, which will make you more confident in whatever you do.
However, if you want to know which planet is haunting your kundali? Get a free janampatri report.
---
Scorpio Silver Pendant: Why It Is Best With Coral Gemstone?
For natives born under the sign of Scorpio, the red coral gemstone produces amazing effects. Hence, the birthstone for the zodiac sign, Scorpio, is a red coral stone or moonga ratna. As a result, wearing this stone in the shape of a pendant necklace might provide a lot of benefits. The major advantages of wearing a Scorpio Silver Pendant are that it boosts the wearer's courage, desire, riches, fortune, success, and wellness. It directly attracts the positive energies of planet Mars.
The strong red colour planet Mars, which is recognised as one of the most important planets of all nine planets, is ruling over the red coral gemstone. Because of its compelling fighting spirit and aggressiveness, the planet Mars is known as the commander in chief.
If you want to be confident in your approach, and receive rewards for your hard work, then this Scorpio Silver Pendant is a perfect fit for you! You may add an emotional touch to your regular look while also improving your astrological cache. Choosing to wear Scorpio Silver Pendant is one of the simplest ways to make your jewellery unique. This zodiac pendant is brilliant and bold, much like your personality. The Zodiac symbol combined with the coral gemstone will undoubtedly bring about great changes in lifestyle. This will not only let you sparkle, but it will also boost your luck.
Designs are available for other zodiac signs as well. You can check it out here!
---
Scorpio Silver Pendant: The Plethora Of Benefits
The magnificent pendant consists of Coral, a vibrant gemstone placed in the middle of the Scorpio's emblem. Scorpio Silver Pendant – the combination of these two will help the native for good communication & creative skills along with that it is sheltered by the elegant style of the pendant which makes it a complete package for you. Scorpio Silver Pendant has numerous advantages since it not only depicts your zodiac symbol but also has a coral gemstone set in the centre of your Scorpio sign. The coral gemstone provides positive energy to the wearer, allowing the native to fulfil his or her goals. After wearing a Coral gemstone, the natives are more likely to be active, energetic, and determined. The following are some of the benefits of the Scorpio Silver Pendant:
Boost the wearer's strength and courage.
Scorpio Silver Pendant assists in the removal of obstacles.
Assist the native in developing strong communication and creative abilities
Cure diseases, break bad habits, & cultivate progressive thoughts
Reduce your impulsive behaviour and anger.
Assists in the development of leadership qualities
Helps in the achievement of financial and professional advancement
Furthermore, Scorpio Silver Pendant is an anti-tarnish, pure product that has been energised by experienced pandits. As a result, you may wear it every day and notice the change!
Do you know about the meaning and importance of Cancer Silver Pendant And Get Its Benefits ?
---
Scorpio Silver Pendant: The Ending Note
Whether it's a delicate initial necklace or a set of vibrant, multicoloured earrings, fashion developments have turned jewellery into a unique statement. Sterling silver Scorpio zodiac pendant necklaces are not only affordable but also quite durable. Not only do these items look amazing, but they also last for a long period. If you take proper care of your necklace, you should be able to wear it for decades. Pendants and necklaces with zodiac symbols are among the simplest ways to express one's personality. So don't miss your chance to showcase your abilities and power to others, Scorpio!
As it is a non-reactive metal, sterling silver is an excellent choice for those with allergies. Since Scorpio Silver Pendant is such a flexible form of jewellery that can be worn with so many different outfits, Scorpio it's a perfect fit for you!
If you are willing to get one before buying, talk to astrologers to know its advantages.
---
---