Buy Cancer Silver Pendant And Get Its Benefits To Its Fullest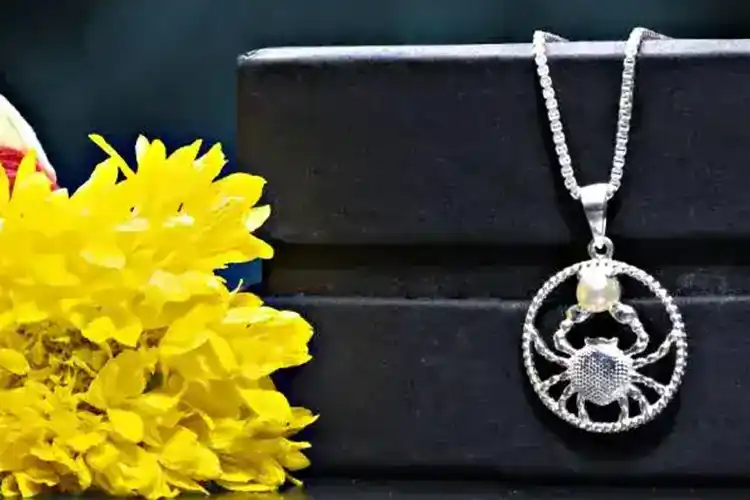 Every zodiac sign has different jewellery to be worn in order to achieve a successful life. Cancer is the fourth zodiac sign and it is everything about the home. Cancer people take happiness in the comforts of their families. Cancer Silver Pendant is the Crab. The cancer symbol of the Crab means the feminine qualities of this zodiac sign.
Likewise, for the Cancer natives, it is the silver that enhances the power to obtain personal success along with the courage to face the challenges. Silver is capable of providing pure bliss with an unparalleled depth of spirituality that makes the wearer insightful and intuitive. Silver implements interest and a sense of mystery about anything and everything in the users. Silver enhances artistic desire, life goals and can reduce anxieties too. Cancer natives are quite sensitive, emotional that touches everyone with their pure heart and they are the healing minds for the sufferers in the world.
Hey Cancerians! how will be your life ahead? Get a free astrology report 2022.
So how will it be if we join both Silver and Cancer together with a Cancer Silver Pendant?
---
Cancer Silver Pendant: How Useful It Is For Cancerians?
Colour silver has various meanings, generally with the technical innovation, latest discoveries and developments which are associated with the beautiful world. It also looks forward to the elegance that extravagance possesses. This is why Silver is connected with one's own confidence and inner image. Silver is always a treasure that is beyond other riches. It creates a stamp that one is kind, worthy of respect and wise. Silver wipes out negative energies into positive ones. The colour of Silver is closely related to the Moon. The moon influences our minds and it calms and soothes the mind of the user. Also, the white colour also influences the user in positive ways. It makes them lovable with energising confidence on a different level.
Silver when used by Cancer zodiacs helps to reduce anger, get peace of mind and a relaxed body etc. Silver is also a symbol of spiritual communication and thus the natives feel a sense of meditation mode with this Cancer zodiac pendant. Cancer ascendants who wear silver pendants are likely to be artisans, creative writers, or content writers. They will shine in writing novels, poetries and if they find any good opportunity to unwind their imaginative efforts, they will go ahead for sure.
Cancer pendant makes the native keen on trying out new things, finding the new world and wants to achieve personal satisfaction and even wants to face many challenges in life too. For those who love silver and are a cancer ascendant, you are just a step away from success. If you are a cancer ascendant and using a silver pendant, then you will surely experience a flourishing time. You are going to be ambitious and will take care of your responsibilities and make apt decisions easily.
Whether this pendant will be fruitful for you or not? Talk to astrologers for answers.
---
Cancer Silver Pendant: The Plethora Of Advantages For Cancerians
If you choose to live without any planning or lack of principles, you will find Silver to be a bit negative. It will make you anxious about anything and everything, unsure of yourself, ugliness and pride. Usually, Cancers who wear Silver pendants are quite attracted to the opposite sex and good looking with their gorgeous and gracious appearance. You will never regret your past deeds and you will surely dream high while wearing a silver pendant. You won't get any room for your feelings and you are going to live much more practical to achieve the goals easily in life.
However, being too practical won't be advisable as it would lead to poor decision making. These people will find and feel what others are thinking and how to deal with the situations. You must keep yourself safe from any danger from outside. Are you not sure if you have to wear a Silver pendant, consult an expert astrologer to analyse your horoscope thoroughly. If the moon is in a bad place, he will advise you to wear it to get the good impacts of the moon easily.
Do you know about the Capricorn Silver Pendant: Meaning, Benefits, Significance, & more! 
---
Cancer Silver Pendant: Unleash The Health Benefits
Since earlier times, human beings are very clever to find healing properties using minerals and gemstones. Thus, it is clear that the health benefits of gold, silver or other precious metals are unimaginable. It can be worn just for fun or can be worn to treat many health issues. This is one of the reasons that small kids are tied to any type of silver ornament in their bodies in order to wipe out all the crankiness, fear etc. You will find silver ornaments from many sellers, but it is very important to see if the ornament is original.
Cancer necklace pendants are quite popular in the way that it heals the cancer ascendants. Cancer ascendants are very emotional and sensitive and any small incident that disturbs their mind will be huge for them. Here comes the role of Cancer Silver Pendant where the wear of Cancer zodiac will find ultimate happiness and inner peace. You could have seen the royal people wearing silver ornaments. Actually, it was not only a symbol of power and wealth but also as a safeguard against evil impacts. One of the main health benefits of wearing a silver pendant is that it helps to get relieved from mental stress and anxiety. This is because silver is mainly associated with the moon and the moon in turn is the planet that rules our minds.
Cancer ascendants are prone to allergies and it is said that the Cancer sign pendant which is in silver is an apt remedy for your allergies. You will never feel irritation or skin discolouration hereafter. When silver is worn on your body, you will be free from red skin or flaky or scaly skin. Cancer zodiac pendant necklace is quite durable. However, you must maintain it properly by cleaning it with a clean cloth after wearing it for a prolonged time. If you take care of it wholeheartedly, then you will reap heights of success.
Hope you understood how helpful this beautiful jewellery is for you? Grab Cancer Silver Pendant from MyPandit store.
---
Cancer Silver Pendant: The Ending Note
Are you a Cancer ascendant? Then, try wearing Cancer Silver Pendant without fail as it helps you to enjoy your life by reducing all your anxieties or health issues etc. It also calms your mind and soothes your thoughts and helps to make decisions in a proper way. Yes, it helps you from head to toe and make your lives easier. However, it is advisable to approach a professional astrologer to check if you should wear a silver pendant, when to wear it and how to take care of it.
---
---