Taurus silver pendant: A Beautiful Zodiac-Inspired Pendant For Taurus Sign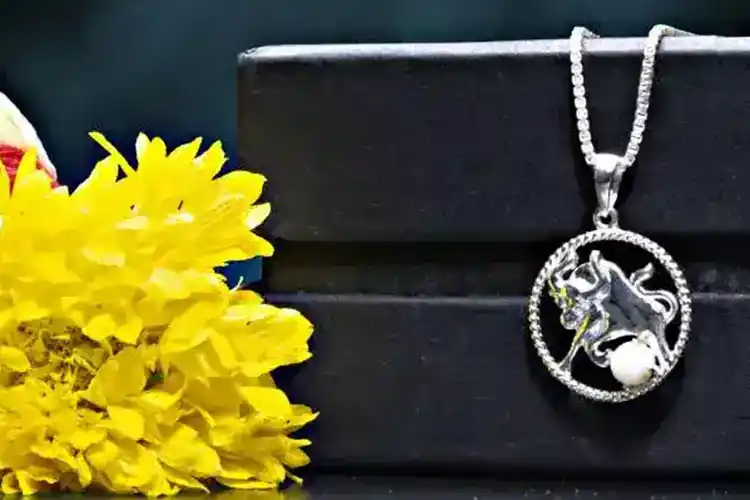 Your style reflects your personality; what you wear and how you conduct yourself reveal very much about you than you could ever express. At least, that's what fashion experts believe! Another factor that reveals a lot about your personality is your zodiac sign. After all, not that everyone follows it, but your zodiac sign might predict qualities you'll have throughout your life in a wider sense. It also reveals additional characteristics, such as what colours fit you, what you love to wear, and your own style, among so many other things.
When it comes to fashion, we all have our own set of rules, but how about following your zodiac sign's advice? Don't worry, it may appear tiresome, which is why we've done the work for you! All you have to do now is read ahead to find out what is best for your zodiac sign!
It is preferable to have a trustworthy buddy who can cheer you up by giving nourishment to settle inner and external problems in a world filled with chaos and roaring competition that weighs both mind and body. Unique, rare, and eccentric gemstone is one such helping hand. So, MyPandit has come up with a Taurus Zodiac Pendant that has the most appropriate gemstone for your sign.
Do you know about the Pisces Silver Pendant ? 
---
Taurus Silver Pendant: Learn The Importance
Zodiac pendants may bring magical change in your life. They may bring in positive energy and create a powerful aura around you that will ultimately boost your confidence level. It will make you more focused on your goals and brings you closer to your inner self. In Vedic astrology, the spiritual growth of the wearer has been related to Zodiac-inspired jewellery and birthstone combos. It is believed that wearing the correct Zodiac Pendant might make you feel more optimistic and self-assured.
When you wear jewellery with beneficial gemstones, you get the strength of the planet associated with that particular gemstone and that overcoming the obstacles you experience becomes easy. It will increase your strength and courage and bring sparkle to your life. The wearer might also be blessed with success, protection, and good health. Zodiac necklaces are attractive and enjoyable to wear, and they go with a wide range of styles. So, Taurus, we are sure that you're gonna like the Taurus Silver Pendant for sure!
---
Taurus Silver Pendant: The Opal That Make Your Luck
The opal stone is the Taureans' birthstone. The planet Venus rules the sign of Taurus, and this planet is believed to bring all of life's luxuries and comforts, as well as wealth, happiness, marital bliss, elegance, enjoyment, and amusement. Having an opal stone can assist Taurus natives in strengthening and expanding these elements in their lives. Integrating opal can also help individuals enhance their relationships and attain great heights in their lives. They may live a rich life full of convenience and accomplish all of their heart wishes by using this opal gemstone.
Taureans aren't frightened of hard work and will go to any limit to complete a task. In other words, if you have a Taurus in your team for a group project, you're in great company! Taureans are a genuine force to be reckoned with because of their workaholic attitude, along with a degree of desire and mental tenacity. But on the other hand, Taurians are noted for their directness and bluntness. They will tell you the truth, no matter how unpleasant it is. Diplomacy, too, is essential in today's world. Their forthright attitude frequently leads to disputes. Taurus Silver Pendant will assist them in overcoming all of these difficulties. This Taurus sign pendant will help them attract the positive energy of Venus and get rid of the evil energies.
Plus, MyPandit has created a trendy and beautiful Taurus Zodiac Pendant Necklace, making it simple for them to dress in the latest styles. So, what are you waiting for, if you are a Taurus and want to show your uniqueness to others and that too in a unique way, here's a simple way – grab your Taurus Silver Pendant! You can even gift it to your loved one.
Designs are available for other zodiac signs as well. You can check it out here!
---
Taurus Silver Pendant: Achieve a Plethora Of Benefits
When a gemstone's name is taken, people suggest adding the word precious to it. The point is, what makes a gemstone so valuable? Is it the fascinating appearance of a gemstone, or its scarcity in the earth's crust? Gemstone gives huge amazing advantages to the user which makes it valuable. These jewels are controlled or linked by specific celestial and Vedic bodies, which provide them with magical healing and beneficent properties. Taurus Silver Pendant with opal stone will prepare you for what's coming ahead for you and help you drive the destiny as you desire, along with that it is sheltered by the elegant style of a pendant which makes it a complete package for you.
Do you know about the Scorpio Silver Pendant ? 
Wearing Taurus Silver Pendant with Opal gemstone is connected with enhanced personal and professional connections. It gives harmony, trust, the release of fear, and comfort to those who wear it. Having this stone will bring you prosperity, greater health, strength, and will help you flourish in all parts of your life. Below are some of the benefits of the Taurus Silver Pendant.
Opal is controlled by Venus, and Venus rules relationships and luxury in astrology. As a result, the stone promotes harmony and pleasure in relationships, as well as assisting in the attainment of a more meaningful existence full of elegance, art, culture, and wealth.
It boosts your creativity, enthusiasm, and strength.
People choose to wear Opals to achieve peace and fulfilment in their lives.
Beneficial For Partnering Business
It assists in the search for love, good fortune, happiness, and positivity.
It brings steadiness to a troubled marriage
It brings good luck.
Plus, it is Anti-tarnish, a pure product that is energised by Vedic pandit. Hence you can wear it daily and experience the difference!
Do you need this pendant? Talk to astrologers for the answer.
---
Taurus Silver Pendant: The Ending Note
Since you've read this, you'll agree that the Taurus Silver Pendant is a fantastic thing to offer to yourself or give it as a gift to your loved ones at special events. We promise that your jewellery gift idea will work for you rather than against you! Many jewellers have tried zodiac symbols and constellation jewellery, but MyPandit offers a unique pendant featuring a gemstone attuned by an expert pandit. Sterling Silver Taurus zodiac pendant necklaces are not only affordable but also extremely long-lasting. As this Taurus Silver Pendant is very trendy and classy, it may be worn in so many various outfits, and it will suit you perfectly.
Taurus natives! Would you like to know how will be your upcoming time? Get a free astrology horoscope report.
---
---