The Dreamers of Big Dreams – Famous Gemini Celebrities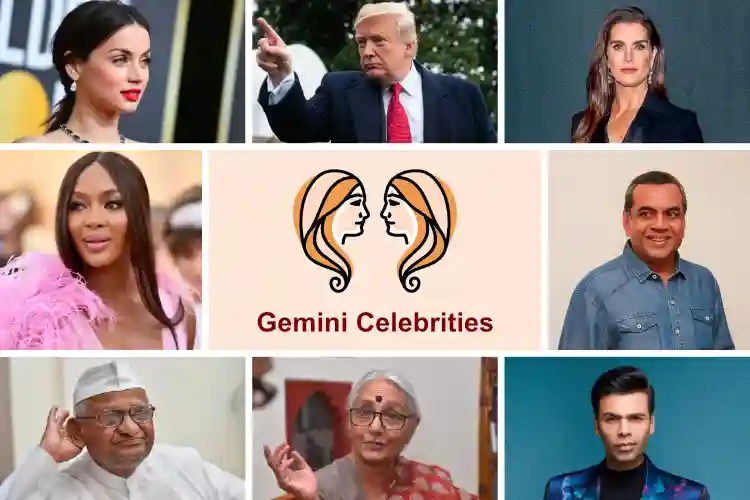 Astrology which is the study of stars and planets is also related to the elements of nature. When they are associated with each other, they influence the activities of the natives. The Vedic astrology believes that there are twelve zodiac signs in all, and each one is related to its ruling planet. Along with this, they are also associated with the elements of nature- Air, Water, Fire, Wind, and Earth. Each of these, according to astrology, influences the life of every individual in positive or negative ways. Their positive combination can make one reach the highest positions in life, and the negative combination may lead your life to disasters.
The positive influence of these can make one achieve stardom and may become the well-known celebrities of their field of speciality. Here in this article, we will come to know about the famous people from the Gemini as their zodiac sign. An insight into the famous Gemini men and famous Gemini women, their strengths and weaknesses, and the birth dates of the famous Gemini celebrities could be understood through this article. Before going further, let us know some basic characteristics of famous Geminis.
---
Gemini Celebrities - The Proactive People
The natives with Gemini as their zodiac sign are the people who are affectionate, gentle, curious, quick learners, adaptable to conditions, showing the characteristics of belonging to the element of Air. It is ruled by the planet Mercury which influences the qualities of good communication, movement, and writing. People with this sign have the feeling of incompleteness in themselves and they tend to search for their loving half every time. They are versatile, fun-loving people and have a tendency to experience everything in this world. They are very entertaining and interesting personalities, and one can never get bored in their company. They are love and sex-seeking people and like to accept intellectual challenges. They are good at flirting and keep looking for the partner who they feel have the same level of intellect and energy. They are passionate and full of excitement and always have the urge to go for variety.
Gemini is in the third position in the cycle of zodiac signs with the birth dates for the natives from 21st May till 20th of June. As these are the peak summer days and the season depicts, there is heat all around, thus making the natives radiate heat of their love and affection all around.
Mercury is the ruling planet, which makes them intelligent along with adding natural wit and humour in the natives born under this zodiac. Its influence makes the Gemini natives clever and in a strong position, which can even make the native achieve desired heights in life. Though it also makes natives filled with anxiety and indecisiveness. Those who have strong Mercury tend to be famous writers, media persons, mathematicians, astrologers, engineers, brokers, with the speciality of having charm wrapped up in shrewdness.
Being influenced by the planet Mercury, its dual characteristics make up their reputation of double-faced, superficial, eccentric, and unstable. They are not stable with their own decision-making, and as they speak a lot which makes their words weightless. Their adaptability and urge for information may make them good communicators, but they lack follow-through, which may give them a huge loss in many ways.
Keeping these negatives of the Geminis aside, they are the people with a great sense of communication and go endless and would not make one get bored. They are good at adaptability and passion, which contributes to their popularity amongst others. They are the airy characters and love to remain in the air enjoying every moment.
---
Famous Gemini Celebrities from Western Land
Being in the air is the feature of the zodiac sign Gemini, as they are born in this sign, they show the personality traits in their activities. These natives are blessed with superior communication skills and know very well how and where to make proper use of them. In combination with the air element, the power of Mercury can bring magnificent outputs for the one in this combination.
If we talk about some of the Gemini famous birthdays, which fall between the dates from 21st May till 21st June, we might get counts of the famous Gemini celebrities' lists.
Marilyn Monroe
Femininity and sensuality in the time when it was frowned upon, Marilyn Monroe, one of the famous Gemini celebrities female, had shown her opinion about female sexuality bravely. She was born on 1st June 1926 and was considered a sex bomb, and ruled in an era that was completely male-dominated. She was an actress, model, and singer by profession. The famous Gemini celebrity was famous for all the bold performances she did at that time, but sadly she left us all at the early age of 36 years.
Donald Trump
Donald Trump, one of the Gemini celebrities male, born on 14th June 1946, is a well-known politician, businessman, and television personality, showing the typical Gemini characteristic of being an exact dual-faced personality. He always tends to get the upper hand in debates and speeches showing the negative trait of the Geminis. His Gemini trait made him the 45th President of the United States of America when he worked in positive forms, even after receiving huge criticism from the media.
Brooke Shields
Brooke Shields, born on 31st May 1965, is one of the most beautiful Hollywood stars, an ultimate multi-tasker, humanitarian, maintaining a good balance between her family, profession, and social life, displaying all positive traits of being a famous Gemini celebrity. No one can be like her.
Naomi Campbell
Hitting the list of Gemini women celebrities, presenting a super-talented famous Gemini celebrity, Naomi Campbell doesn't need any introduction. Born on May 22nd, 1970, a supermodel, an actress, and a TV host, a singer by profession, and heart do not need any kind of extra information. This is just enough to know about this famous Gemini woman.
---
India - The Destination of the Famous Gemini Celebrities
Like famous Gemini celebrities from around the world, there are people from India who show the same strong traits of being a famous Gemini celebrity, like Anna Hazare, Aruna Roy, Karan Johar, Paresh Rawal.
Paresh Rawal
The famous Gemini man, c, the Padma Shri Award holder, the legendary Indian film actor, thespian, the politician who was born on May 30th, 1950, has placed a landmark for other Bollywood stars by constantly maintaining his popularity in whatever field he has made his presence.
Anna Hazare
The well-known Indian social activist Anna Hazare, who shares the same zodiac sign and date of birth, 15th June 1937, has made an unforgettable mark in the history of Indian politics. He is one of the most appreciated and respected famous Gemini celebrities in the Indian political scenario.
Aruna Roy
Aruna Roy, the famous Indian political and social activist, famous Gemini woman who has been active towards Indian social scenario and bringing change in the contemporary approach of Indian society, a Ramon Magsaysay Award in 2000 awardee, founder of Mazdoor Kisan Shakti Sangthan, one of the most eminent personalities in Indian political scenario.
---
Last Thoughts on Gemini Famous People
There are many more to add in the list of the Gemini celebrity list. It is endless, including many Gemini celebs who have made a remarkable approach in all aspects of life. Geminis are not the rare zodiacs, but due to their dual nature, they become unpopular. Gemini's either be super famous or may only be credited for their work. They like to seek attention and show off. At times, they are not able to handle things properly. All this is because of their unbalanced mental state.
But whatever it is, they are super talented Gemini celebrities and the world loves all these famous Gemini. It's a treat to watch these famous Gemini speak or perform or do what they are experts at.
---
---