Kareena Kapoor Khan's Horoscope: What's Her Secret To Immense Success?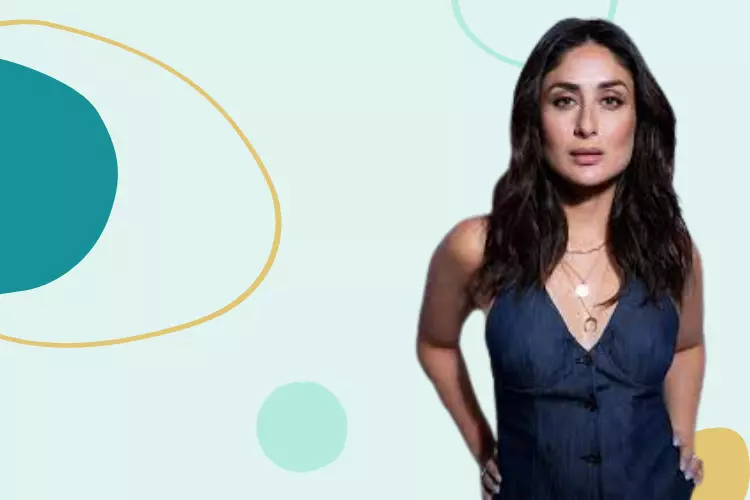 Born with a silver spoon, Kareena Kapoor Khan is no stranger to the limelight! An actor who is not only born in a family of what is known as the 'First Family of Indian Cinema' but has a proven track record, Kareena is here to stay. Wife to Saif Ali Khan, sister to Karisma Kapoor, mother to Taimur and Jeh, she turns 41 on Sept 21. We dive deep in to see what is in store for her this year!
Kareena Kapoor, the granddaughter of veteran actor Raj Kapoor and the great granddaughter of Prithviraj Kapoor, came into the spotlight with her performance in films like Refugee, Heroine and Jab We Met. Astrologers believe that she is a talented woman who can perform versatile roles.
Whenever Kareena gets the opportunity to share the screen space with other actors, she makes sure it counts. Apart from acting, her unabashed personality and the no-care attitude just like her 'Jab We Met' character Geet is one of the reasons why she is loved so much! During the release of 'Jab We Met', transiting Jupiter of 3rd house assisted her achieve quick success. Therefore, she received immense love and support from the audience, as well.
A strong characteristic of a Virgo is that they are an extremely determined lot! Kareena is also a Virgo and this is what makes her so passionate towards achieving her dreams.
Kareena embarked on her acting career with the film 'Refugee' in 2000. This was the time when the auspicious Jupiter in the 9th house was aspecting the 3rd house. At the same time, the combination of Mars and Venus formed in the house of career and profession which ensured that her film journey kicks off on a positive note.
Once she started performing on the big screen, awards kept following her. Even in the movie 'Heroine', where she was the only leading actress, she won the hearts of the audience. This would not have been possible without Leo's Jupiter.
The placement of Mercury in its own sign, Virgo, makes her a great performer on screen. This exalted Mercury gives her the ability to perform her role with perfection. Moreover, she is associated with Dharma Karmadhipati Yoga (one of the Raj Yoga) which attracts desired fame. The union of Rahu and Venus further enhances her glamour.
---
Planetary Dashas May Bring Challenges In 2021
The transiting Saturn of Capricorn sign will pass through the natal Moon and Ketu. This means that she may not have more time to do films. But, this doesn't mean she will take a break from Hindi film industry. The actress may continue with big projects to sharpen her Bollywood image, suggesting Jupiter transit in Aquarius. After giving birth to her baby, she may have new career goals. But, it may not be easy because of the major and minor periods of Jupiter and Rahu. Therefore, it is advisable that she carefully makes commitments in her professional life. The upcoming Venus transit would bring opportunities for the actor to shine at the global level.
Check out the effects of Mercury And Venus in Virgo sign
In 2021, we will see Kareena Kapoor in the film 'Laal Singh Chaddha' along with Aamir Khan. The current dashas in Kareena Kapoor kundali may partially favour the actress to earn success with her new flick. Aamir Khan-Kareena Kapoor starrer film may mint desired profit at Bollywood box office following its release in Dec 2021.
---
The Formation of Raj Yoga Enhances Kareena's Wealth
Kareena Kapoor birth chart indicates the formation of auspicious Dhan yogas. Therefore, Tashan-actress have stability in financial matters. The powerful impact of Raj yoga helps her add digits to her income. Venus transit over the natal Sun, Mercury and Venus suggest that the actor may discover new ways to enhance her income. This could be possible if she decides to collaborate with popular brands. Jupiter's transit over the natal Moon and Ketu denotes that she may receive sudden gains.
---
Aquarius's Transiting Jupiter May Encourage Actress To Achieve Fitness Goals
Referring to the Kareena Kapoor natal chart, the benefic planets lend her ample support to maintain good health status. Transiting the Rahu of Taurus sign means that Kareena Kapoor Khan may invest time in performing yoga and gym activities. The Jupiter transit gave her a favourable outcome which led to her pregnancy.
Adding to that, Mars is also transiting in Libra, and it will pass over the natal Mars. This allows her to remain active all the time. The red planet blesses her with strong immunity, and therefore, she maintains her fitness. The shadow planet, Rahu's Antar dasha, may give mental stress. So, she needs to take care of her mental health.
Also Read: Mars transit In Libra 2021
---
Bollywood Prospects
The 41-year-old may refrain from accepting film proposals in the second half of 2021. However, Saturn transit in the Capricorn sign suggests that she should focus on her film career so that she gets work in big-budget movies or ad films. During this time, she may need to put in extra efforts to perform better. In her personal life, she may plan on making huge investments, but it may remain only in the planning stage as Jupiter and Rahu are in dashas.
---
In conclusion,
Exploring Kareena Kapoor horoscope, now we know how she would be dealing with her major areas of life. She is expected to remain fit and fine this year because of Rahu transit in the Taurus sign. But, she may not be at her best in her professional field. Due to the movement of Malefic planets, her work may get delayed. Moving on, she may need to focus more on the upcoming projects. Or else things may not go according to her plan. On the personal front, she may have to give more time to her family.
On that note, we wish the true Bollywood diva, Kareena, all the very best for her future endeavours.
---
---