Important Rituals For Shradh 2023
MyPandit
September 13, 2022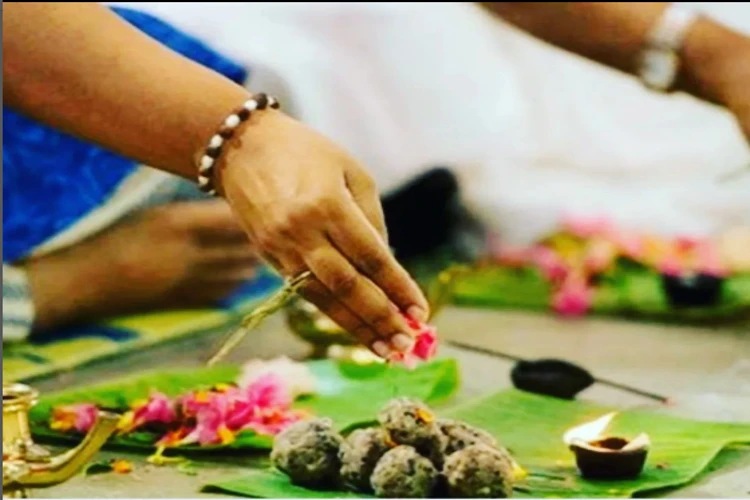 Shradh, also known as Pitru Paksha, has already started on  29th September 2023 (Friday) till 14th October 2023., Sunday. During this time, people offer food to their ancestors as a kind of devotion known as "tarpan." On these 15 days, people perform puja, and havan and offer food to needy persons. However, during Shradh, people are not allowed to celebrate any significant occasions or make any purchases.
Certain rituals are carried out to remove any 'Pitra Dosh' in order to keep the family blessed and protected. If you are unaware of the rituals performed during Shradh, then  Kalpesh Shah, founder and CEO of MyPandit, has shared some rituals that should be performed during these 15 days. 
 Read More:- Sarvapitru Amavasya: Significance of Rituals on The Last Day of Pitru Paksha
---
Rituals For Shradh
A male family member, often the eldest son, performs the Shradh or tarpan rites. They should wake early in the morning and have a sacred bath. The observer is advised by the priest to wear a dhoti and ring, which is made up of Kush grass. It is said that Kush grass usually represents compassion. The participants of Pitru Paksha are also suggested to dress neatly. Afterwards, on a table, place the portrait of your ancestor facing south.
Thereafter, the ritual of Pind Dan is done in which a pond is made from balls which are made of ghee, rice, honey, sugar, goat's milk, and barley flour. Under the guidance of an experienced priest, the Pitru Paksha rites are carried out. Following this, a different sacred plant known as "darbha grass" is used to seek the blessings of Lord Vishnu. The usage of Darbha grass is said to remove difficulties from one's life because this type of grass is recognised for its unhindered growth.
After Pind Dan, then comes the Tarpan ritual. In this ritual, water is combined with flour, black sesame, barley, and Kush. Pind and tarpan are offered to the needy and poor persons. Moreover, the one who is providing tarpan offerings to ancestors must maintain holiness. 
Know the problems you face in your life and find out the exact and simple solution to them! Talk to Our Best Astrologers Now.
Then offer a portion of your special food to a crow since they are said to be Lord Yama's messengers. It is considered fortunate if the crow consumes the meal. A Brahmin priest is then made to eat food and is presented with a "Dakshina" for carrying out the procedure. The family gathers to eat together once all of these rituals have been completed.
It is recommended to read sacred Hindu texts like the "Agni Purana," and "Garuda Purana," during Pitru Paksha. And it is also said to maintain calm and peace throughout these Pitru Paksha.
Sarva Pitru Amavasya is also known as Mahalaya Amavasya.
So these were the rituals which are carried out during Shradh.
---
---