Mahalaya Amavasya 2023: Date, Time, Significance, Do's, Don'ts & Puja Vidhi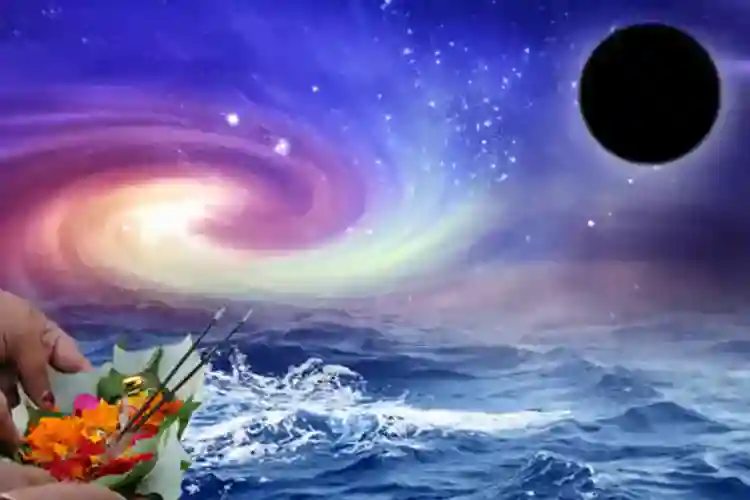 Date And Time For Mahalaya Amavasya 2023
| Mahalaya Amavasya | Muhurat |
| --- | --- |
| Mahalaya Amavasya 2023 Date | Saturday, 14 October 2023 |
| Mahalaya Amavasya Tithi Begins On | 09:50 PM on Oct 13, 2023 |
| Mahalaya Amavasya Tithi Ends On | 11:24 PM on Oct 14, 2023 |
| Kutup Muhurat | 11:44 AM to 12:32 PM |
| Rohina Muhurat | 12:32 PM to 01:20 PM |
| Aparahna Kaal | 01:20 PM to 03:43 PM |
The Significance Of Mahalaya Amavasya
Mahalaya Amavasya arrives with an opportunity to reinforce our bond with our forefathers. Due to our links to the past, human culture has progressed and evolved. Every succeeding generation has contributed something new, on which the succeeding generations have developed, resulting in continuous advancement and elevation. This is a crucial explanation for humanity's growth. Performing the required rituals during Mahalaya Amavasya also strengthens our links to the past.
Pitru Paksha is thought to be the time period during which ancestors will give gifts to their descendants on Earth. According to tradition, ancestors who have passed from this world and are now residing in another plane can be pleased and invited to bestow abundant blessings on their descendants during this two-week period. As a result, this is a critical period for all.
This is a time when not only ordinary people but also enlightened yogis and sages, look forward to receiving blessings from their ancestors. As a result, Mahalaya Amavasya is a once-in-a-lifetime opportunity to seek blessings from our departed ancestors and change the world for the better. Thus, the significance of Mahalaya Amavasya is remarkable, and one should try not to overlook it.
Have A Look: Pitru Dosha
Story Regarding Mahalaya Amavasya
According to Hindu mythology, there was once a fierce war between the Devtas (Gods) and the Rakshasas (Demons). During this conflict, both sides lost their lives. The war began on Bhadrapada Bahula Paadayami and continued until Amavasya. As a result, Sasthrahatha Mahalaya is the name given to this time span. So, on this day, we honour the Gods and Demons who perished during that time period.
You May Like To Read: Kartik Amavasya 2023
Mahalaya Amavasya Puja Vidhi
According to Hinduism, a person must repay three forms of Rinas, or debts, in order to live a life free of suffering. Deva Rina, Rishi Rina, and Pithru Rina are three Rinas, each of which owes a debt to God, the guru and the ancestors.
The ancient myths say that it is the son's duty to serve his parents both when they are alive and after they have passed away by performing the Shradh to liberate the departed souls. The Garuda Purana, Vayu Purana, Agni Purana, Matsya Purana, and Markandeya Purana all mention the importance of these rites.
Tharpana is used to make one-of-a-kind offerings to the souls of Mahalaya Amavasya pooja. Tharpana is uncooked rice, black sesame seeds mixed with water and this is left by calling upon the ancestors along with their nakshatra. This is a rite performed by men who have lost their fathers. Animals and birds such as the crow are allowed access to the offerings of food with the belief that our ancestors appear in various forms and partake the offerings.
Do's And Don'ts On The Day Of Mahalaya Amavasya
One must do tarpan on this day would help you get rid of your bad karma.
You may get rid of the karma that is preventing your ancestors from attaining liberation.
Organise Puja for the salvation of ancestor's soul.
Offer water to the peepal tree to receive blessings of your forbears.
Need divine blessings to remove obstacles from life? Book Personalized Puja for the solution.
The Ending Note
Overall, Mahalaya Amavasya is a day dedicated to your ancestors. It is actually an expression of gratitude towards the ancestors and generations that lived before us.
We hope you found the above details informative. Wishing you a Happy Mahalaya Amavasya!
Stressed! How would your auspicious work perform? Talk to Astrologers for the prediction. First Consultation with 100% Cashback!