Sarvapitru Amavasya: Significance of Rituals on The Last Day of Pitru Paksha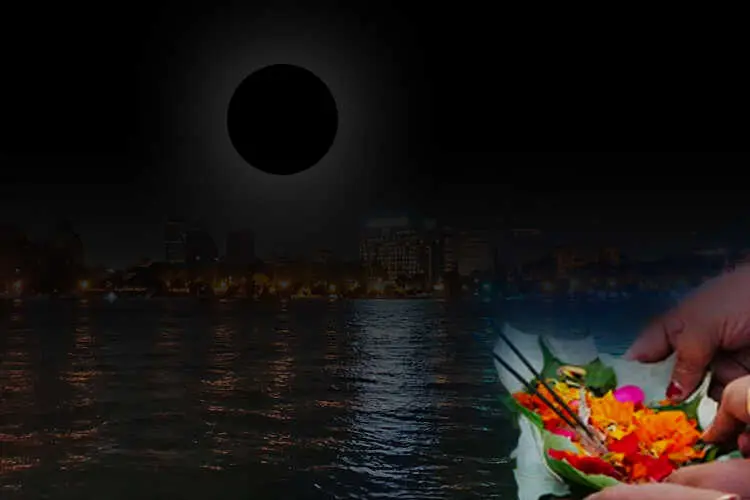 When is Sarva Pitru Amavasya or Mahalaya Amavasya?
This year Sarvapitru Amavasya will fall on Saturday, October 14, 2023
| Sarvapitru Amavasya | Date / Time |
| --- | --- |
| Amavasya date Starts | 09:50 PM on Oct 13, 2023 |
| Amavasya date Ends | 11:24 PM on Oct 14, 2023 |
Sarva Pitru Amavasya 2023 Muhurta
On the occasion of Sarva Pitru Amavasya Shradh, other than Kutup and Rohin Muhurtas, the afternoon period is also considered auspicious.
Sarva Pitru Amavasya 2023 Shubh Muhurtas:
| Muhurat | Timings |
| --- | --- |
| Kutup Muhurat | 11:44 AM to 12:32 PM |
| Duration | 00 Hours 48 Mins |
| Rohina Muhurat | 12:32 PM to 01:20 PM |
| Duration | 00 Hours 48 Mins |
| Aparahna Kaal | 01:20 PM to 03:43 PM |
| Duration | 02 Hours 23 Mins |
It is believed that performing Shradh on the occasion of Sarva Amavasya provides peace to the souls of the ancestors. If you fulfil your obligation towards your father & other ancestors, you will procure the fruits of his virtues and you can get happiness, prosperity and peace in your life.
What to do on Sarva Pitru Amavasya?
On this day, we perform Shradh and Tarpan rituals for our deceased family members. The tithis of Chaturdashi, Purnima or Amavasya are even more important for performing ancestors' rituals. Sarva Pitru Amavasya is a universal time when you can perform Shradh of your parents & ancestors if you can not and do not perform it on any other days during the Shradh Paksh. A Shradh ritual performed on this day is considered as fruitful and sacred as the Shradh ritual performed in the holy city of Gaya. Gaya is considered a very special place for Shradh rituals.
Who should give Shradh to Pitras?
Usually, Shradh is performed by the eldest son or a male relative of the family's paternal side only belonging to the three preceding generations. However, on Sarvapitri Amavasya, a daughter's son can also perform Shradh for the family's maternal side if there is no male heir in the mother's family. If the date of the father's death is not known, his Shradh can also be performed on Sarva Pitru Moksha Amavasya.
The Significance of Sarva Pitru Amavasya
As per Hinduism, it is believed that one must repay three types of debts to get a new life without any pain. Dev loan (what we owe to the gods), Rishi loan (what we owe to the seers & the gurus & guides of humankind) and Pitra loan (what we owe to our deceased parents or ancestors or forefathers)! According to the belief, this is the day when we can repay the debt which we have towards God, Guru and ancestors. As per the Sanatan tradition of Hinduism, the son must serve the departed souls of his parents by performing Shradh. This act gives relief to the departed souls, who grace us with success and happiness. The importance of these rites and rituals is mentioned in various Puranas like Garuda Purana, Vayu Purana, Agni Purana, Matsya Purana and Markandeya Purana.
The Benefits of Performing Shradh on Sarva Pitru Amavasya
Shradh donations help in procuring the blessings of Lord Yama.
 The family remains safe from all diseases and gets rid of all obstacles.
It gives peace to the souls of the deceased ancestors.
You get blessed with a long and prosperous life.
How the Pitras can help us?
According to the Vedic scriptures, if we fulfil our obligations towards our deceased father, his spiritual entity, who is residing in some other spiritual realm, will give us desired blessings using his powers. According to various astrologers, ancestors can also treat our hereditary diseases, so we can get free of serious illnesses by pleasing our ancestors with the proper performance of Shradh rituals. Our ancestors' blessings can also be very beneficial in the amicable settlement of family disputes related to ancestral property. Pitru blessings also prove to be very effective in resolving various other types of family disputes and estrangement. We can also perform Pitru Shradh to remove Pitra Dosh or problems related to children.
Know the problems you face in your life and find out the exact and simple solution to them! Speak to our team of senior astrologers now.
Is it necessary to perform Shradh?
If you love yourself and your family members like your father, brother, sister, wife, then you should surely do Shradh at least on the day of Sarvapitri Amavasya to provide peace to the souls of your deceased ancestors. This way, you can avoid Pitra Dosh and thus lessen your life's sufferings. But if a person is unable to perform Shradh rituals due to some compelling reasons, then they can take a vow and do it in the coming years.
Read Here:- Know About The Important Rituals For Shradh 2023
The beliefs related to Sarva Pitru Amavasya
It is believed that the souls of departed loved ones wander on the earth. According to the beliefs, sometimes these activities of the ancestors can adversely affect the family members. It is therefore important to appease these souls, as their anger and curse may cause problems for the family. On the day of Sarvapitri Amavasya, even the young boys of the family should learn these rites and continue to perform them in future as then alone a bright future of the family is secured. Sarva Pitru Amavasya is the time when we can express our gratitude to our ancestors for being what they are — our ancestors.
The Astrological Significance of Shradh
Astrologically, those who have Pitru Dosh in their horoscope must perform Shradh rituals with full devotion to reduce or get rid of this dosha. People who have back to back problems in life, especially related to debt, illness and diseases, should perform Shradh rituals, especially on Sarva Pitru Amavasya.
The Scientific Importance of Sarva Pitru Amavasya
The three (deceased) preceding generations and also our mythological lineage ancestry (gotras) are included in the Shradh. The names of our ancestors are recited during Shradh rituals. Thus, a person gets to know the names of six generations in his life, three (deceased) preceding generations, his own and of the two subsequent generations – his sons and grandsons, which confirms the lineage ties. You should show reverence to your ancestors and perform Shradh with full devotion.
Conclusion
Life is about continuity and performing shradh rituals during Pitru Paksh is about respecting and harmonising that continuity. It can provide us with a lot of happiness and renders us successful.