Tiger and Rabbit Compatibility – Tiger and Rabbit – Tiger Zodiac – Rabbit Zodiac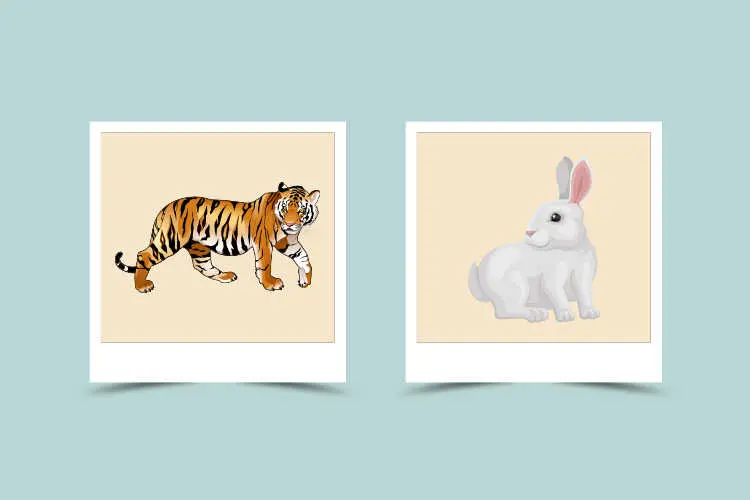 Chinese astrology is an animal-based classification, unlike the Vedic one, which focuses more on the alignment of planets and stars. It comprises a set of 12 animals. These animals repeat themselves after every 12 years. However, these are further linked by their Earth element. For example, both Tigers and Rabbits are associated with the wood element. These elements play an essential role in their personality traits and compatibility factor. The Chinese zodiac tiger and rabbit also possess personalities that are highly governed by these elements.
For more information about Tiger and Rabbit, Consult an Astrologer
---
Tiger and Rabbit Personality
One's traits are almost as unique as their fingerprints. Different people have different characteristics, and each one of them is unique in their way. The same applies to those 12 animals also.
The Tiger and the Rabbit share almost zilch similar traits and possess several unique characteristics to their respective selves–together. They can make a fantastic world for both of them to live in and make the tiger-rabbit compatibility a great one, only if they try to! Yes, you read it right! The tiger and rabbit business compatibility can turn out to be remarkable with some effort on their part.
For Any Questions, you can Ask an Astrologer
---
Male Tiger Personality
The Chinese Astrology describes how a person born in a Tiger year is a courageous protector of a rebellious nature. Tiger loves being surrounded by animals, especially street men or pets who need love and care, coming from the cat family. They like to receive attention and affection from others and succeed in getting it with witty comments.
Naturally flamboyant, a Tiger is a dreamer, and he trusts his luck and charisma to follow him. Even if a Tiger can fight, he knows the art of conquering it and winning it. However, in many important events, their indecisiveness may act as a hurdle.
The Tigers are romantic and enthusiastic as lovers. Sometimes even by being possessive, they know the way of expressing their love. The Tigers are characterised by elegance, and they know it!
Like mothers, they don't want their children to follow the rules, and they often use more candies to spoil them. Tigers have tonnes of charm and possess a positive aura. They're just as enthusiastic about their lives. They do not hesitate to take risks, too. How bold! How bold! What describes them is their outstanding courage and communication skills.
Find what Stores in your life based on Planets. Free Horoscope Reading
---
Female Rabbits Personality
Rabbit represents longevity, discretion and luck. People born under the Rabbit sign are gentle, warm-hearted, savvy, cautious, competent, gentle, quick and long-lived. They don't like squabbling and looking for solutions through compromise and bargaining. On the adverse side, Rabbit people could be superficial, stubborn, melancholy and highly discerning.
Women born in Rabbit are fascinated with appearance and are easily attracted by beautiful, witty and humorous people. You have to be excellent with your clothing and upgrade the culture to be well-spoken to win your Rabbit's love. Their love is like the wind, and for someone they don't like, they would never stop.
So want to know whether a Rabbit female is a perfect match for you, then do matchmaking with a complete astrological analysis of your Janampatri.
Confused in Life? Know your Life Better with Free Janampatri
---
Tiger and Rabbit Compatibility
Chinese Rabbit and Tiger usually do well together, although conflicts and discrepancies can occur. They will both develop respect for each other if they can overcome their differences. It is simply remarkable for the other partner that their partner Tiger can gain control of it, and their partner Rabbit can remain modest.
The compatibility between Tiger and Rabbit could be ruined by the Tiger's dominant nature, leading to arguments. The tiger and rabbit love compatibility has potential soulmates who can work together to produce different characteristics. Although they are compatible in specific fields, it is often believed that they are both just better friends than lovers.
Will Your Love Life Turn into a Fairy Tale or Nightmare? Find out from Love Compatibility Calculator
---
Male Tiger and Female Rabbit Compatibility in Love
The tiger and the rabbit might display very different personalities. The rabbit loves the charm of the tiger. The tiger must maintain a calm and easy relationship. This relationship between Tiger and Rabbit is only then exciting. The tiger and the loving rabbit will not fight for power because the tiger usually wins. But they are both pitiful. This will enable them to communicate more effectively between themselves. The tiger is trustworthy, courageous and free.
They can be uncompromising, seductive and attractive. They must retain their autonomy and keep themselves in control to be happy. They feel noble and are warm-hearted. They are pretty autonomous but flippant.
This friendship of the Tiger and the Rabbit could push the shy rabbit over. They are usually quiet, and sometimes they can be used or taken advantage of. They're calm, a bit timid, gentle and kind at the same time. They can be great lovers. They care about the satisfaction of their partners more than anything else in the world.
If the Tiger dates the Rabbit, they may sometimes prove to be too different for compatibility. The tiger and the rabbit may not have a relationship that is fair or satisfactory to each other. The Man tiger and the woman rabbit share a similar feeling of adventure, but the tiger is willing to go beyond anything to make sure that the Rabbit gains a sense of insight.
Therefore, the Tiger and Rabbit friendship compatibility will prove remarkable, not just during the year of the tiger and rabbit compatibility but forever–only if those tiny negative aspects in their relationship are overlooked, and an effort towards getting along with each other is made.
Uncover all Challenges and Unwanted changes in your Life Graph. Get Free 2022 Report
---
Male Rabbit and Female Tiger Compatibility in Love
The creative and compassionate Rabbit is geared to intellectual pursuits. The tiger is theatrical, exciting and awe-inspiring. For the subdued and defective Rabbit, she might be too powerful. The tiger seems to be highly emotional for the Man Rabbit. He can help her solve the woman tiger's problems, but she pays little attention. With the female tiger's help, he too could increase his confidence and willpower, but her way of teaching is not perceived to be very impressive by him.
The Rabbit and the Tiger are believed not to go along much because these two individuals in the Rabbit-Tiger duo possess very different tastes. The rabbit and tiger love compatibility can turn out to be excellent, not just during the year of the rabbit and tiger compatibility.
But throughout, only if the individuals in this duo try to fix some of these tiny issues between them and make a sincere effort to gel with each other, despite their different likes and dislikes. If not the Rabbit, then who is the Tiger best compatible with?
It is believed that the Tiger is best compatible with a horse, dog or pig. They are advised to avoid Snake and Monkey as their partners.
Also, if not the Tiger, who is the Rabbit best compatible with?
It is believed that the Rabbit is best compatible with a sheep, dog or pig.
They are advised to avoid ox, dragon, horse, rooster and dragon as their partners.
Facing Tough Times? Get Your Free 2022 Horoscope Report for the Solutions
---
What to do if Your Partner is Tiger?
The tiger is rambunctious and a fearless animal. They're vivacious and a little opulent. They would not put up with a sensitive personality. The tiger man will not intentionally mistreat the rabbit woman.
Since tigers are so talkative, people who want to befriend them must first learn to be patient listeners. People should not point out their faults or failures in front of them because they are self-assured and still feel good about themselves.
Otherwise, they would be enraged and seek vengeance. Even in minor competitions, they like to win and never lose. People should refrain from stealing their thunder at inopportune times. They're also used to taking the lead in decision-making. When giving advice, it is preferable to express yourself persuasively and tactfully.
Know your real strengths, weaknesses, abilities, and talents. Know your Zodiac Signs
---
What to do if Your Partner is Rabbit?
If your partner is a rabbit, try to know them better by learning about their traits and personality. This way, you can decide or plan on your actions to impress them and have a compatible relationship.
Rabbits are charming and romantic. Mild language and attention are what they depend on. They despise confrontation and will flee if they feel stress. When a Rabbit is relentlessly forced and pressured by another human, it will ultimately escape and cut off all touch. Rabbits aren't interested in being in the spotlight. They are intelligent and resourceful, with artistic abilities that aren't always recognised.
Here is a complete guide belonging to the Wood Tiger Chinese Zodiac. Read on
Rabbits like to prepare ahead of time and want to know all the specifics. The way someone makes choices and jumps into things without worrying will make a Rabbit nervous. You can be very self-absorbed and might often forget to consider your partner's views while making decisions. Try not to disappoint the Rabbit on these tiny aspects and cooperate with her on specific ways of life.
Furthermore, people belonging to the Rabbit zodiac sign, as per Chinese astrology, are people who might have a high tendency to be amorous and thus possess love for two different individuals at a given point in time.
So, the people who try to seek these rabbits as their partners should try not to tie them to a fettering environment in the relationship and instead create a lot of space for them. Not following this "no-binding" principle will only push the rabbits away from them. More room and space is the key to seeking a rabbit as a partner.
Moreover, one should also try to help the Rabbit identify their self, personality and talents more clearly to make an efficient and practical decision. The rabbits are not masters in decision-making, so that they might need some help at times. The rabbits are often worn out of a monotonous life, so helping them seek new opportunities and activities can enlighten their mood. This, in turn, might help in creating positive feelings towards the one who makes this possible.
The Rabbits are also very particular about their privacy. Also, invading others' privacy does not seem like an ideal thing to do for them. They are also extraordinarily free and frank to most people around them. If you can keep secrets and guarantee no betrayal to the rabbits, you can make an intimate partner for these rabbits.
So if you are a Tiger or a Rabbit or know anybody who is the same and wants a perfect match, then you are at the correct place. Do not wait for anything.
Talk to an Astrologer Now and Get 100% Cashback on your First Recharge.
---
---