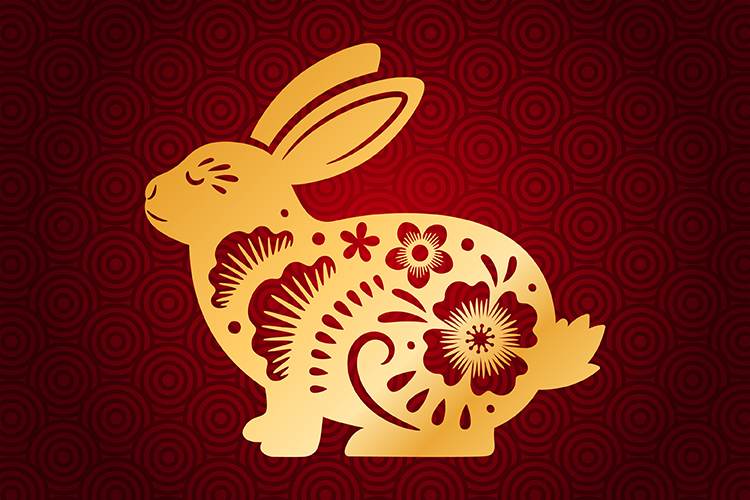 The Chinese Zodiac Rabbit Astrology, Personality And Traits
(Years – 1963, 1975, 1987, 1999, 2011, 2023)
According to the Chinese zodiac Rabbit Astrology, the individuals born with this zodiac sign are courageous and courteous. Also, they are often considered Gentleman or Worklady. People born with Rabbit Chinese zodiac signs are the luckiest ones among other zodiacs. Those folks with Rabbit zodiac signs are calm, composed, and they treat everyone with respect. It also helps them to stay away from arguments and conflicts.
These individuals with the Chinese zodiac sign rabbit are highly determined people. They possess impeccable planning skills and prefer to live an organized life. The rabbit zodiac traits also include an unrealistic approach and hypersensitivity. Natives of zodiac rabbit always have an upper hand with their timely-perfect actions in life. Female natives of zodiac rabbit are very friendly and know the art of shopping. They may forgive you easily, but then she is not a saint. These females like to live a peaceful life and enjoy the comforts of materialistic things.
The rabbit Chinese zodiac compatibility analysis says that Sheep is their perfect match. Sheep and Rabbit blend well as a couple. Natives of both zodiacs are romantic and passionate individuals. They know about each other's needs and requirements, which helps them live a happy couple's lives. Know more about their compatibility.
| Chinese animal signs | Birth year |
| --- | --- |
| Rat | 1960, 1972, 1984, 1996, 2008, 2020 |
| Ox | 1961, 1973, 1985, 1997, 2009, 2021 |
| Tiger | 1962, 1974, 1986, 1998, 2010, 2022 |
| Rabbit | 1963, 1975, 1987, 1999, 2011, 2023 |
| Dragon | 1964, 1976, 1988, 2000, 2012, 2024 |
| Snake | 1965, 1977, 1989, 2001, 2013, 2025 |
| Horse | 1966, 1978, 1990, 2002, 2014, 2026 |
| Sheep | 1967, 1979, 1991, 2003, 2015, 2027 |
| Monkey | 1968, 1980, 1992, 2004, 2016, 2028 |
| Rooster (Chicken) | 1969, 1981, 1993, 2005, 2017, 2029 |
| Dog | 1970, 1982, 1994, 2006, 2018, 2030 |
| Pig (Boar) | 1971, 1983, 1995, 2007, 2019, 2031 |