Anant Chaturdashi 2023: A Day Dedicated To Lord Vishnu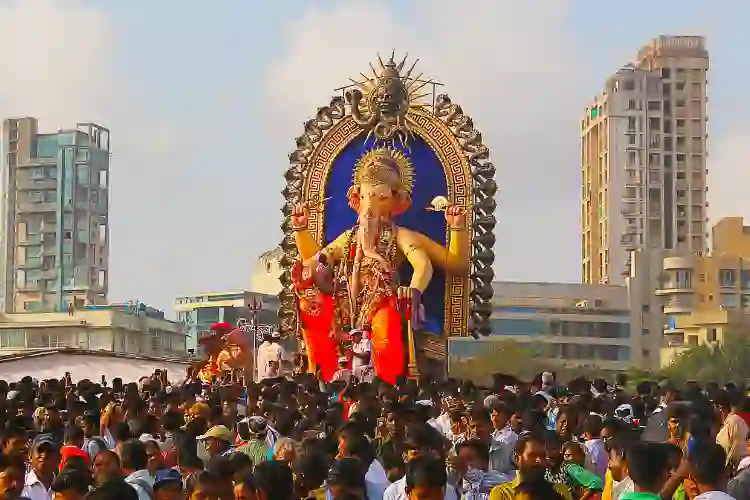 What is Anant Chaturdashi?
Anant Chaturdashi is dedicated to Lord Anant, which falls on the fourteenth day of Shukla Paksha in the Bhadrapada month. Anant Chaturdashi is also associated with the day of immersion of Lord Ganesha's idol. On this day, the ten-day festival of Ganapati festival ends. So, devotees visit the holy river to immerse the idols of Lord Ganapati following the large processions known as Ganpati visarjan. Thereafter, next year the Lord is welcomed with equal enthusiasm. On this auspicious day of Anant Chaturdashi, devotees read ancient stories and tales of Lord Vishnu. Other than that, devotees together keep a fast to appease the Lord. This fasting ritual is also known as Anant Vrat. Let's shed more light on this topic.
Also Read: Ganesha Tips for a Happy and Prosperous Life
Anant Chaturdashi Date and Time for 2023
| Event | Date and Time |
| --- | --- |
| Anant Chaturdashi 2023 Date | Thursday, Sept 28, 2023 |
| Anant Chaturdashi Puja Muhurat | 06:12 AM to 06:49 PM |
| Duration | 12 Hours 37 Mins |
| Anant Chaturdashi Tithi Begins | 10:18 PM on Sep 27, 2023 |
| Anant Chaturdashi Tithi Ends | 06:49 PM on Sep 28, 2023 |
Significance of Anant Chaturdashi
Anant Chaturdashi is formed by a combination of two words, 'Anant' which signifies eternal and the word 'Chaturdashi' means fourteen. Devotees completely dedicate this day to Lord Vishnu and seek his special blessings by performing various poojas and rituals. Devotees observe a strict fast and tie a thread of kumkum and turmeric coloured on their wrists, which consists of fourteen knots known as Ananta Sutras. Those who are suffering from life obstacles should organise a special Vishnu Puja to erase the previous sins.
This festival holds great significance and is the second most important festival after Diwali in Hinduism. Digambar Jains, who hold the highest position in the Jain community also celebrate the Paryushan festival in the last 8 days of this Hindu month. However, Anantha Chaturthi is celebrated on the last day of Paryushan. So, this day also marks the end of a 14-day long fast (For Jains) and is celebrated with various pujas and rituals.
On this particular day, the twelfth Tirthankara of Jains named Lord Vasupujya also attained Nirvana. Thus, the holy day of Anant Chaturdashi is very important for the Jain people. On this day, people usually recite and listen to the stories of Lord Vishnu, also known as Lord Anant.
You May Want To Read: Different Forms of Ganesha
Anant Chaturdashi Story
Once there was a Brahmin boy Sumant and he had a daughter Sushila from his first wife, Diksha. Later, when Diksha died, Sumant got married to another woman named Karkash. Karkash was not so kind towards Sushila. Therefore, when Sushila grew up, she decided to elope with a boy, Kaundinya to escape her stepmother's cruel conduct.
Ancient myths tell us that Sushila joined a group of women who were swimming in the river and offering prayers to Lord Anant. Observing this, Sushila prayed as well in order to be bestowed with his gifts, and she became fairly wealthy in a short period of time. One day when her husband found the Anant sutra in her hand, he became annoyed and told her that they were rich not because of a mere thread but because of his wisdom. Following that, he took the thread and burnt it.
Soon after this incident, they lost their grip on their economic status. And so, both of them realised the importance of the Anant sutra. Sushila's husband then decided to undergo penance. He worshipped Lord Anant for fourteen years and eventually earned his wealth back.
Celebration of Anant Chaturdashi in India
There is a strong belief that whoever worships Lord Anant with sincerity gets freedom from sorrow. So, devotees organise Vishnu Puja and keep Vrat for a day to impress the Lord. They decorate their home temples with different flowers and only consume the food after doing parana. Devotees believe that Lord Vishnu can remove all difficulties in one's life, there they keep Anant Vrat. Some sages or devotees celebrate this Anant Chaturdashi fast for 14 consecutive years. Anant Shayna form of Lord Vishnu is worshipped on this day. The lying posture represents a state of dormancy and is the form of Lord Vishnu before the evolution of the world and the creation of living beings.
Overcome all the challenges of life by performing live personalised Vishnu Puja.
Rituals for Anant Chaturdashi
One should wake up early and retire from routine activities.
Before starting Puja, place the idol of Lord Vishnu in a lying form.
Orgnise Vishnu Puja, Krishna Puja and Satyanarayan Puja.
Take Yamuna water in the Kalash and keep 14 knotted threads, known as Anant Dharma.
The number 14 is of great importance in Anant Chaturthi puja, so keep 14 flowers, 14 fruits, 14 dry fruits, 14 different types of leaves in front of the idol.
Women should wear Anantha Daram in their left hand and men in their right hand.
One can make Nag Anantha using Durva grass.
Keep one day fast and avoid eating food till parana.
Conclude your Puja by doing Aarti.
Greetings
On a concluding note, it is learned that there is great significance of worshipping Lord Vishnu on Anant Chaturdashi. We wish you a maximum blessing from the Lord to achieve peace and harmony in your life. Our team wishes you a happy Anant Chaturdashi 2023.