Mars Transit In Capricorn 2022: Possible Astrological Challenges You Need To Know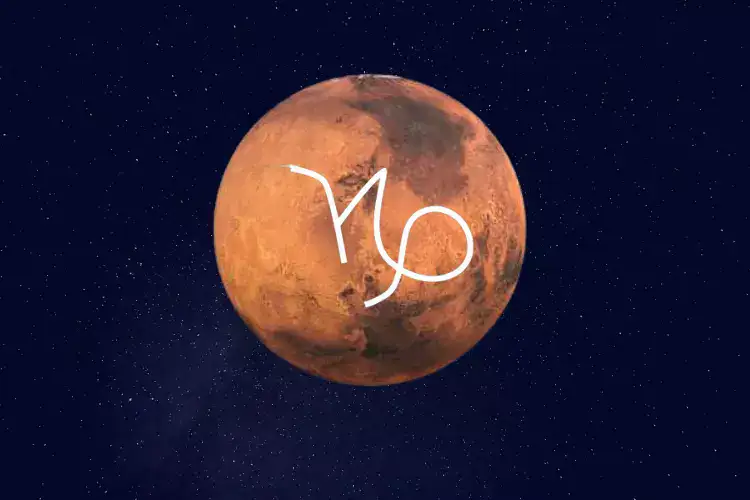 Vedic astrology considers Mars as the planet associated with aggression, desires, and decision-making ability. It is one of the malefic planets, which may have adverse effects on your love and relationship. So, it becomes necessary to analyse the placement of Mars to finalise the wedding date. The affiliated or debilitated Mars will be responsible for forming Manglik dosha in an individual's kundali. Usually, natives may see changes in their nature and personality due to Mars transit.
The Capricorn sign represents an Earth element, and so the natives connected with this element have endless desires. Since Mars gets exalted in the Capricorn sign, one may escape from its harmful effects. But still, there would be minor ups and downs in the native's life.
Coming from the Sagittarius sign, red planet Mars is about to enter the Saturn-ruled Capricorn sign. Well, this could be good news for some individuals. But, some of them may have difficult times ahead. Here, we will shed more light on what's coming for the native of the different zodiac signs.
Is Manglik dosha giving you stress? Get a free janampatri report to know in detail.
---
Astrological Transit Of Mars In Capricorn: Date And Time
Date: Feb 26, 2022 (Saturday)
Time: 04:08 pm
Know in detail about your upcoming days, read Free Yearly Horoscope 2022.
---
Effects of Mars In Capricorn On Zodiac Signs
Mars entering into the Capricorn sign means that it may bring unwanted changes in professional and married life. Below is what Astro experts predict about all twelve zodiac signs.
Also Read: Mars Transit In Sagittarius
Impact On Aries Sign Natives
This transit of Mars may turn things upside down for the Aries born natives. Since Mars is the ruler of the Aries sign, entrepreneurs and those who are in the creative field may have a beneficial time. Healthwise, you may maintain your health and fitness. Job professionals may get promotions in the coming days. It would be a good time for love and relationships.
Remedy: Worship Lord Hanuman with full devotion.
You can book personalised Hanuman Puja to remove obstacles from your life. 
Impact On Taurus Sign Natives
Individuals with the Taurus sign will see the Mars transit in the house of fortune (ninth house). Therefore, natives are likely to carry good luck with them. In terms of health, elders may recover from their long term health issues. Businessmen making foreign trips are likely to get positive outcomes. Natives who are in a romantic relationship may have issues with their partners.
Remedy: Offer prayers to Maa Durga everyday.
Impacts On Gemini Sign Natives
Gemini sign natives will have the Mars transition in their eighth house. Therefore, you may need to keep a tab on your health. You must be careful when it comes to pending financial matters. Job professionals, businessmen and entrepreneurs are advised to be careful of their work. Otherwise, you may suffer from loss. You may not earn profit during this phase. Married natives should refrain from involving themselves in conflicts.
Remedy: Chant Hanuman Chalisa on a daily basis.
Impact On Cancer Sign Natives
The seventh house will be occupied by the transiting Mars. Financially, business owners may earn great profit due to their newly-developed strategies. Job professionals may have a better time for career growth. It would be a suitable time for your health. Married Cancer natives or lovers are advised to deal with patience, or else you may have arguments with your partners.
Remedy: Invoke Lord Ganesha by performing Ganesha Puja.
Impact On Leo Sign Natives
Leo Sign natives will see Mars passing through their sixth house. Healthwise, you may have a rise and fall due to viral infections. Job professionals may undergo a challenging time at their offices. Your ongoing project works may remain undone. Those who want to take a business loan may get success. This would be a perfect time to enhance your love game. Overall, it would be a beneficial time for the Lions.
Remedy: Seek blessings from Lord Hanuman.
Impact On Virgo Sign Natives
For the Virgo sign natives, Mars transition will be in the fifth house. During this time, you may have a average time regarding your health. On the financial front, it would be a moderate time. Job professionals and business owners may require serious efforts, or else you may fall short of your target. Lovers may get disappointment by their dating partner.
Remedy: Worship your clan deity to reduce negative impacts.
Impact On Libra Sign Natives
Individuals who are holding the Libra sign will have the fourth house for the transition of Mars. This astrological event may have an adverse impact on your mental health. There would be an increase in your mental stress. Financially, you may earn sudden monetary gains. Business owners may have more income than usual as it would be a suitable time for them. Lovers may have misunderstandings with their dating partners.
Remedy: Remember Maa Durga with a pure heart.
Curious! How will be you day ahead? Read free daily horoscope. 
Impact On Scorpio Sign Natives
Scorpio sign natives will see the transition of Mars in their third house. This would be a suitable time for your health. Financially, you may try to find a new source of income, where you may have to be careful. Business owners with Scorpio signs are likely to get success in their work. It would be a great time in terms of love and relationships.
Remedy: Offer sincere prayers to Lord Shiva.
Impact On Sagittarius Sign Natives
Natives carrying the Sagittarius sign are likely to have moderate time as far as their health is concerned. Financially, there might be sudden money expenditures. This may affect your money-saving goals too. Job professionals may have a decent time to make career progress. Lovers, as well as married natives, may need to be careful with their personal life.
Remedy: Organise Ganesha puja to overcome challenges.
Impact On Capricorn Sign Natives
Natives born under the Capricorn sign will have Mars transit in their first house. Healthwise, you are likely to maintain good health. You may have reduced mental health. Job professionals or business owners may get promotions or new clients in their respective fields. Lovers may have a good time with their partners. Singles may meet someone special in their life.
Remedy: Worship Lord Hanuman and recite Hanuman Chalisa.
Impact On Aquarius Sign Natives
For natives with the Aquarius sign, transiting Mars will occupy the twelfth house. On the financial front, you may have sudden money expenditures. You would be more worried about the health of your family members. Business owners may need to clear obstacles in order to achieve profits. Married natives may create unnecessary conflicts. Singles are likely to get proposals from their hometown. Overall, it would be a average time for you.
Remedy: Recite Ganesh Atharvashirsha Path every day.
Impact On Pisces Sign Natives
Those natives who are representing the Pisces sign will see Mars transit in the eleventh house. At this time, you may have a sudden rise in money spendings. You may continue to maintain your fitness level. Job professionals or business owners may earn a decent profit. Married natives or lovers may get intimacy with their partners. In short, it would be a moderate phase for Pisces individuals.
Remedy: Worship Lord Shiva by visiting a nearby temple.
---
In Conclusion,
Mars is associated with emotions, anger and desires, so if the planet moves to another sign, there would be life obstacles. However, you may turn the corner around by taking remedies or else consulting with experienced astrologers.
Talk to astrologers to get suitable guidance for the challenges you may face ahead. First consultation is FREE!
Hope we have answered all your queries!
---
---