Venus Transit In Aries 2022: What It Means For Every Zodiac Sign?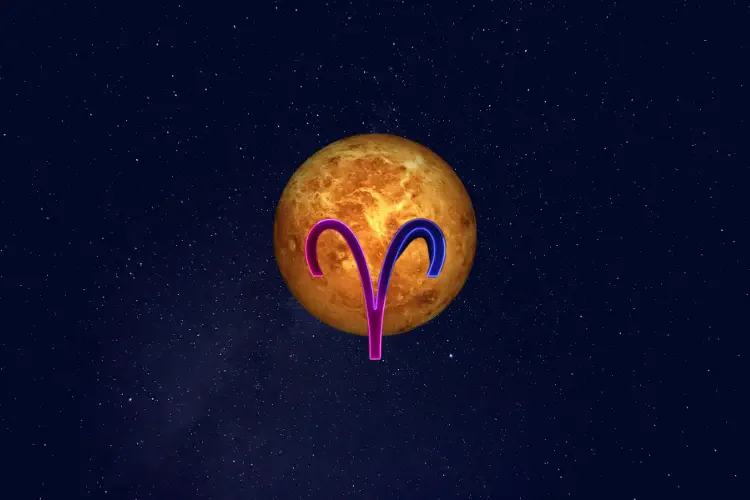 Venus rules two signs, i.e. Taurus and Libra- earth and air sign, respectively. These two signs are known for their fine aesthetic sense. People belonging to these signs are always dedicated lovers and always have a fondness for fine things. The sign in which Venus is going to move, i.e. Aries, is ruled by the aggressive planet- Mars. The combination of Venus and Mars is intense for the natives. It brings passion, intimacy, spontaneity, adventure, and many more opportunities.
In 2022, Venus Transit in Aries is going to take place on May 23, 2002, at 8:39 pm. Obviously, it is going to impact natives of the 12 zodiac signs. Let's dive deeper into Venus Transit in Aries's impacts on each area of life.
---
Venus Transit in Aries 2022 Effects On Aries: A Rocking Personal Life
Venus rules the Second house of speech, wealth, and family, as well as the Seventh house, which stands for relationship, marital bliss, and public image. Venus is going to transit in Lagna of Aries native, which represents the self.
Professionally, this transit is likely to bring new opportunities leading to the fulfilment of goals and ambition. Natives may start a new venture specifically in the creative, media, theatre, and film industries. Individuals doing services, especially in beauty and designing, are also likely to achieve success. Moreover, people belonging to the jewellery and stones area are expected to earn profits.
In your personal life, you are likely to be in a positive frame of mind and may make big changes in your overall appearance. The opposite gender is expected to rave about you. You are likely to empathise with people around you and also listen to their issues. Your bond with friends and family is expected to be stronger. The marital life is likely to be good as the bond with the spouse grows. Individuals in relationships are going to have a positive time.
Remedy: Adorn pink and cream coloured attires on Friday in order to achieve favourable results.
---
Venus Transit in Aries Predictions For Taurus: Time For Heavy Expenditures
Venus is going to move into the Twelfth house of Taurus natives representing the expenditure, spirituality, and overseas. Professionally, service-oriented individuals are likely to have a favourable time. Natives probably get opportunities for their work. They are likely to earn a chance to go abroad for work. The people working in MNC may earn incentives and favours. This transit time frame is unfavourable for business owners, so it is advisable to not invest in new ventures.
On the personal front, this period is likely to give you a hard time. Wastage of money is on the cards. You may experience expenditure on medical issues. Your immunity is likely to get low. Hence, consume a healthy diet in order to be fit.
Is your health giving you a hard time? Which planet is haunting your kundali? Get a free janampatri report to know in detail.
Remedy: Chant " Om Shukray Namah" 108 times every day.
---
Impact Of Venus Transit in Aries On Gemini: Happy Times Ahead
Venus is going to transit in the Eleventh House of Gemini folks which signifies income and gains. This placement is likely to be positive in terms of finances. Professionally, natives may get opportunities for earning from multiple sources. Business owners with international clients are likely to have a prosperous time as they may be able to expand the business and earn profits. If natives are looking to pursue hobbies as a profession, then this is the right time. The service-oriented people may achieve better incentives or salary hikes during this time.
Students who are looking forward to taking admission to the International institutes can achieve favourable results. Some Gemini students may get a chance to study in their dream college. A favourable period for those pursuing fine arts and designing.
The personal life is likely to spend socialising and making friends. You may invest a major part in social networking sites to learn about innovations and interact with new people. Married natives may get the good news about a little one. Moreover, some married folks may spend some quality time with children. Overall, a happy period for natives.
Remedy: Pray to Goddess Saraswati and chant her Vandana on Friday to achieve prosperity and wealth.
---
How Will be Venus Transit in Aries For Cancer: Be Cautious In Every Area
Cancerians will experience the placement of Venus in the Tenth house of profession. Professionally, this time frame may come up with various obstacles and challenges for business owners to earn good revenue. Natives need to make some effort to achieve success. The service-oriented people may face not have such a good time as they may experience politics at the workplace. You are expected to up your game in terms of skills in the workplace. You may get into arguments with your senior, which is likely to affect your productivity.
On financial matters, you may not earn enough from your investment. Hence, be away from certain investment plans during this period. If you want to have a peaceful environment in your home, avoid arguments with your spouse. Don't get into financial dealings with your relatives as it may end in an argument. The health aspect of natives is a little worrisome. Some stress and anxiety may crop up in this period. Go for deep breathing to maintain your health.
Need more such astrological advice? Get a free yearly astrology report for the answers.
Remedy: Pray to Goddess Laxmi along with the recitation of Mahalaxmi Astakam every morning for achieving prosperity.
---
Venus Transit in Aries 2022 Effects On Leo: The Sweet Love Of Family
Venus is going to land on the Ninth house of Leo natives representing luck, fortune, and religion. Due to its placement in the house of luck, favourable results are expected. The professional life may come up with many achievements with hard work and smart efforts of natives. You are likely to get many opportunities to show capabilities and earn accolades at work. Your designation at work may change in this period. People who are looking for a job are expected to find it in this period. The business owners are likely to plan and execute the strategies, and the results are probably going to be in their favour. Natives may meet some high profile people, which is likely to earn them favours. People working in the travelling industry may gain more opportunities.
In personal life, natives may experience a get together with family. You may get the concern and support from siblings, specifically from the younger ones. The bond with the father is likely to grow stronger. Moreover, you may get some financial support from your father. Natives may make some investments in personal property.
Remedy: Worship Goddess Saraswati with white flowers and recite the venus mantra.
---
Effects Of Venus Transit in Aries On Virgo: Tense Personally Yet Active Professionally
During the Venus transit in Aries, the Ninth house of Virgo natives will see its placement signifying fortune and luck. In terms of professional life, natives may experience a change in designation. It can be in the form of switching jobs or promotions. The entrepreneurs may gain some good clients. People working as property dealers or commission agents may earn good profits.
The speculative market is likely to give you a chance in earning good money. Natives are also likely to get long due money. You may plan short term investment with the possibility of earning positive results. Furthermore, you can also earn from ancestral property.
Your personal life may shake up due to conflicts with family members, especially your mother. Some natives may also face some disagreements with their fathers. Moreover, your father's health condition may deteriorate a little bit. Married natives may have issues with spouses and in-laws. Overall, the personal life would be a little stressful.
Wanna know how will be the compatibility with the prospective partner? Get a free name compatibility report.
Remedy: To get great outcomes from Venus on a daily basis, apply a white sandalwood Tilak to your forehead and employ sandalwood scents.
---
Venus Transit in Aries 2022 Effects On Libra: Love Is In The Air
Venus will transit over the seventh house of Libra natives representing marital bliss, journey, and associations. On the professional front, you are likely to be your energetic self and try various things in terms of your career. You probably look forward to changing your profile and adding a creative angle to it. This time frame of transit brings you a travelling opportunity regarding marketing and expansion of work. Natives are likely to earn recognition professionally. Some strategic changes are in store for the partnership businesses.
Personally, you are likely to be in a cheerful mood and surround yourself with positive people. Single natives probably have a favourable time as they may find a love interest. It is also a favourable period for married couples as their love is likely to grow.
Remedy: Adopt a Rose quartz in the form of a ring or bracelet in order to gain love and happiness.
---
Venus Transit in Aries Impact On Scorpio: Professionally Tough
Venus is going to sit in the sixth house of Scorpions representing the competition, fights, services, and diseases. A roller coaster is in store professionally. You are likely to face tough challenges from your opponents. You may engage in travelling, which might not earn favourable results. The partnership-based business owners may need to communicate calmly to avoid heated discussions. Entrepreneurs should be careful while dealing as competitors may harm their strategies. Overall, you need to be careful in your professional life.
A health concern may haunt you in your personal life, which leads to low energy. Some old diseases may relapse during this period. Hence, take care of your health and regularly refer the doctor. Married natives may fight with their spouse which create estrangement in the relationship.
Remedy: During this transit period, donate clothes and jewellery to young girls.
---
Venus Transit in Aries 2022 Effects On Sagittarius: Great Time for Students
Venus is going to occupy the Fifth house of Sagittarians representing love, children, and education. Professionally, service-based individuals are likely to have a good time. Such natives are likely to achieve incentives and increments. Natives may go for a part-time job and earn a handsome amount. Business owners need to be careful and avoid making investments for a while. Moreover, don't borrow money from the market as the chances of returning are less.
Students are likely to have a good time. Due to the high focus on studies, students are likely to achieve positive results. The competitive exams are also going to yield favourable outcomes.
Love birds may see their peace being disturbed due to petty fights. Some addition may happen in your family during this period. Singles are going to have a good time as a relationship prospective is possible.
Remedy: Provide pink flowers to Goddess Laxmi and chant "Sri Suktam" for financial prosperity.
---
Venus Transit in Aries Predictions For Capricorn: Rocking Professional Life
Venus is going to take place in the Fourth house of Capricornian, signifying comforts, family, and happiness. On the professional front, a plethora of opportunities is likely to come your way. Natives belonging to fashion, jewellery, media, and music may witness exponential growth. Some natives may enhance their creativity which is likely to give direction to their professional profile. Your investment in new bonds or ventures is likely to bring positive results. The automobile owners may witness growth in the sale and crack a profitable deal.
Personally, the quality time is likely to be in the cards. You may purchase a new vehicle. The love birds may take the next step and are likely to get married during this period. Growth may take place in the bond of a married couple.
Remedy: Offer beauty based products to the newlywed girls on Friday for achieving prosperity.
---
Venus Transit in Aries 2022 Effects On Aquarius: A Lots Of Love From Family
When it comes to the Aquarius sign, Venus is going to make the third house its home which stands for communication, journey, and sibling. In terms of profession, promotion may happen to service-oriented individuals. Natives belonging to media and theatre are likely to earn some recognition. Some Aquarius individuals may also make connections with people from higher posts and celebrities, which are likely to be fruitful for your career. People in the travelling and educational sector may achieve success in this period. This is the best time for implementing new strategies as it is likely to result in profit.
On the personal front, you are likely to be in an adventurous mood and soon plan a trip with friends and family. Your bond with siblings is going to be stronger with lots of support. You may develop good communication skills, which are likely to win everyone's hearts.
Remedy: Wear either a silver ring or chain for positive results.
Get the daily dose of accurate predictions by installing MyPandit App.
---
Venus Transit in Aries Impact On Pisces: Stressful Family Life
Venus is going to be placed in the Second house for Piscean, representing wealth, family, and savings. In terms of profession, some unfortunate events may happen. Be cautious as you may face conspiracy in this period. Your competitors probably throw tough challenges at you. Business owners are likely to face losses in this period. Be careful if you are dealing in speculative markets, as the possibility of losing money is high. Avoid making any short or long investments.
Your personal life may witness some disturbance in terms of family. Natives may face disagreements or conflicts with family members. The health of some family members may suffer. Support from siblings and parents may not happen due to certain ventures. You may experience high expenditures as money is likely to spend on things which might prove not productive.
Remedy: Observe fast on Fridays and provide sugar, milk, rice, and sweets to girls.
---
Conclusion
Hope you got what you are looking for regarding Venus transit in Aries. However, if you need more astrological insights into your zodiac sign, talk to astrologers without any hesitation. First consultation is FREE!
---
You May Also Like To Read:
---
---