Moon in Libra – Personality Profile, Impact on Life, Characteristics and more.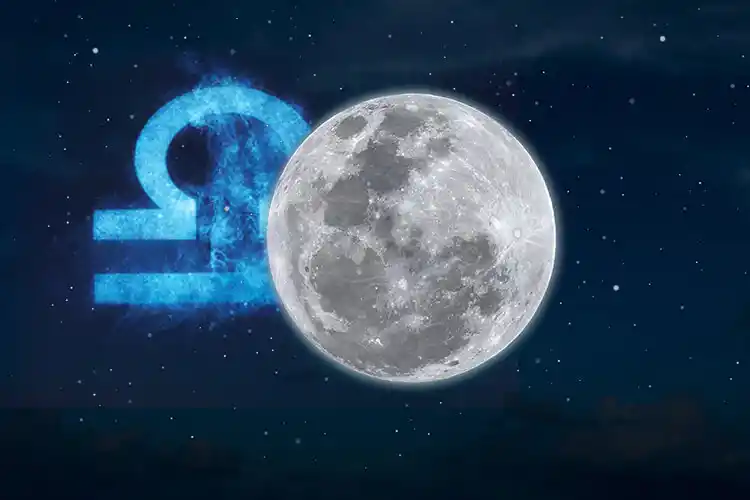 Element: Air
Ruling Planet: Venus
Impulse: Balance
---
Personality Profile of Libra Moon Sign
Thanks to the ruling planet Venus, Libra Moons have a beautiful glow to them. They have a keen sense of self-awareness and a strong aesthetic quality. Libra Moons have a graceful persona and excellent communication skills, making them a pro at resolving problems and bringing people together. Moon in Libra makes the natives have a level-headed demeanor, regardless of who they're dealing with.
Everyone loves them and automatically gives them support because they keep a fair outlook no matter who they're around. Libra Moons are pacifists who believe that war is amateurish. They can, however, discourage conflict to the point that they are unable to say no, allowing others to drive them over. At times, Libra Moons need to remember to put their foot down when necessary.
Moon in Libra natives prefers intellectual bonding over physical attraction when it comes to building trust and bonding. They strive for internal unity at all times, attempting to balance disagreements and tensions between two groups. They judge the conduct of both parties objectively but owing to their diplomatic and neutral temperament, reaching a decision can be challenging at times. On the other hand, it can be said when they try to create a stable atmosphere, they make the right decisions for themselves and the people around them.
Since you are governed by aesthetic Venus, the goddess of beauty, you value beauty and the finer things in life. For your inspiration, you require a sense of artistry. Understanding things from other people's perspectives is what they are probably good at. They respect their own point of view and that others, and where appropriate, provide impartial guidance to others.
---
Work & Professional Life of Libra Moon Sign
Libra Moons are natural social butterflies who get that kick when they associate with a massive group of people. When they are kept accountable by others, they become more empowered. Libra Moon sign will achieve its full potential by collaborating with a business partner.
Individuals with the moon in Libra are gifted with the ability to work in harmony with others and see things from different angles; however, they also tend to rely on others to make decisions. They can empower themselves by learning to make critical decisions with their own heart.
Moon in Libra can seek jobs in the fashion and beauty industries as they have the ideal eye for beauty and a flair for style and glamour. Work in a top setting, such as a luxury hotel or expensive restaurant, is also recommended.
How does the moon being in your sign affect you? Consult Expert Astrologers to know.
---
Managing Finances in Moon in Libra
Moon in Libras are blessed with a plethora of contacts; therefore, even in a crisis, they will be able to obtain assistance. Libra natives will accumulate more wealth by getting up a little early each day and exercising for a few minutes. Spending money on makeup, fashion, etiquette lessons, and everything else that boosts their beauty will re-energize their income stream.
---
Libra Moon in Love and Relationships
Libra Moons have the best luck in relationships. They have refined and sophisticated mannerisms and understand how to communicate with the same sex in the usual way. They're good storytellers and listeners both. To tell moons in Libra love are natural-born masters of intimate affairs is an understatement.
On the other hand, the moon in Libra are so friendly with everyone that it may give many men or women the wrong idea. They should be careful not to break too many people's hearts! Libra Moons will lure wealthy partners into their lives by dressing up and traveling to an elegant setting.
Want to impress a Libra individual? First, check the Libra Compatibility with other zodiacs.
---
Libra Moon Positive Characteristics
Libra men and women have a natural ability to share, merge, and gel up with others. In specific scenarios, the genuine desire to get along with others lets them achieve popularity and kindness. They win public acceptance because they have a rational and fair-minded outlook on life. They are an excellent broker, conciliator, and compromiser in your friendship because you are good at finding common ground.
Libra moon sign natives possess the ability to balance inherently conflicting interests with an intrinsic desire to pursue justice in all matters. As per Libra facts, they can perform best in a group environment as they can critically evaluate all aspects of a case. Charming, knowledgeable, witty, and gracious are part of Libra's moon appearance. They'll be compelled to try out the best of other people but not make fun of them instead of helping them.
People with the moon in Libra make great planners and strategists as they have a keen sense of detail. Libra moons are a thoughtful person who has an optimistic perspective on life. They enjoy the company of people who want to have a happy and fulfilling life. When dealing with challenging circumstances, they are very discreet and frequently a source of inspiration for others.
---
The Dark Side
At times, Libra moon signs can be self-indulgent and reliant. This will lead to indecisiveness when they are strategic and have the propensity to consider both sides in the situation. Their goal-setting may seem calculated, and the constant need to impress others may come off as obnoxious and irritating to others. When it comes to expensive tastes, the moon in libra natives can become too indulgent, leading to extravagance. moon in the Libra zodiac sign has a habit of exaggerating the significance of Libra relationships in their life. As a result, if they don't have a partner in their life, they might experience emotional distress.
Libra moon signs always lack a good sense of personal direction. It is observed that in need to satisfy and please others, they twist themselves, and their will and do not reveal what they actually desire. This can also lead to Libra's moon signs not being frank about the real agenda when co-opting others—resulting in putting the natives in a double bind and not achieving the actual goals or satisfying true desires. People around them may believe Libra moon signs have something to hide. To justify this, they make an effort to be truthful and fair to all those involved. When trying to be fair to everybody, they put in a lot of work, leading to confusion when no one really sees their real nature.
Is your zodiac sign is weak in Moon? Get access to our Free Janampatri Analysis Now!
---
Libra Moon Sign - Famous Personalities
Kate Winslet
Leonardo DiCaprio
Ariana Grande
Walt Disney
---
Moon In Libra - Final Thoughts
Lunar Libra, be grateful for the peace the Moon has given to your sign. You are a gift to everyone you come into contact with. You aspire for peace and harmony, and you encourage others to do the same. On something like a physical basis, you support people in taking better care of their bodies.
You may believe in any variety of religious beliefs on a higher level. You may be an atheist or someone who has adopted ideas from other faiths and found a combination that is beneficial to you. When you grow to embrace people for who they are and begin to broaden your mind, you can find love and satisfaction.
Talk to expert astrologers to know more about What does the moon symbolize in Zodiacs?
---
---