What's Behind Akshar Patel's Dream Run in Tests?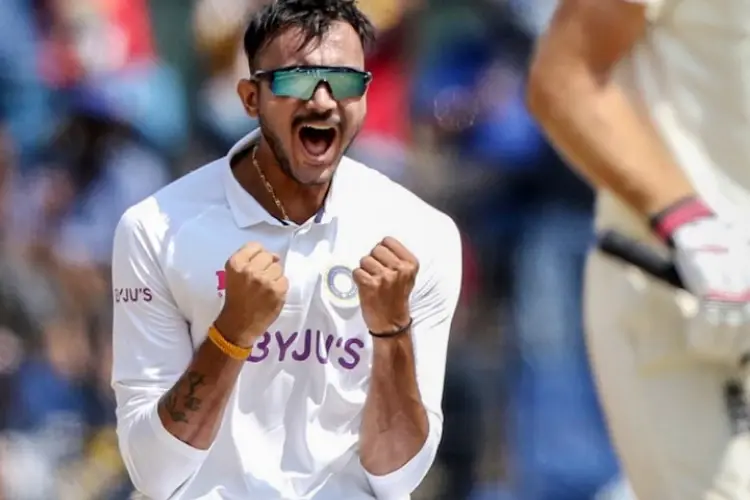 On Day 3 of the ongoing first Test of India against New Zealand in Kanpur, left-arm spinner Axar Patel once again demonstrated his effectiveness in Indian conditions, taking five wickets. Former cricketer Aakash Chopra, sports critic Ayaz Memon, former cricketer Wasim Jaffer, and others also praised the spinner for his outstanding outing with the ball.
Let's check out Akshar Patel's detailed horoscope to know all about his cricket career!
---
The Mangal Aspect on Akshar Patel!
Akshar Patel was born on Jan 20, 1994, in Anand, Gujarat. Hence, his zodiac sun sign is Aries. Mars is dominating the planetary pitch. Hence the native Akshar ought to remain energetic. Saturn is in its own sign & Moon-Jupiter are aspecting each other, giving positive results. However, he has Kaal Sarp Dosh in his Kundli, which sometimes becomes a hindrance in his path.
Defeat every problem coming to your path. Speak to our expert astrologers for complete guidance!
A person might feel mental pain as a result of Kal Sarp Yoga's influence. When it comes to Akshar Patel's future, Saturn is transiting over the Sun, Venus, and Mercury in his horoscope, while Jupiter is transiting over his birth Saturn.
Hey you, reduce the effects of Kaal Sarp yog from your kundli today. Speak to our expert astrologers now!
---
---