Sun Transit In Sagittarius On Dec 16, 2023- What It Brings For Each Zodiac Sign?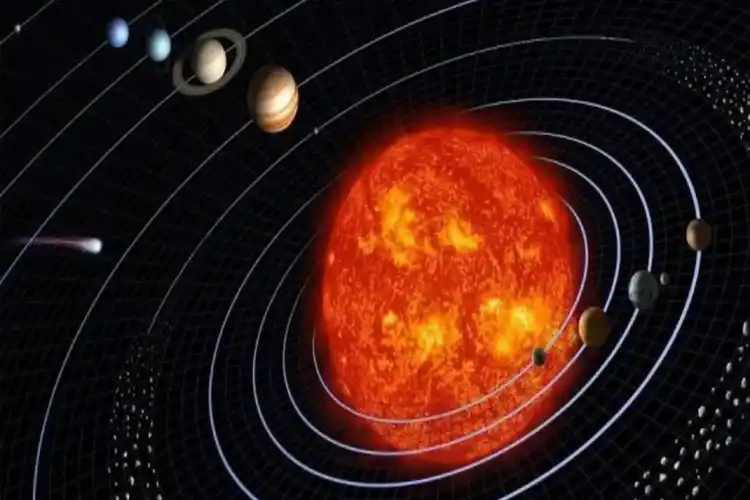 The king of the planets, i.e. Sun, will change the sign and enter Sagittarius on Dec 16, 2023. Naturally, it will affect all the zodiac signs. Sun is definitely the Lord of the Leo, but it holds importance for all the zodiac signs. The status and position of an individual in society is highly reliant on the strength of the sun. Due to the weak Sun in the horoscope, one may suffer from issues related to eyes and bones. In fact, the weak Sun in the horoscope also impacts the job or business.
Read ahead how this transit of Sun in Sagittarius affects every zodiac sign in different ways.
Know what next year have for you? Read free 2022 yearly horoscope.
---
Effect Of Sun Transit In Sagittarius On Each Zodiac Signs
Aries
You can expect your luck to shine with the transit of the Sun in Sagittarius on Dec 16. You can finally finish pending work. Students may achieve success and would be motivated to learn something new. It will be a prosperous time for children. Your income is likely to increase this month. It is advised to be watchful of your father's health.
Taurus
The transit of the Sun in Sagittarius can bring some disputes in the family life of Taurus natives. Any property-related decision  should be put on hold for now. Keep your distance from legal matters. Your health may be the cause of worry for you. Keep working with patience in order to achieve success.
Gemini
Sun transit in Sagittarius can bring tension in your married life. Your ego may be the cause of conflict with your spouse. However, success is on the cards in business matters. More work is likely to come. Travel plans would be made. Overall, this transit of the Sun will give mixed results for you.
Every transit brings several changes for each individual. Get free personalised kundali to know what is in store for you.
Cancer
With the transit of the Sun in Sagittarius, your business may increase significantly for a month. The enemy side would be victorious. People doing jobs may also experience some relief. International projects can give you benefits. You would benefit from government work. You may get an opportunity to work on a new project.
Leo
All of a sudden, you may get respect in society. Your social circle will also expand. Time is a bit difficult for romantic relations. During this time, differences with your loved one may emerge more. This transit  may bring beneficial time for the students.
Virgo
For a month from Dhanu Sankranti, Virgo natives may get to see the tension in family life. During this time, you may get benefits in the workplace, but there may be some difficulty in the work related to real estate. Your mother's health would remain fine during this period. Students have to work very hard for higher education. Make a career plan properly.
Curious? Which opportunity will knock on your door next? Read Career and Business Horoscope 2022.
Libra
The entry of the Sun in Sagittarius on Dec 16 would be good for you. During this period many stalled works will be completed. In this one month, you would come out of many old troubles. Your income is likely to increase. You may also make travel plans this month. Your relations with government officials would be cordial.
Scorpio
The transit of Sun to Sagittarius on Dec 16 will be better than usual for Scorpio natives. Although during this time you may speak harshly and there may be some kind of dispute with family members. However, there will be chances of progress in job and business. Money is likely to come in.
Sagittarius
The transit of the Sun in Sagittarius can heighten your ego. There may also be differences of opinion with the spouse. However, you will get the support of luck during this time, which would maintain your enthusiasm. Your confidence will increase throughout this month, which will be helpful in fulfilling many tasks.
Capricorn
The Sun transit in Sagittarius may directly impact your expenses. Your expenses may mostly go behind health. At this period, you would be hesitant to make a big investment. There would be a rush in your workplace at this time.
Aquarius
The Aquarius natives will be greatly benefited from this transit. Government projects will get the most benefit. Your confidence and income both are likely to increase. You can expect profit in business. In this period, don't forget to respect your father and follow his instructions. One crucial remedy is to offer arghya to Lord Surya.
Pisces
With the arrival of the Sun in Sagittarius, there will be chances of your promotion. You may see an increase in workload during this period, and luck will also support you. Travel plans can be made. You would be more courageous. This transit would be beneficial for you in most aspects.
What is the position of the Sun in your Kundli? Talk to astrologers and get your kundali analysed. First consultation is FREE!
---
---