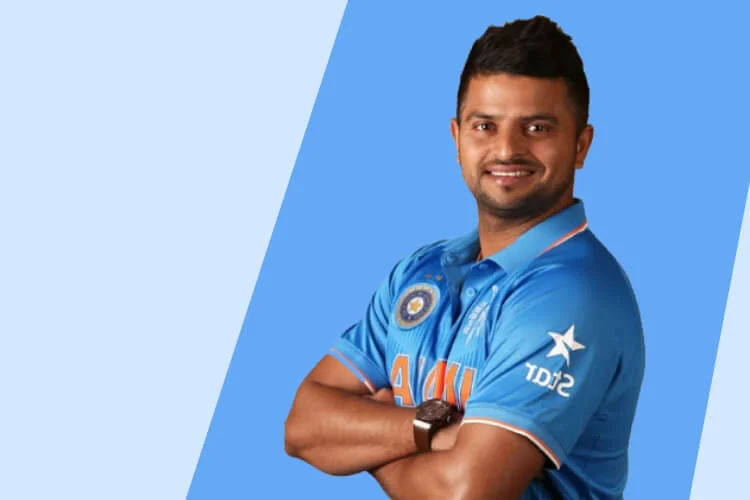 Suresh Raina – 13 Years Spell Of Sublime Cricket
Coming from the small town of Muradnagar ( UP ), Suresh Raina showed a glimpse of his passion for cricket by playing in the Under-16 team. In 2005, team India got a middle-order left-handed batsman, who came forward whenever his team needed his support. In Cricket, we say 'catches win matches', and this proverb worked surprisingly well for Raina as he grabbed some extraordinary catches during his cricket career. This is why he is also known as a great fielder. The left-handed batsman has some remarkable achievements in his club cricket career as well. He was applauded by his teammates and fans for his extraordinary performances for CSK (Chennai Super Kings) in the IPL matches. Raina was one of Dhoni's army, who had a better side of his skipper MSD. This master and apprentice pair became the talk of the town after the duo confirmed team India's victory against Zimbabwe in 2015. Following his idol MS Dhoni, Raina decided to hang the boots in August 2020. On his 34th birthday, let us see what lies ahead in the ace cricketer's personal life.
Surya Kundali Of Suresh Raina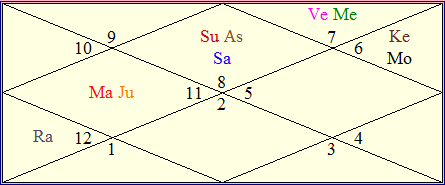 Date of Birth: 27th November 1986
Time of Birth: Unknown
Place of Birth: Muradnagar (UP, India)
Analysis of Suresh Raina's Birth Chart
Suresh Raina's Kundali suggests that the cricketer may spend pleasure times with his family during his retirement days. The left-handed Indian batsman may undergo a period of Rahu and sub-period of Moon till the 23rd, May 2021. Also, Jupiter's transit is likely to aspect the planets which are available in the 11th house of his horoscope. Whereas Saturn's transit would aspect Mercury and Venus in the 12th house. According to the birth chart, Rahu's transit will occur in the 1st house of the chart. The period of Rahu will influence Raina's inclusion in the franchise cricket team and we may possibly see him play the next IPL season. These astrological observations also indicate that the cricketer is likely to continue playing domestic cricket, as he often does for Ranji or Vijay Hazare trophy.
Suresh Raina's Horoscope
Raina Could Play A Significant Role In IPL 2021 Edition
In the current IPL season, we witnessed Raina's unexpected exit from the CSK squad due to personal reasons. A person who is considered as the backbone of the team CSK was remembered by his fans as they watched the team's poor performance in IPL 2020. However, luck may favor him as his name may appear in the CSK team lineup following the period of Rahu. If this happens, it would be a perfect opportunity for him to play a significant role in the team by scoring more runs. Besides, Raina is likely to play a vital role as a superb fielder as we may see him back with the ball.
Suresh Raina Will Continue To Play Domestic Matches
In Suresh Raina's Janam Kundali, Lord of the 6th house is posited at the 4th house along with Jupiter, who is lord of the 5th house.
This indicates that the left-handed batsman may continue to run between the wickets in domestic cricket. We could see Suresh Raina playing more cricket for Ranji or Vijay Hazare Trophy in the future. Raina's horoscope reveals that he may come out strong against his opponents because of his enormous batting power. Raina is not an incompetent person, as he always remains hungry for more runs regardless of National or International cricket.
Suresh Raina Will Have Pleasant Family-Time
Suresh Raina may undergo the period of Rahu in 2021. The lord of the 2nd and the 5th house, Jupiter will aspect the 7th house of his horoscope. As a result, Suresh Raina may be able to spend quality time with his dear ones. He is likely to get the desired response from his wife Priyanka, which may help them to strengthen their relationship. Do you desire to strengthen your love relationship? Consult Expert Astrologers Now! Raina is philanthropic at heart and may get himself engaged in social activities. He may give a helping hand to his wife who runs an NGO besides dedicating her time for various other activities.
Birthday Greetings for Sonu!
Hope you score more in your retirement innings too. Happy Birthday, Raina.
Greetings From The MyPandit Team!
Recently, John Cena has posted Legendary cricket, MS Dhoni's Photo, with no captions. But we have a detailed caption on his kundli.