Are you all set for the coming festival of love that is Valentine's Day 2021? The whole week carries enough opportunities for you to celebrate love with your special ones. The importance of the day is that the whole world celebrates the martyrdom of Saint Valentine who laid his life to keep alive the spirit of love and romance. You may be amazed that all dates of the Valentine week are celebrated uniquely. It starts from 7th February when people exchange roses and concludes on the 14th February Valentine Day when couples unite and even tie knots.
Fortunately for lovebirds, who are looking forward to wedlocks, the year 2021 brings many auspicious days to get married. Planning to get tied up with a love thread, then the perfect dates for you are 1st, 7th, 8th, 14th, and 15th day of February. And, to enjoy the love dew even in your golden years, according to Vedic astrology, it may be best for you to find matches compatible with your zodiac sign.
So, let's get on the bandwagon of love journey to find the most compatible match along with presents you need to buy to woo your special one.
…………….. "Always remember love is the air we all breathe." ………………
Do You Know?
The marriage rates rise phenomenally surrounding the day of love that is Valentine's Day. The preceding and the succeeding dates carry various Vivah Muhurats for love birds to get hitched.
Let us see which dates are auspicious for you to arrange a wedding according to Vedic astrology.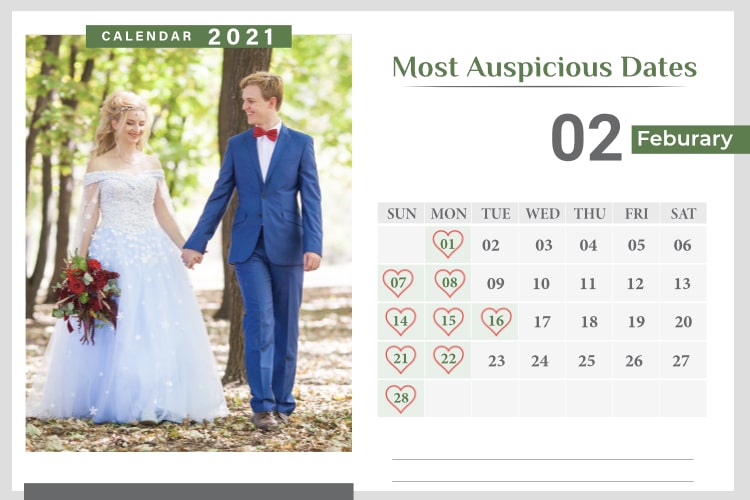 Valentine Week Dates And Celebrations
Each day of Valentine week carries a different celebration. Know which gifts to buy and ways to celebrate the spirit of love.
Rose Day
I bring you a rose, my love,
Please be mine forever,
You are the most precious in my life,
I want to love you forever.
Rose day is celebrated on 7th of February that marks the beginning of the festive week of love. People buy roses and bouquets to woo their special ones. Get ready, spend some bucks, buy some roses and give them to your loved ones.
Propose Day
I do not lie I just seek you,
When I saw you I was mesmerized,
I do not want to steal therefore I beg,
Come to me, let's celebrate.
Propose to your special one and you may not be disappointed. Prepare gifts and plan to celebrate as it comes on the 8th of each February.
Chocolate Day
Come play with me as I bring some chocolates,
Don't stay away from me as I need you,
I bought it as I cannot stay away from you,
Forgive me but it must not waste.
Chocolate Day arrives on the 9th of February. Buy some chocolates, indulge in sweet talks and become more passionate about your love celebration.
Teddy Day
Today you must love me,
I brought a teddy,
The teddy will remain for therest of life,
Take my teddy and stay with me.
Celebrated on the 10th of February, Teddy Day is a mark of love, care and appreciation. You need to buy a fluffy Teddy bear in order to impress your love interest.
Promise Day
Promise is to love you always,
Please be mine as I do not lie,
I am not against you today is the day,
Swear on me and I will keep you happy.
Promise day comes on the 11th of February. Remember to make promises to your love partner and swear to keep it for eternity.
Hug Day
I cannot wait, hug me tight,
The day will not last long,
I wish I can love you more,
Today hug me, keep me alive.
Hug day is always celebrated on 12th of February. Hugs are important as it implies that you both are passionate lovers. Celebrate by giving each other love-filled hugs.
Kiss Day
I want your kiss, my love,
Today is the day we remember,
Please be strong,
I need to last it long.
Falling on the 13th of February, Kiss Day resembles one of the strongest expressions of love. Explore the depth of love with different ways to kiss and make your union even stronger.
Valentine's Day
Leave it today we must not waste,
Millions have fought just for today,
This day I seek you full,
Offer me your love.
The famous Valentine Day is celebrated every year on the 14th of February. Enjoy, celebrate and spend the whole day along with your loved one.
Want to propose your love but don't know how? Talk to our LOVE ASTRO for Success Rate!
If you really love your partner or are you looking for a suitable zodiac match this Valentine 2021 then the following best match guide may provide you with appropriate compatibility information. Get on the rolls and find your love partner according to the compatibility match this Valentine 2021.
Best Compatibility Match According To Zodiac
Aries
The most compatible pair with the fiery Mars is creative water bearers. Yes! Aquarius may be the best match for you to celebrate and get hitched this February 2021. Go, get some presents like flowers, dresses, jewellery whatever you wish to gift and find an Aquarian to celebrate love.
Read More about Aries Zodiac Sign >>
Taurus
Virgos form the highest compatibility with celestial bulls. They are hardworking and determined and will always keep your back no matter what. Get dressed, buy some presents and find a Virgo to celebrate the week of love.
Read More about Taurus Zodiac Sign >>
Gemini
Get paired with a Libra as they can be at par with your social networking skills. Your affection may grow many folds due to the superb compatibility. Don't miss to buy some presents and gift it to a Libran to initiate your love life.
Hey Gemini!!! Unveil Your Lovelife to Know What You Might Be Doing This Valentine 2021.
Cancer
Pisces form perfect pairs with Cancer fellows. Together you create an incredible dream quotient and may sail smoothly.
Read More about Cancer Zodiac Sign >>
Leo
Fiery Aries to match your dominant nature. If you already have a liking towards your Aries friend, this Valentine week 2021 brings a bundle of joys and opportunities to celebrate your love and fulfil your wedlock wishes.
Read More about Leo Zodiac Sign >>
Virgo
Taurus are stable in their relationships and will match the highest compatibility with Virgos. Hangout with your Taurus love interest and exchange gifts in order to celebrate the week of love.
Read More about Virgo Zodiac Sign >>
Libra
Leo is aggressive and thus forms perfect partners with peace-loving Libra. You both love fine things and plan accordingly. Even you can plan to get married as this Feb 2021 brings you many auspicious Vivah Muhurats.
Read More about Libra Zodiac Sign >>
Scorpio
Another Scorpio would match your compatibility as you would protect your secrecy. With combined dreams of truth and justice, you would simply blend together. So, don't waste time as the month of February carries a lot of auspicious dates to pledge vows.
Read More about Scorpio Zodiac Sign >>
Sagittarius
It's Libra for you, you both are adventure seekers. Exploration would never bore you. Remember the Valentine week 2021 itself carries immense opportunities to start a new journey on the love path.
Read More about Sagittarius Zodiac Sign >>
Hey Sagittarius!!! Know Which Zodiac Sign Shares Maximum Compatibility With You This Valentine 2021.
Capricorn
Match up or patch up, it's your Virgo. Chances are high you may enjoy a lifelong bond of a love relationship. Plan ahead as this Valentine week carries multiple Vivah Muhurats for you to tie knots.
Read More about Capricorn Zodiac Sign >>
Aquarius
Gemini off course, you both would enjoy and respect each other's freedom while playing along together. Surprisingly, there exist a lot of Vivah Muhurat for you to tie knots.
Read More about Aquarius Zodiac Sign >>
Pisces
Cancer would satisfy you in your emotional realm. In order to convert it into a life-lasting relationship there cometh auspicious Vivah Muhurat this February 2021.
Read More about Pisces Zodiac Sign >>
Wrapping Up
Valentine week 2021 is very special for everyone who wants to celebrate love and planning to get hooked up.