Boar and Rooster Compatibility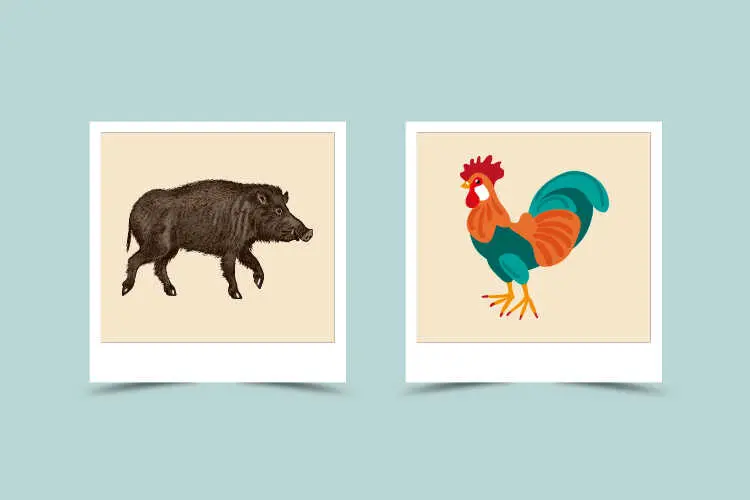 The Rooster and Pig have excellent love compatibility when it comes to relationships. The Boars are pretty sensitive, and therefore they always look for a partner who is hardcore dominating. This relationship from every angle is inclined towards the male Rooster, and the Male Rooster likes to act as a critic in front of their wife. As female Boar have an emotional edge, they are a self-sacrificing mother who cares very much about her children. Also, she doesn't like to be independent because of her passionate nature and let their partner dominate.
---
Chinese Zodiac Rooster and Boar: Personality traits
It is said that every person's nature cannot be changed as it is formed by birth. The same happens in the case of some Chinese Astrological Signs, they have their personality traits, and when they come together, they find a lot of them in common, which acts as a balance for their relationship.
---
Male Boar: Personality overview
Male boars are said to be low tempered, reasonable and very understanding. They are always dedicated to their relationship. They are so generous and friendly that they can forgive someone for their honest mistakes. They are considered very active as they always try to indulge in everything happening around them and trust people very quickly.
Strengths
Good Reputation: Because of their helping nature and the willingness to do anything to reach the level whatever they have committed, they are well supported and respected by the people around them as they don't ever overcommit anything.
Intelligent: Apparently, the Boars know nothing about their surroundings but have such great wisdom that they get to start learning everything they don't know and work towards achieving proficiency. They are considered very intelligent.
Hard-working: Most people around them think that Boars are sluggish creatures, but it's not true. They are very insightful and careful about their actions and thoughts that they don't do anything so easily; instead, they plan it out and formulate strategies to achieve it.
Weaknesses
Arrogant: The most common flaw that is seen in the Boars is their arrogant attitude. Their mentality that they are powerful and competent enough sets the bar so high that they don't see anyone else even near them. This will affect them adversely as the higher they get, the steeper they will fall. They need to re-evaluate the scenario about themselves.
Stubborn: The Boars in real life are considered very determined as they see themselves as perfect and sufficient and don't give anyone suggestions on anything. They always stick to whatever their original ideas are.
Easily Deceived: Boars are the gods of their own will. They don't change their minds easily once they make any decisions, especially when they are in a love relationship. However, this blind mindset is very harmful to their mental health as well as to their relationship.
Banner Line: Know about Your Personality Traits and Hidden Potentials
Get Premium Janampatri!
---
Female Rooster: Personality Overview
The women who belong to the Rooster sign are practical, delicate and caring. They are centred family women who keep their focus on the betterment, safety and happiness of their families. They are passionate and always run towards achieving perfection.
Rooster women are considered pretty and practical; they are generally soft-hearted sensitive women who can equally contribute both in professional and personal life. They are perfectionists who can manage both work and life balance all by themselves.
They are hard workers with excellent management skills who like to be focused on their goals, achieve them and show people how capable they are.
Strengths:
Diligent, Calm and Eloquent
Simple and Unadorned
Saving and Sacrificing
Weaknesses:
Too much pursuit of perfection
As innocent as children
Selfish and Harsh
Talk to Experts and match your Kundli with a prospecting partner.
---
Boar and Rooster compatibility
The pair of Rooster and Boar is very sensual. They need understanding from both sides to create a balance in their friendship. Both knowledge and patience will together work for them.
They are very weak in terms of communication. They need to probably depend on Boar's easy-going nature to keep the environment light; otherwise, they will face many arguments and, therefore, miscommunication. Their devotion to love can do wonders in this relationship.
---
Male Boar and Female Rooster Compatibility in Love
In a love relationship, the Boar doesn't prefer a complicated or romantic relationship with many options because they don't have enough energy to invest in a love relationship or a relationship with vast formalities. They also don't like to indulge in romantic relationships as they don't know how to make a date romantic. They want to be direct and loyal and expect the same from their partner.
Rooster women are hardworking and therefore carry a positive attitude towards lovemaking. They like to invest in love dates in a relationship but don't like those romantic candlelight dinner dates rather than prefer loving care more than creating any romantic aroma.
A Boar and a Rooster can live together in harmony and cooperate always to reach a middle ground of every conversation. They can overcome their weaknesses by learning from other people and understanding their weak points, and growing together stronger.
The people born in the year of Boar can be a good match for Rooster. They have a great understanding and have a flexible attitude. They are more prone to change and find solutions to their problems by working together very quickly. Their growing and intense, intimate relationship can bring them together so closely that they will grow more understanding between them.
You may like to check zodiac compatibility too. Check Compatibility Score Here!
---
Male Rooster and Female Boar Compatibility in Love
Boars are social animals. They love to spend time in public which is why they will often be found at parties. They like to stay away from tensions and chaos and strive towards driving resolutions and conclusions. They want to enjoy themselves and sometimes overspend, and therefore any person who gets their budget sorted is most welcomed.
They are very professional when it comes to decision making. They like to get into some projects and work towards achieving their goals successfully. They have great respect for their thoroughness and don't always listen to others once they decide.
Although Rooster and Boar will have a middle ground on many fronts, they will find many differences in their thought process. Emotions are a bit of an issue for Boars, and Roosters are intellectual and analytical always. Boars always find an issue with comfort while making any decisions which is not much of a problem for Roosters.
They can spend quality time together and enjoy each other's company when they loosen their grip a bit and schedule things in advance.
This couple's love compatibility can be made better by love and understanding and by proving their capabilities in bed. The differences will occur if Rooster tries to control their Boat, which the Boar doesn't like.
When will I Find my Ideal Partner? Talk to Experts!
---
Who is a Boar compatible with?
Best Compatibility for Boar Males:
Boar and Tiger can be a perfect match in marriage; they have the required patience and understanding to deal with the married life difficulties.
A Boar and a Rabbit are both gentle and considerate personalities. It seems that they are made for each other before their birth itself. They compliment each other very well.
The married life of a Boar and a Rooster is established to flourish. They have a common understanding to create a balance between their professional and personal life.
Best compatibility for Boar females:
A Boar and a Horse are very common in terms of their thought process. They invest a lot in their love relationship and work towards making a good family.
A Sheep and a Boar complement each other well in the challenging environment of married life; they have the creative minds required to sustain the challenges that come their way.
A Boar and a Dog spend their love relationship at peace. Although they have many differences, this only increases their curiosity to know each other more.
---
Whom should a Rooster marry?
Best matches for Rooster Men:
Rooster and Tiger share many common interests and life. They have many common characteristics which complement each other and helps them love at peace.
Rooster and Ox understand bonding with respect for each other which helps them love a harmonious life. They are very mature and gentle.
Snakes can know the inner side of a Rooster, which makes them suitable soulmates for each other.
Best Matches for Rooster Women:
Ox and Rooster have common characteristics and goals which helps them live together.
Honesty is the key to the relationship between a Snake and a Rooster. Their high intelligence and brilliant abilities, along with similar characteristics, are more than enough to live a harmonious life together.
The optimistic and loyal attitude of Dragon towards Rooster is the key to their happy relationship. The Dragon males take a tremendous interest in taking care of their family, which creates a sense of security among the females.
---
Which Chinese zodiac sign cannot get along?
The following are the zodiac signs that cannot spend a single second together with each other:
Rat – Horse, Rooster.
Ox – Tiger, Dragon, Horse, Sheep.
Tiger – Ox, Tiger, Snake, Monkey.
Rabbit – Snake, Rooster.
Dragon – Ox, Sheep, Dog.
Snake – Tiger, Rabbit, Snake, Sheep, Pig.
Horse – Rat, Ox, Roaster, Horse.
Sheep – Ox, Tiger, Dog.
Monkey – Tiger, Pig.
Rooster – Rat, Rabbit, Horse, Rooster, Dog.
Dog – Dragon, Sheep, Rooster.
Pig – Snake, Monkey.
---
---